Dali Airport
With an altitude of 2155.4 meters, Dali Airport belongs to plateau airport. Currently, it is equipped under the 4C standards, and has a terminal of 10,050 square meters, a runway of 2600 meters (2840 yards), 3 boarding bridges and 10 tarmacs.
Dali Airport Code: DLU
Location
Dali Airport is located in the junction of Fengyi Town and Haidong Town, Dali City, Dali Bai Autonomous Prefecture, Yunnan Province, southeast of China. As a vital tourist airport, it is about 13 kilometers (about 8 miles) from Dali City, 5 kilometers (about 3 miles) from Erhai and 30 kilometers (about 18.5 miles) from Dali Ancient City.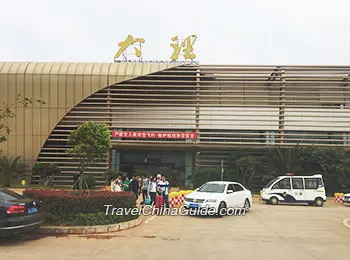 Dali Airport
Close time for manual check-in
30 minutes before take-off
Airlines Companies
China Eastern Airlines (MU), Air China (CA), China Southern Airlines (CZ), Tibet Airlines (TV), Capital Airlines (JD), Chongqing Airlines (OQ), Lucky Air (8L)
Dali Airport Flights Schedule
Dali Airport has 15 routes to cities such as Beijing, Shanghai, Guangzhou, Shenzhen, Xi'an, Chengdu, Chongqing, Kunming, Xishuangbanna and so on. It is expected to open flights to Xiamen, Shenyang, Wenzhou, Qingdao…
To / From
Frequency (weekly)
Travel Time
Beijing
2 on each day
3H25M
Shanghai
Daily
3H25M
Guangzhou
2 on each day
2H30M
4H55M(stopover at Kunming)
Xi'an
1 on each Tue. Wed. Thurs. Fri. Sat. Sun.
2 on each Mon.
2H25M/2H35M
Kunming
2 on each Mon. Fri.
3 on each Tue. Wed. Thurs. Sat. Sun.
1H/1H10M
Changsha
Daily
2H15M
Chengdu
4 on each day
1H30M/1H40M
Chongqing
2 on each day
1H35M/1H40M
Wuhan
1 on each Mon. Wed. Fri. Sun.
2H30M
Nanjing
1 on each Tue. Thurs. Sat.
3H5M
Zhengzhou
Daily
2H35M
Xishuangbanna
2 on each day
1H
Take airport shuttle bus
Routes: Dali Airport – Airport Road – Dali Railway Station – Meideng Hotel – Cangshan Road – Xingsheng Road – Xingshengdaqiao – Dalilu – Tourist Center at the South Entrance of Dali Ancient City
Operating Hours: 7:30 to the last flight
Travel Time: About 70 minutes
Ticket Price: CNY 30; CNY 15 to the Dali Railway Station
Taxi
It will take about 40 minutes and CNY 90 to Dali Ancient City.

1: Take the shuttle bus at the Dali Airport and get off at the Dali Railway Station, which will cost CNY 15.

2:Take a taxi to the Dali Railway Station, which will take 30 minutes and cost CNY 40.

1: First take the shuttle bus to the Dali Railway Station. Then, take bus line 26 and get off at Shifangzi, which will take about 50 minutes and CNY 3.

2: Taking a taxi will take about 15 minutes and CNY 20, which is more convenient.
Services and Facilities of Dali Airport
With a 2-floor terminal, Dali Airport has waiting area, departure area and arrival area. The basic facilities and services are included, such as luggage packing, luggage inquiry, VIP lounge, tourist service center, ticket-booking counter, restaurants, shops and so on. More facilities and service are being developed to provide great convenience for passengers.
- Last modified on Nov. 12, 2019 -