Dali Attractions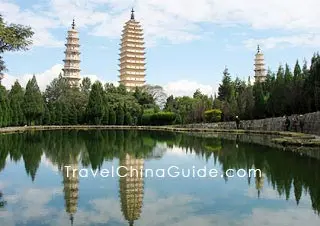 Three Pagodas in Chongsheng Temple

Dali Ancient City

Erhai Lake

Cangshan Mountain

Three Pagodas

Yan's Compound

Butterfly Spring

Dali Bai Autonomous Prefecture Museum

Dali Municipal Museum

Donglianhua Village

Shaxi Ancient Town

Tie-dyeing

Weishan Ancient City
Dali, a city of great antiquity, beckons the visitor in any season and is always a tempting destination for those interested in exploring fascinating natural scenery and the area's considerable historical and cultural heritage. It is renowned as a land of wonders, both natural and manmade, inspiring in visitors a great appetite for its beauty.
Attractions in City Proper
If a shortlist of Dali's attractions was to be drawn up, the 'silver Cangshan Mountains' and the 'jade Erhai Lake' would top it. They are usually the firstchoice destinations for visitors.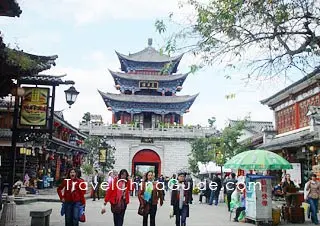 Ancient City of Dali
Composed of nineteen peaks lining up from north to south, the Mt. Cangshan, located to the west of Erhai Lake, have an average altitude of 3,500 meters (11,483 feet) with the tops perpetually covered in snow. Eighteen streams between the nineteen peaks of the mountain flow eastwards to the lake. The ear-shaped Erhai Lake is referred to as 'a pearl on the plateau' with an area of about 250 square kilometers (97 square miles). Every year in the Mid-autumn Festival, people living around the lake sail on the clear, green water and admire the golden moon reflectedin the lake. This is the most romantic place in this area. The snow on the mountains and the bright moon above the lake symbolize the vows between lovers. The Dali Bai Autonomous Prefecture Museum is near the Erhai Dock, which is a garden museum with strong local ethnic minority's characteristics.

Running from north to south, the Cangshan Mountains and Erhai Lake form one of the most enchanting sights to be seen in the city. Proceeding northward from Xiaguan, Erhai Park, established in 1976, is the first stop along the way to Erhai Lake. It is located at the south end of the lake and provides a panoramic view of thearea. Thirteen kilometers (8 miles) north of Xiaguan, Dali Ancient City was first constructed in the early Ming Dynasty (1368-1644) at the foot of the Cangshan Mountains. This simple and tranquil city is characterized by the dwellinghouses of the Bai Minority. It is a must-see destination, ranking as one of the most noted historical and cultural cities in China. Nearly all the local specialities are available here. Huoguo Road, or Foreigner Street, is the central thoroughfare where most westerners assemble. Apart from the local foods and handicrafts that are available, plentiful cafes, bars and distinctive restaurants also attract visitors from both home and abroad.
| | |
| --- | --- |
| Butterfly Spring | Yan's Compound, Xizhou |
Several historical sites worth visiting are within easy reach of the ancient city, Dali Tai He City, 7 kilometers (4 miles) south of Dali Ancient City, still shows its style as the seat of the central regime of the Nanzhao State although it was deserted after the Ming Dynasty. One kilometer (0.6 miles) north of the city, the Three Pagodas at the site of Chongsheng Temple are classic Buddhist pagodas of the Tang Dynasty and are regarded as the symbol of Dali.
Eighteen kilometers (11 miles) north of Dali Ancient City is Xizhou Town. This was a crucial military area in the Nanzhao State and is characterized by several Bai ethnic architectural complexes, such as the Yan's Compound ,and the Hou's Compound. Zhoucheng Village is 23 kilometers (14 miles) north of Dali Ancient City. It was once the imperial garden of Dali State. As the largest natural village of Bai in Yunnan, it is famous not only for the Butterfly Spring, but also for its perfect preservation of Bai ethnic customs. Not far from Zhoucheng Village, Butterfly Spring lies at the foot of Yunnong Peak, the northernmost peak of the Cangshan Mountains. It is always a romantic place and the spring is a symbol of love's loyalty.
Additionally, in the city, you can go to visit Dali Municipal Museum .Once named Marshal Mansion, it was originally home to Du Wenxiu well known for leading the Hui ethnic minority revolt against the Qing Dynasty in 1856.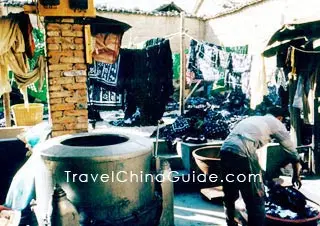 Tie-dyeing, Zhoucheng
Attractions Around
Around the city, there are many other interesting destinations well worth visiting. For example, Jizu Mountain in the northeast of Binchuan County, Weibao Mountain in the southeast of Weishan County and Shibao Mountain in the southwest of Jianchuan County are all scenic areas with notable religious sites. Among them, the one hundred and thirty-nine stone Buddha statues in sixteen grottoes within the Shibao Mountain Scenic Area will intrigue any visitor who is interested in Buddhist artifacts. If time is not pressing, you can also go to visit Zhoucheng County. It is famed for the tie-dyeing. Tie-dyeing is a technology of printing flower patterns on cloth. As the name suggests, the process is divided into 'tie' and 'dye'.
- Last modified on Feb. 14, 2019 -
Questions & Answers on Dali Attractions
Asked by Pearl from SINGAPORE | May. 14, 2019 09:56

Reply
Hi, I'm planning to visit Dali on the 3rd day of Chinese new year for 5 days.
I'm wondering if it would be easy to get around or find food during this period. Or what is expected during this period? I presume locals will be celebrating with families, so not sure what itinerary should I plan for. Thanks in advance!
Answers (1)
Answered by Cindy from USA | May. 14, 2019 20:52

0

0

Reply
Don't worry, some restaurants will open at that time and a lot of domestic tourists will choose to tour with families.
Asked by KEN from THAILAND | Feb. 06, 2019 23:16

Reply
HIGH SPEED TRAIN FROM KUNMING INTERNATIONAL AIRPORT TO DALI
Hello!
Please let us know how to reach High speed train station from Kunming International Airport. We wish to take HIGH SPEED TRAIN to DALI, YUNAN.
tks,
Ken.
Answers (1)
Answered by William from AUSTRALIA | Feb. 14, 2019 00:40

0

0

Reply
You can take airport shuttle bus to LM Railway Station. Then you can find several bullet trains that can take you to Dali.
Asked by Hala from ISRAEL | Dec. 02, 2018 04:40

Reply
We would like to visit Dali for about two days what is the best way to see most of the attractions ?
We are coming from Kunming, what is the best way to get to DL? And we want to leave there to Guangzhou, how would we know about the flights
Answers (1)
Answered by Quennel from AUSTRALIA | Dec. 03, 2018 18:39

0

0

Reply
From Kunming to DL, you can take the bullet trains, taking about 2-2.5 hours and CNY145 for a second class seat.
You are advised to hire a car for two days to tour, because there are many attractions in DL and hiring a car is more convenient and comfortable.
You can search the flights on this website and they also sell the air ticket.
Asked by Susan from SWITZERLAND | Oct. 26, 2018 06:54

Reply
What is the best and easiest way by public transport from Xizhou to Dali Airport?
Alternatively how much does a car or shared taxi costs?
Answers (1)
Answered by Bahia from ITALY | Oct. 28, 2018 23:32

0

0

Reply
There is no direct bus from Xizhou to the airport. You can choose to hire a car with the estimated fee of about CNY150. Or you can take the minibus at Xizhou to Xiaguan where you can take the airport bus to the airport and the total fee is about CNY50.
Asked by esther from SPAIN | May. 04, 2018 20:32

Reply
Hi, what is best to visit Lijiang or Dali? we are travelling with our 6 year old twins
Thanks
Answers (1)
Answered by Peyton from UKRAINE | May. 07, 2018 20:38

0

0

Reply
Do you wanna know the suitable transportation?
If yes, for your convenience, you are suggested to hire a private car to tour around these two places. The driver will wait you when you visit scenic areas. In this way, you can save energy to find the public transportation.

If you wanna know the popular scenic areas, Shuhe & LJ Ancient Town, Lugu Lake, Erhai Lake, Three Pagodas and DL Municipal Museum are recommended.