Erhai Lake Pictures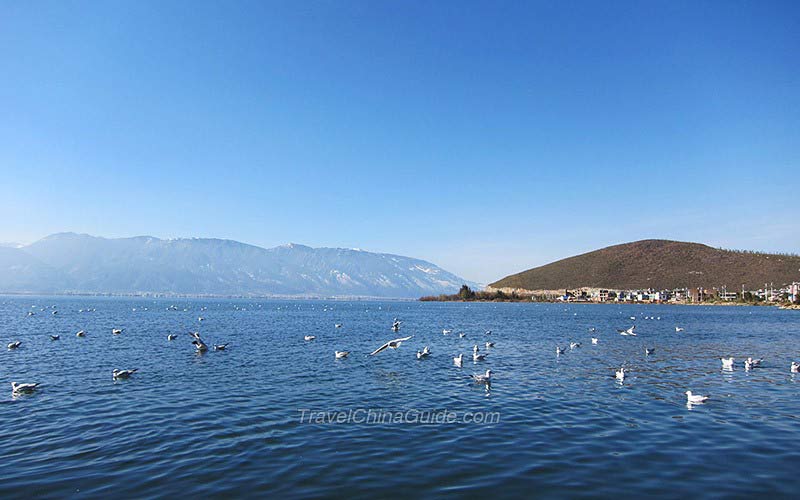 Erhai Lake, located about two kilometers east of Dali City, has an area of about 250 square kilometers. It is ear-shaped, looking like a crescent lying between the Mountain Changshan and Dali City. It's the largest highland lake in China and also one of the seven largest fresh water lakes in the country. Along the shores of the beautiful lake, there used to be many fishermen. But now most of them have moved out. Attraction Intro:
Erhai Lake
- Last modified on Jul. 15, 2017 -
Questions & Answers on Erhai Lake Pictures
Asked by Mr.Mohammed Harunor Rashid from BANGLADESH | Aug. 12, 2009 23:54

Reply
Dear Sir/Madam
I would like to go Zhejiang University at Hangzhou city. I want to leave for Zhejiang University from Bangladesh. If I go on the route Dhaka to Kunming to Hangzhou city, How much cost I have to paid?
Sincerely Yours
Mohammed Harunor Rashid
E-mail:
yahoo.com|harunrubd2003
Answers (1)
Answered by Mr.Jason | Aug. 16, 2009 02:05

0

0

Reply
I just know it is about 1300RMB for the air ticket from Kunming to Beijing.
Asked by Ms.aria Julia Pascali from BRAZIL | Jul. 12, 2009 06:38

Reply
it is possible to travel from Seoul to Kuming in 5 days, from 24 to 29 july, 2009? What is the price?
Answers (2)
Answered by Mr.Jason | Jul. 13, 2009 02:05

0

0

Reply
You mean fives at Seoul and Kunming? It is possible. As I know there are direct flight between the two cites, but only four flights a week. Mu2003, KE886. You can check them. Does the price you mean refers to as the flight cost? Suggest you check a few days before leaving. It should be more than 3500rmb, single trip.
Answered by Mr.bai | Jul. 16, 2009 10:06

0

0

Reply
five days to travel in yunnnan are not that enough for you have so many places to visit,so many food to eat and so many amazing things to to ...if i were you id like to come to Yn next time with more friends and a specific plan. hehe...just my personal opionion
Asked by Ms.Angeline from SPORE | Jun. 14, 2009 00:15

Reply
We will be in Wuhan next week around 19 Jun 09 onwards.
Would need some advice how to travel if we plan our next journey to kuming.
By trian or by air both ok??? thanks

Answers (1)
Answered by Ms.Liz from CHINA | Jun. 15, 2009 01:32

0

0

Reply
To Ms. Angeline, train and airplane are both ok. It depend on your time. Because the train will take at least 26 hours from Wuhan to Kunming and the ticket for soft berth is about 600RMB. If you can make enquiry at the air ticket office, you may get air ticket at similar price or a little higher.