Heavenly Lake (Tian Chi)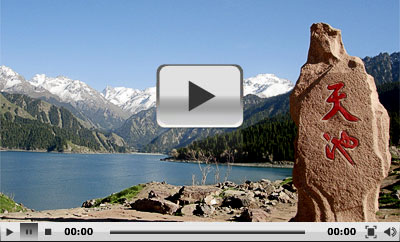 Heavenly Lake Pictures
Heavenly Lake Facts
Location: in the middle of Bogda Peak and about 110 km (68 miles) east of Urumqi
Area: 4.9 square kilometers (1.89 square miles)
Come into being: in the Quaternary Period Glacier

In the east of Urumqi nestles Heavenly Lake. The crescent-shaped water area deserves its name, Pearl of Heavenly Mountain (Tianshan Mountain). With melted snow as its source, Heavenly Lake enjoys crystal water.

In summer, the Heavenly Lake is an ideal cool resort. Boaters on it see the ever-changing silvery mountains soaring into the blue sky, their slopes highlighted with verdant pasture and flamboyant wild flowers. Fishing at dusk has its own special charm. A day in this fairyland promises restoration.

Heavenly Lake, a relic of the Quaternary Period Glacier and its surrounding geological relics, offers science lovers exploring opportunities.
| | |
| --- | --- |
| A boat trip on the Heavenly Lake | Heavenly Lake, Urumqi, Xinjiang |
As if the natural beauty of Heavenly Lake were not enough, legend adds a mysterious touch. It is said that the West Queen (Xi Wang Mu) entertained King Mu of the Western Zhou Dynasty (1100B.C.-771B.C.) here. The West Queen fell in love with the king and asked him in her poem, 'The white clouds drift while the mountains reach the blue sky. Passing thousands of mountains, crossing ten thousands of rivers, you come to us from a faraway place. If you are still strong and fine, would you like to come back to us again?' The king answered in his poem, 'After I go back to central China and lead the people to a prosperous life, I will come to you again.'
We do not know why the king never returned. Only the placid lake and the silent mountains witnessed the lovesickness of the West Queen.
How to get to Heavenly Lake
Take a bus from Urumqi Beijiao Bus Station to Fukang; and then transfer to another tourist bus from Fukang Bus Station to the Heavenly Lake.
Apr. - Oct.
Nov. - Mar.
Entrance Fee
CNY95
CNY45
Free for children under 1.2m (3.9 feet).
Opening Hours
9:00 - 19:30
10:00 - 18:00
Transport Fee
Inter-zone Vehicle: CNY90
Queen Mother of the Western Heaven Temple: CNY 10
Zoology Museum: CNY 10
Cable Car: CNY 35 (round trip); CNY 20 (single trip)
Electric Bus: CNY 5 (single trip)
Painted Pleasure Boat: CNY 50
Mosquito Craft: CNY 35
Barge: CNY 20

Further Reading
Top 10 Things to Do in Urumqi
Top 10 Things to Do in Xinjiang
- Last updated on Nov. 19, 2021 -
Questions & Answers on Heavenly Lake (Tian Chi)
Asked by Carlos from COLOMBIA | Aug. 24, 2019 07:24

Reply
Entry times in Tianchi of Urumqi
Hello. Great website!

Is it possible to get into the lake for sunrise or sunset? Or any recommended viewing points to see the lake?

Thank you.
Answers (1)
Answered by Phil from UNITED KINGDOM | Aug. 27, 2019 23:32

0

0

Reply
You could watch sunrise during November to February. The scenic area opens from 8:30 to 20:00 during 4.1 to 10.31, and 10:00 to 18:00 during 11.1 to 3.31. The scenic area is so large that I believe you can appreciate different view in different sites.
Asked by Sudhakar from INDIA | Aug. 12, 2019 02:03

Reply
How much is the entry fee for Urumqi tianchi lake per person?
Answers (1)
Answered by Josiah from ITALY | Aug. 13, 2019 01:10

0

0

Reply
The fare is CNY 95 (Apr.-Oct.) and CNY45 (Nov.-Mar.).
Asked by Rieng | Aug. 08, 2019 03:28

Reply
Direct public bus from people's park to tianchi lake
Please tell me bus schedule round trip from people's park and return from tianchi lake . And whre is the bus stop at people!'s park?
How much ticket cost? I hope I can find the bus easy by walking. Thanks
Answers (5)
Answered by Gage from USA | Aug. 11, 2019 22:53

0

0

Reply
It is not suggested to take bus from people's park now. You can take direct bus from North Coach Station, which is located at No.959, North Nanhu Road, Shuimogou District. The bus departs at 9:30 and 10:30, then go back at 16:30 and 17:30. The ticket fare is CNY20.
Answered by Rieng | Aug. 13, 2019 05:32

0

0

Reply
Thanks, and if we go by bus to fukang then transfer to tianchi where is bus station to fukang? Temperature at tianchi in late October?
Answered by Gage from USA | Aug. 13, 2019 20:42

0

0

Reply
You still can take bus from North Coach Station. The temperature will be around 0C.
Answered by Addy from THAILAND | Sep. 11, 2019 00:52

0

0

Reply
May I ask please?
Is it necessary to make the seat reservation?
Thanks.
Answered by Gage from USA | Sep. 11, 2019 19:08

0

0

Reply
Thers is no reservation service. People need to buy the ticket on the spot.
Asked by Kambalah from PHILIPPINES | Mar. 20, 2019 03:21

Reply
Is month of May cold at Urumqi heavenly lake surrounding area?
Answers (1)
Answered by Nolan from FINLAND | Mar. 21, 2019 22:51

0

0

Reply
Based on the previous weather statistics, the temperature may range from 10C to 15C during that period of time. You are suggested to prepare jackets or other warm clothes in order to adapt the large temperature difference.
Asked by Sufiy from MALAYSIA | Nov. 18, 2018 02:44

Reply
Can I visit Urumqi Heavenly Lake on 26 Nov?
Where is nearest ski area?
Answers (3)
Answered by Rena from USA | Nov. 18, 2018 17:04

0

0

Reply
Yes, you can visit. The nearest ski area is at Hua'er Valley scenic area. Have fun!
Answered by Sufiy_ from MALAYSIA | Nov. 19, 2018 08:35

0

0

Reply
Hi. Which one is better hua'er ski, or silk road ski or tianshan international ski resort? Is there are any hot air baloon or parachute activities? Can you indicate the cost.
Answered by Susan from USA | Nov. 19, 2018 18:02

0

0

Reply
Tianshan international ski resort is better in my opinion. There is the hot air baloon in this ski resort.
I remember that the adult price is CNY 130 on weekdays and CNY 180 on weekends.