Heavenly Lake (Tian Chi)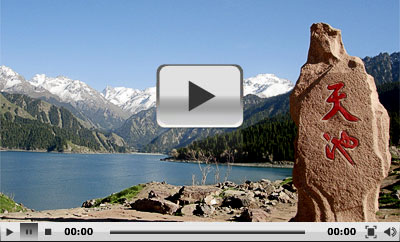 Heavenly Lake Pictures
Heavenly Lake Facts
Location: in the middle of Bogda Peak and about 110 km (68 miles) east of Urumqi
Area: 4.9 square kilometers (1.89 square miles)
Come into being: in the Quaternary Period Glacier

In the east of Urumqi nestles Heavenly Lake. The crescent-shaped water area deserves its name, Pearl of Heavenly Mountain (Tianshan Mountain). With melted snow as its source, Heavenly Lake enjoys crystal water.

In summer, the Heavenly Lake is an ideal cool resort. Boaters on it see the ever-changing silvery mountains soaring into the blue sky, their slopes highlighted with verdant pasture and flamboyant wild flowers. Fishing at dusk has its own special charm. A day in this fairyland promises restoration.

Heavenly Lake, a relic of the Quaternary Period Glacier and its surrounding geological relics, offers science lovers exploring opportunities.
| | |
| --- | --- |
| A boat trip on the Heavenly Lake | Uygur people at the bank of Heavenly Lake |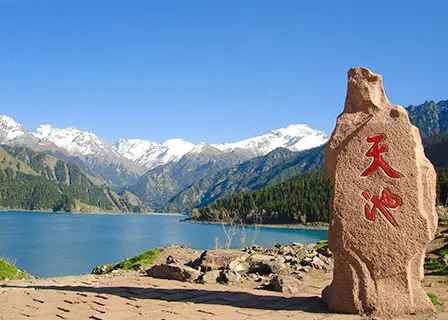 Heavenly Lake, Urumqi, Xinjiang
As if the natural beauty of Heavenly Lake were not enough, legend adds a mysterious touch. It is said that the West Queen (Xi Wang Mu) entertained King Mu of the Western Zhou Dynasty (1100B.C.-771B.C.) here. The West Queen fell in love with the king and asked him in her poem, 'The white clouds drift while the mountains reach the blue sky. Passing thousands of mountains, crossing ten thousands of rivers, you come to us from a faraway place. If you are still strong and fine, would you like to come back to us again?' The king answered in his poem, 'After I go back to central China and lead the people to a prosperous life, I will come to you again.'
We do not know why the king never returned. Only the placid lake and the silent mountains witnessed the lovesickness of the West Queen.

Top 10 Things to Do in Xinjiang
How to get to Heavenly Lake
Take a bus from Urumqi Beijiao Bus Station to Fukang; and then transfer to another tourist bus from Fukang Bus Station to the Heavenly Lake.
Apr. - Oct.
Nov. - Mar.
Entrance Fee
CNY95
CNY45
Free for children under 1.2m (3.9 feet).
Opening Hours
9:00 - 19:30
10:00 - 18:00
Transport Fee
Inter-zone Vehicle: CNY90
Queen Mother of the Western Heaven Temple: CNY 10
Zoology Museum: CNY 10
Cable Car: CNY 35 (round trip); CNY 20 (single trip)
Electric Bus: CNY 5 (single trip)
Painted Pleasure Boat: CNY 50
Mosquito Craft: CNY 35
Barge: CNY 20
- Last modified on Jul. 25, 2018 -
Questions & Answers on Heavenly Lake (Tian Chi)
Asked by Benny from USA | Jul. 25, 2018 16:50

Reply
Entrance fee ¥215 to Heavenly Lake what's included?
Thanks
Answers (1)
Answered by Mandy from BELGIUM | Jul. 25, 2018 20:31

0

0

Reply
It includes the entrance ticket and the fare of the tourist bus.
Asked by cami from SPAIN | Jul. 22, 2018 22:05

Reply
Can someone tell me the average price to sleep in a yurt in tian shan?
and if there is any cheap way. we don't have a tent but a tent or a floor is enough for us.
Answers (1)
Answered by Juno from FRANCE | Jul. 23, 2018 02:09

0

0

Reply
It's about CNY 120 for a person. You can bargain with the host if you are a group.
Asked by Rachel from AUSTRALIA | May. 06, 2018 19:41

Reply
I have heard it is now impossible for foreigners to stay in the yurts by the lake.
Can you confirm this and / or provide information on alternative accommodation near Heavenly Lake that still accepts foreigners?
Answers (1)
Answered by Lucas from FRANCE | May. 08, 2018 22:50

0

0

Reply
Well, I didn't search any information about this. But I saw a travel note that writed foreigners are still allowed to stay in the yurts.
Asked by Joshua from PHILIPPINES | Mar. 10, 2018 04:08

Reply
Autumn Visit to Heavenly Lake
Hi

*I'll be in Urumqi by October, is the lake area ablaze with color? Like different colored trees, snow-capped mountains, etc

*Is it possible to get to the lake by public transport? And what time is the last bus back to Urumqi?

Thank!
Answers (1)
Answered by Mike from DENMARK | Mar. 12, 2018 19:56

0

0

Reply
Yes! The color will be amazing at that time, with green, blue and white!
As for the bus, I remember it departs from Ergong Stadium. The bus is available from 9:00 to 10:00 and the returning bus is from 17:00 to 18:00.
Asked by soh from SINGAPORE | Aug. 31, 2017 23:57

Reply
Is it very cold to visit Tianchi in Nov?
The lake is located 6000 ft above sea level. Is there some caution for those with high blood pressure?
Answers (2)
Answered by Iris from CHINA | Sep. 01, 2017 03:58

1

0

Reply
It can be quite cold there according to the history data, and the lowest temp may fall to -10C or so. Snowfall will happen in Nov.

It is ok to go for people with high blood pressure. Just take the regular medicine and control the blood pressure well.

Have a good time!
Answered by Ablajan Jilil from URUMQI , CHINA | Sep. 12, 2017 00:17

1

0

Reply
Dear Soh

its depends on what time of Nov yougo there , early Nov is not too cold , of course snow may happend .

its not that high and tour is very light , no problem with high blood presure people .

Ablajan Jilil