Urumqi Attractions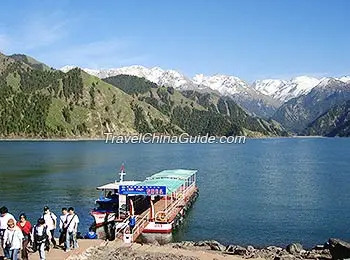 Heavenly Lake

Silk Road


Heavenly Lake


Red Hill



Kanas Nature Reserve & Hemu Village


Keketuohai National Park


Southern Mosque and Shaanxi Mosque


Southern Pasture


Tartar Mosque and Qinghai Mosque


Tian Shan Mountains


Tianshan Grand Canyon


Xinjiang Regional Museum


Xinjiang International Grand Bazaar

The tourist treasures of Urumqi outshine those of many other provinces and cities. As an important strategic locale in the ancient Silk Road and the gathering place of historic East-West exchanges, it is home to numerous cultural relics and historic treasures. Thirteen main ethnic minorities offer souvenirs of their enduring colorful customs. Located in the heartland of Eurasia, its unique location and natural environment form an enchanting picture alluring visitors from home and abroad.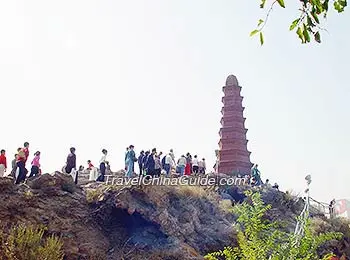 Red Hill
One of the landmarks of the city is Red Hill with its emerald greenery, pagoda, and shrines. The hill rocks are reddish-brown, hence the name Red Hill. Historical sites on the hill once included the Ebo (stone cairn used by tribesmen to worship and sacrifice to their gods) built by the nomadic Oyrat Tribe; and the Temple of the Jade Emperor and the Temple of the Great Buddha built in the Qing Dynasty (1644 - 1911). These splendid temples attracted swarms of visitors and made the hill a holy place where worshipers chanted Buddhist sutras and conducted religious ceremonies. Unfortunately, almost all the buildings were destroyed during the war, leaving only the pagoda at the top. Today, local people regard the hill as the symbol of the city.

People's Park, also called 'the park for sharing happiness', is on the west bank of the Urumqi River. It was originally a stretch of marshland and lakes surrounded by luxuriant centuries-old trees. Now it is a scenic, tree-shaded park with pavilions and a lake where you can hire a rowboat. The best time to visit is in the morning when local people exercise.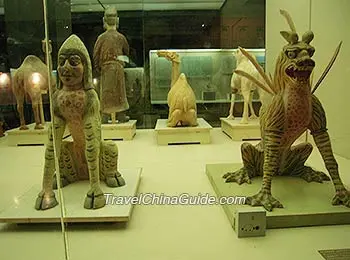 Xinjiang Regional Museum
Xinjiang Regional Museum located in the downtown area since 1953, displays archaeological treasures and local relics from the Silk Road. Cultural relics excavated on the ancient Silk Road include silk, pottery, porcelain, terra-cotta figures, weapons, scriptures, even some mummies discovered in the vast desert. In addition, articles from various ethnic groups are shown. These include clothing, household utensils, handicrafts, hunting tools, and musical instruments, as well as a Uygur house and various yurts.

The most famous landscape gem near Urumqi is Heavenly Lake (also named Tianchi Lake), particularly refreshing to visitors arriving in the city from the barren Xinjiang deserts or from China's granite cities. A moraine lake hemmed in by majestic snow-crowned peaks west of Bogda Mountain, Tianchi is 3,400 meters (11,125 feet) long, 1,500 meters (4920 feet) wide, 1,980 meters (6494 feet) above sea level. The pristine scene is stunning. A one-day tour usually consists of a boat ride on the lake, or a ride or walk along the lakeshore.

Southern Pasture is an area at the northern foot of Karawuquntag Mountain 75 kilometers (46 miles) south of Urumqi. One of the most spectacular spots here is the West White Poplar Gully. Traveling through this narrow verdant gully is a unique experience for sightseers who love snowcapped peaks, waterfalls, dragon-spruce trees and wild flowers. An ideal place for an excursion, visitors can take a horseback adventure guided by local Kazakhs.
| | |
| --- | --- |
| Southern Pasture | Qinghai Mosque |
In Urumqi, there are ten ethnic minorities practicing Islam. It boasts 263 mosques now. The famous ones include Tartar Mosque and Qinghai Mosque and Southern Mosque and Shaanxi Mosque. Tartar mosque is the center for peaceful Islamic activities in the city. And Southern Mosque is an important historic heritage site. This center of Moslem worship was built in 1919 and subsequently renovated on three different occasions.
Attraction around Urumqi: Kanas Nature Reserve boasts a beautiful natural ecosystem formed by lakes, rivers, glaciers, forests and grasslands.
- Last modified on Dec. 17, 2018 -
Questions & Answers on Urumqi Attractions
Asked by Jitraporn K from THAILAND | May. 08, 2019 22:47

Reply
I'm planning to travel Urumqi (kanas lake and heaven lake) on mid-September.
How long does it take you to get from Urumqi city area to Kanas Lake?
How long does it take you to get from Urumqi city area to Heaven Lake?
How can I go there by bus or plane ?

Thanks
Answers (1)
Answered by Dave from USA | May. 09, 2019 19:05

0

0

Reply
1. If you travel by bus, you need to take a coach from Urumqi high-speed railway bus station to Burqin. There are 2 buses departing at 11:10 and 20:10. It takes about 7-8 hours and the bus fare is CNY180.
After that, hire a private car to Kanas and it takes about 400-500 per day. The duration is about 3-4 hours. There may be bus available in peak seasons.

If travel by plane, the direct flights from Urumqi only opens in peak seasons (about June to October ) and it takes about 2 hours to get. In other days, you can take a flight from Urumqi to Altay airport and then hire a private car to kanas. It takes about 5-6 hours.

2. It takes about 1.5 hours to take bus from Urumqi North Bus Station to Heaven Lake. The bus departs at 9:30 and 10:30.
Asked by Ali from UNITED KINGDOM | Sep. 03, 2018 10:15

Reply
Urumqi and Tibet, can someone please advise me
I will be in Beijing in October. I also want to go to Urumqi and Tibet, can someone please advise me as to how I should go to Urumqi and Tibet.
Answers (1)
Answered by Jim from FINLAND | Sep. 03, 2018 22:58

0

0

Reply
You are suggested to take a flight directly. Although there are trains from BJ to the two cities, it takes about 40 hours and it's a too long journey.
Asked by Lok from MALAYSIA | Jun. 03, 2017 23:53

Reply
Can anyone please provide any idea to get from Urumqi to the No. 1 Glacier.
Is there any public buses and which bus station to take. What is the last return bus schedule from Glacier.
Thank you.
choy

Answers (2)
Answered by Andrew from USA | Jun. 09, 2017 01:58

1

0

Reply
Generally, people usually charter a car to the scenic spot directly. As the information on the internet, there might to be the shuttle bus at People's Park in the early morning. However, due to the road conditions, you still need to walk couple kilometers when the bus arrives. Moreover, this bus may be cancelled if the passengers are not enough.
Answered by Clement Hoh from MALAYSIA | Aug. 27, 2017 13:47

0

0

Reply
May I know how much to Charter a car with driver to Glacier no.1?
Asked by sclok from MALAYSIA | Jan. 04, 2017 18:32

Reply
travel to urumqi and kashgar in june
hi,

4 of us are from malaysia and will be travelling from Xi'an to Kashgar from 17/6/2017 to 9/7/2017 by train/buses. It's the fasting month (Ramadan) and on 26/6/17 is the Eid al-Fitr ( marks the end of Ramadan).
a. Are shops open during fasting month and during Eid al-Fitr?
b. Will we have problem in getting train tickets/bus tix or do we need to booked in advance?

Thank you

LOK
Answers (1)
Answered by Ablajan Jilil from CHINA | Jan. 05, 2017 00:01

2

0

Reply
Hi , Lok

Ramadan day time a few Uyghur resturants may close but open before fast breaking time , also Eid day still a lot of resturants and shos opend , pls remember that this region living a lot of Han chineseare people who not fast and celebrate Eid .

I sugguest you'd better to book your train ticket in advance . speacilly if you want to travel just before Eid , of course its depends on which area you will get at that time .

Good luck !
Ablajan Jilil ( Urumqi )
Asked by Naufier Mohamad from SINGAPORE | Oct. 08, 2016 05:37

Reply
Accomodation and best location to stay in Urumqi in end of Nov.
Anyone can advice which is the best location to stay which is near attractions?
Thanks in advance
Answers (2)
Answered by Vivian from USA | Oct. 10, 2016 00:58

2

0

Reply
You are advised to stay near Red Hill Park. For instance, the Southern Airlines Pearl International Hotel at No. 576, South Youhao Road is highly recommended. The hotel offers clean environment and quality service. It is adjacent to Red Hill, Xinjiang Regional Musuem, People's Park, and Water Mill Valley. A standard room costs about CNY 550 per night. You can dial 86-0991-4568888 to book a room. Have a nice trip! :)
Answered by Naufier Mohamad from SINGAPORE | Oct. 10, 2016 03:54

1

0

Reply
Thanks for the advice....appreciate it....