Keketuohai National Park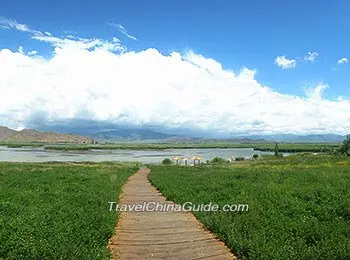 Keketuohai National Park
Keketuohai National Park is honoured as the "Chinese Yosemite". Covering an area of 777 square kilometers (300 square miles), it is 56 kilometers (35 miles) from Fuyun County in Altay City and 482 kilometers (300 miles) from Urumqi City. Featuring beautiful natural scenery such as valleys, rivers, peaks, forests, mines, and seismic belts, the park was listed as a UNESCO World Geopark in 2017. It comprises of four main scenic areas: Irtysh Grand Canyon, Ilavmu Lake, Cocoa Sullivan Lake, and Fuyun Quake Remains.

Irtysh Grand Canyon in Keketuohai National Park
Irtysh Grand Canyon enjoys typical granite landform formed in the Yanshanian Period (208 million years to 65 million years ago). Due to cold weather, granites split continually and finally developed into various steep mountains with smooth surfaces and in different shapes, such as Camel Mountain, Elephant Mountain and Bell Mountain. In 1931, a powerful 8-magnitude quake erupted in Fuyun, which contributed to deepening and widening of the canyon. In addition to diverse granites and peaks, other attractions include Dragon Gate Square, No.3 Mine Pit, White Birch Woods, Shuimo Valley, Golden Triangle Tourism Spot and Wild Grape Ridge.
Dragon Gate Square
Dragon Gate Square is close to the entrance of Irtysh Grand Canyon. Surrounded by high mountains, it seems to be guarded by a huge dragon when viewed from afar, hence the name. Two main areas are Stele Square and Geology Museum. With an area of 9,005 square meters (10,770 square yards), Stele Square is round-shaped, representing unity and harmony. The stele and the square form a sundial with the stele as a gnomon and the square a flat plate. Next to Stele Square, the Geology Museum is an exhibition zone for geological materials and planning maps of the scenic spot.
| | |
| --- | --- |
| Stones at Keketuohai Geology Museum | Turtle Fossils at the Geology Museum |
No.3 Mine Pit
No.3 Mine Pit inside the Keketuohai National Park is like a big straw hat. Known as one of the "Natural Geological Minerals Museum" in China, it is the largest one in the world. With a depth of 201 meters (220 yards), a length of 247 meters (270 yards) and a width of 238 meters (260 yards), the pit is rich in various minerals, including rare metals, nonmetallic mineral resources and jewelry and gem minerals.

White Birch Woods
Covering an area of 1.5 square kilometers (0.6 square miles), White Birch Woods is abundant with white birches and Siberian poplars. In spring, the place is a sea of colorful flowers; in summer, dense forests form great shelters and provide you with a natural summer resort; and in autumn and winter, trees are "coloured" with golden yellow or pure white, which, together with flowing water and exquisite bridges, make the place like a fairy land.

Shuimo Valley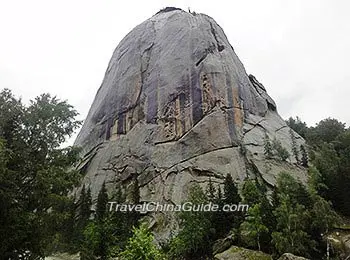 Strange Rocks in Shuimo Valley
Shuimo Valley in Keketuohai National Park is renowned for rocks with different shapes. On both sides of the valley, white birches and pines grow. Though rooted in fissures of the rocks, they flourish and grow very well. Walking along the deep and serene valley, you can walk by streams, wade through rivers, and hike among rocks… all of which offer you an unforgettable experience.

Golden Triangle Tourism Spot
As its name goes, Golden Triangle Tourism Spot is triangle-shaped, which is parted naturally by branches of Irtysh River. Reflections of the azure sky, white clouds, green trees, and various rocks are integrated into a beautiful scroll painting. Beside, the spot is rich in mineral resources, precious stones, and valuable wild medical herbs, making it the best place for outdoor adventure and treasure hunting.

Wild Grape Ridge
Dotted with abundant wild grapes, Wild Grape Ridge enjoys a primitive and mysterious landscape. Washed by molten snow of high mountains, rocks are exposed to the air. Even so, white birches and pines grow toughly. Dense forests, along with sound of rippling water, can easily calm you down.

Ilavmu Lake in Keketuohai National Park
Surrounded by high and steep mountains on both sides, Ilavmu Lake is as splendid as the Three Gorges of the
Yangtze River
when taking a close look. While overlooked from a high place, the lake is in the shape of "8", like a large blue gemstone inlayed in the green land. With mountains, sky and clouds reflected on it, the lake is like a big mirror on which a natural landscape scroll is painted.
Cocoa Sullivan Lake in Keketuohai National Park
Legend has it that a graceful fairy gave up the life in the paradise and went down to Sullivan Lake to be together with her swan lover. Since then, the lake gradually became a home to hundreds of thousands of swans and nicknamed "Swan Lake". Besides, you can see crowds of reeds flowing in the wind and flocks and herds wandering in the distant plains, which is enjoyable.
Fuyun Quake Remain in Keketuohai National Park
1931 Fuyun Earthquake led to a 110-mile earthquake rupture belt centered on Kalaxianger. The earthquake was so strong that even San Juan Province in South Africa felt the vibration. In the center, the great quake formed a grand collapse which is 9 kilometers (6 miles) long and 5 kilometers (3 miles) wide. Undisturbed by humans, the earthquake remains are said to be the grandest and most well-preserved in all of the world. That is why it is also called "Earthquake Museum".
How to get to Keketuohai National Park from Urumqi:
1. Take Urumqi-Fuyun buses at Nianzigou Long-distance Bus Station. The bus departs at 10:00, 11:00 and 13:00 in the daytime. The whole journey is about 7 hours. There is also a night sleeper bus departing at 20:00 or 20:30 and arriving at Fuyun the next day at 06:00. Ticket price for both daytime and night buses is CNY 135.
2. Upon arrival at Fuyun Long-distance Bus Station, take a mini bus to the national park. It takes CNY 30.
How to get to Keketuohai National Park from Altay:
1. Take Altay-Fuyun bus line at Beitun Long-distance Bus Station. The bus departs from 10:00 to 17:30 every 2 hours. The ticket price is about CNY 45 and the whole journey is about 2.5 hours.
2. After arriving at Fuyun County, you can spend CNY 30 taking a mini bus to Keketuohai.
Admission Ticket

April - October: CNY 90
November - March: CNY 45
Free for children of or below

1.2 meters

(3.9 feet).

Shuttle Bus

CNY 45 for a through ticket
Entrance - Shuimo Valley: CNY 5 for single trip
Bell Mountain - Hot Spring: CNY 5 for single trip

Opening Hours

09:00 - 19:00 (ticket selling stops 1.5h earlier.)

Other Attractions in Altay:

Kanas Nature Reserve

Hemu Village
- Last updated on Apr. 12, 2021 -
Questions & Answers on Keketuohai National Park
Asked by Johnny from POLAND | Aug. 04, 2019 21:37

Reply
Autumn Colors in Keketuohai National Park
Will I still see autumn colors during late October to early November?
Answers (1)
Answered by Alva from NETHERLANDS | Aug. 07, 2019 02:46

0

0

Reply
Yes, generally speaking, you can see the autumn colors during that period of time.
Asked by Liz Nguyen from VIỆT NAM | Jun. 20, 2019 01:09

Reply
Do we need permit to get in Keketouhai? (without tour)
Thank you!

Answers (2)
Answered by George from USA | Jun. 20, 2019 01:43

0

0

Reply
As i know, there is no special permit.
Answered by Liz from VIETNAM | Jul. 01, 2019 20:12

0

0

Reply
Thank you :)
Asked by Joshua from PHILIPPINES | Jul. 07, 2018 04:11

Reply
Is it possible to get to keketuohai from kanas? How?
Answers (3)
Answered by Jonas from NEW ZEALAND | Jul. 09, 2018 20:29

0

0

Reply
You need to go back to Burjin County take bus to keketuohai.
Answered by Joshua | Jul. 09, 2018 21:22

0

0

Reply
is that bus direct to keketuouhai or do I have to switch somewhere?
Answered by Jonas | Jul. 10, 2018 18:05

0

0

Reply
Yes, you need to transfer in Fuyun.
Asked by Paul from AMERICAN LIVING IN TIANJIN | Jul. 29, 2017 19:55

Reply
Are there overnight accommodations in Keketuohai National Park?
Answers (1)
Answered by Alice from USA | Jul. 31, 2017 00:47

0

0

Reply
You are suggested to go to the west of the park, lots of hotels are there, like Yuanfang Hotel at 65 West Wenhua Rd, International Youth Hotel at 4 East Wenhua Rd, and Pingan Hotel at 26 East Wenhua Rd.