Urumqi Travel Guide
Urumqi, the capital of Xinjiang Uygur Autonomous Region in northwest China, is just like a piece of emerald embedded at the foot of the Tianshan Mountains. As home to 49 minority ethnic groups, this graceful prairie city is an important stop along the ancient Silk Road, leading to Central Asia and even as far as Europe.
The city lies in the shadow of the lofty ice-capped Bogda Peak with vast Salt Lake to the east, rolling pine-covered Southern Hill to the south, and alternating fields and sand dunes of Zunggar Basin to the northwest. With shorter spring and autumn but longer winter and summer, May to October is the golden season for travel, when flowers are in full bloom and the fruits, like melons and grape, are ripe with fragrance. The 2 hours' time difference between Xinjiang and Beijing lead to local working time starting from 9:30 or 10:00. The temperature varies widely between day and night. Considering this, you're advised to set out on your travels around noon each day.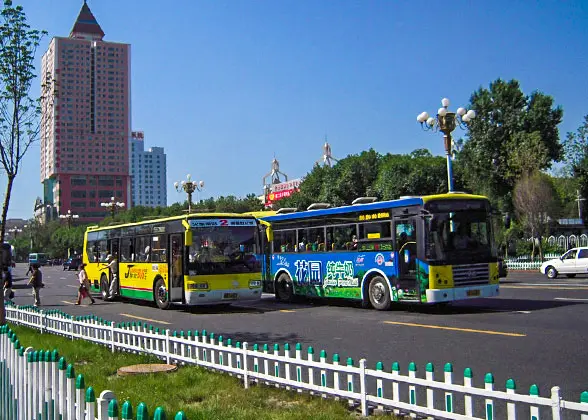 It is a hub linking China with East Asia and also Europe. As such Urumqi Airport plays a significant role for traveling to cities in China, East Asia, European countries and other destinations within Xinjiang. Long-distance buses to most attractions are available from the city. The Lanzhou-Urumqi high-speed train makes train trip to Xinjiang fast, convenient and comfortable.
Almost all cuisines of China can be found here, so there is no need to worry about eating. Eating food from different local ethnic groups is a must-do activity. Kebabs, Nang and Xinjiang Noodles of Uyghur, cheese and Boiled Lamb from Mongolia, bread and dairy-products from Russia ensure that you will not help having a try of some if not all that is on offer. Various local fruits and nuts will leave you a sweet memory.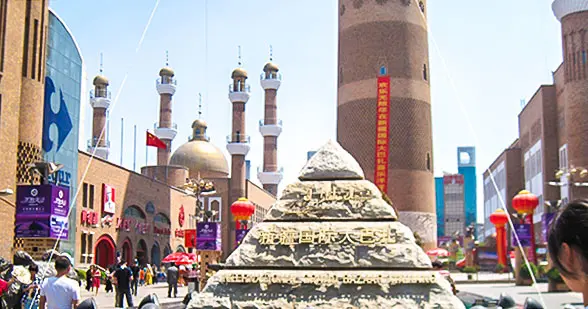 Coming here will not let you return to your country empty-handed. Shopping in the International Grand Bazaar is a pleasant experience. Bargain hunting for handicraft souvenirs such as rugs, carpets, Uygur-style hats and knitted sweaters, ethnic costumes, hand-made embroideries and carved jade, will definitely draw your intense interest.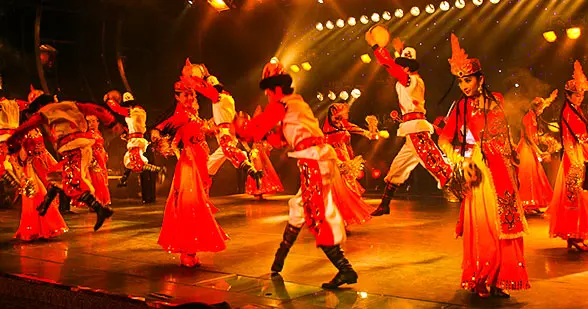 Nightlife here provides a multiple-range of choices such as watching the ethnic song-and-dance show, tasting native delicacies in the night market, or simply hanging out in bars. Shopping along Zhongshan Road or at Er Dao Qiao Market is sure to make your night interesting. Or one can climb the Red Hill to appreciate the beautiful night view of the whole city.
Festivals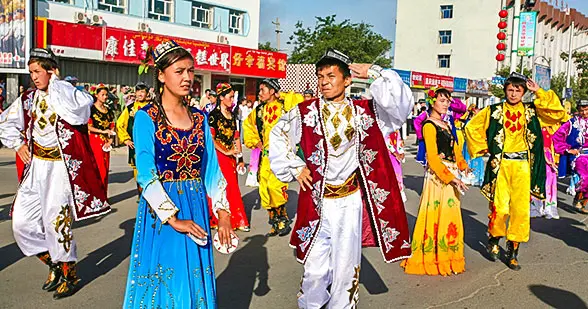 The most important local festivals are the annual Corban Festival and Lesser Bairam. Corban Festival, also known as "Sacrifice Festival", falls on December 10th in the Islamic calendar and lasts three days. During that time, ethnic activities, thumping singing and dancing parties will be held in both urban and rural areas. All homes serve their visitors delicious mutton. Lesser Bairam, also called "Fast Breaking Festival", is the New Year's Day of the Hui nationality as well as some other ethnic groups. It is the holiday at the end of Ramadan. The annual Silk Road Snow Folk Festival, from December to the next March, allows visitors to enjoy the fun of skiing.
Although it is remote, its history can be traced back to the Neolithic Age. It used to be a residence of some northern nomadic people. From1755 onwards, the start of fast development got underway in this area and the city got the name "Urumqi". In 1884, it changed its name to "Dihua" and was regarded as a political center. From 1954, it reverted to its original name and is the capital city of Xinjiang.
Some fast facts and practical information provided below will facilitate your life and trip in the city.
Area & Zip Code
Useful Phone Numbers
Post Office
Money Exchange
Hospital
Famous University
- Last modified on Feb. 28, 2019 -
Questions & Answers on Urumqi Travel
Asked by J | Mar. 16, 2019 09:35

Reply
Is it possible to go to Kanas lake in October?
After the golden week? Will there be snow or will the leaves start falling off?

Thanks
Asked by Trung Hieu Nguyen from VIETNAM | Feb. 26, 2019 00:09

Reply
Urumqi to Kanas Lake by bus or train? Which is better?
I'm going to Kanas Lake this March. How the weather this time? I like to see snow and winter scenery.
I know there are two options:
1. Take night bus from Urumqi to Burqin.
2. Take night train from Urumqi to Beitun.
Which is more convenient?
Thank you.
Answers (1)
Answered by Trent from FINLAND | Feb. 28, 2019 22:26

0

0

Reply
I prefer to take a night ttain to Beitun first. Then transfer to a coach to Kanas.
Besides, the temperature may range from -5C to 5C. Thus you will see the snow and winter scenery at that time.
Asked by Yen from THAILAND | Oct. 05, 2018 04:56

Reply
Train from Urumqi to Xining and Xi'an on Oct 23, 2018
Hello,
I am trying to check the train schedule from Urumqi to Xining or Xi'an on Oct 23, 2018 from this website.
There is no train on that day. Checking back on Oct 22, 2018 - there is also no train on this date too.
But on Oct 21 and before this date, there are many trains running to all these city.

Just wonder is there any problem with the train from Urumqi ??
Or it is just the website error ?
Has anyone book the train from Urumqi on these day ? Is it ok ??
Answers (1)
Answered by Shea from USA | Oct. 11, 2018 01:17

0

0

Reply
Dear, I searched the route on this website and it is no problem. That shows many trains on these days. Maybe there is something wrong with your network. You can have a try again.
Asked by Stephen from MALAYSIA | Aug. 09, 2018 01:39

Reply
How can I get to Bogda Peak from the Urumqi city center?
Is it possible to do just a day trip and see the mountain from a distance (just take the lower trails for an afternoon) or is it better to spend the night there?

Thanks!
Answers (2)
Answered by Nick from DENMARK | Aug. 09, 2018 22:50

0

0

Reply
You can take a bus from West Gate of Ergong Gymnasium to Tianchi, where you can see the Bogda Peak and I think a day trip is available.
Answered by Ablajan Jilil from URUMQI , CHINA | Aug. 11, 2018 23:28

0

0

Reply
Hi ,

if you want just to see it from distance you may go to Heavenly lake . one day is enough to go and back . can not stay there overnight .

Ablajan Jilil

Asked by SMX from AUSTRALIA | May. 23, 2017 21:05

Reply
transit in Urumqi for 19.5 hours
I'm an Australian passport holder and may possibly be flying to Tajikistan later this year. I will be flying from Australia and transit via Guangzhou, then Urumqi, before landing in Tajikistan. I will be in transit at Guangzhou airport for about 2.5 hours (I have no plans to exit the airport there), then flying to Urumqi airport. There will be about 19.5 hours before my flight to Tajikistan, so I'm planning to exit the airport and see the city. I understand most other Chinese airports have a visa-free exemption for stays under 24 hours, but there is almost no information about Urumqi airport when it comes to this issue. Since my total stay is under 24 hours, would I still need a transit visa for this?
Answers (1)
Answered by Julie from UK | May. 26, 2017 01:53

1

0

Reply
As I know, this airport is only free for 2 hours. So you need to apply for a visa even you will not get out of the airport.