Urumqi History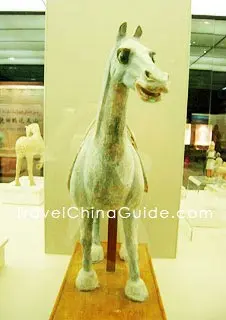 Pottery Horse exhibited in
Xinjiang Museum
Although the earliest activities of humans in this region can be traced back to the Neolithic Age, Urumqi has not been as prosperous a city as Beijing or Xi'an, as a result of its remote geographic location. The ancient Jushi People were said to be the first inhabitants in this land, making a nomadic living on the north slope of the
Tianshan Mountains
.
Until the Han Dynasty (206 BC-24 AD), the government stationed troops there to reclaim wasteland near to the city in order to ensure security for the Silk Road. In 640, during the Tang Dynasty (618-907), the first official prefecture was set up to administer the area on the north slope of the Tianshan Mountains, namely the Tingzhou State. During this period, Urumqi was called Luntai County which was under the control of the Tingzhou State with the other three counties. It was once a military stronghold for the Tang Dynasty to defend against their enemy.
The city's fortunes began to rise in the middle of the Qing Dynasty (1644-1911) when the Emperor Qianlong stationed troops and constructed an earthen city in the south of what is now Urumqi. The first step of the city's building project was taken in 1758. In 1763 , the city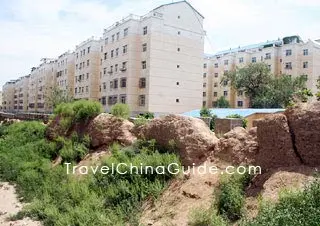 Ruins of Gongning City Wall
built in the Qing Dynasty
was extended and its name was changed to Dihua. In 1772, a new city called Gongning was built to the west of Dihua and acted as the military center for all regions of Urumqi. During this period agriculture, business and manufacture had developed rapidly, which had, in turn, stimulated population growth. At the end of the Qing Dynasty, the government set up Gansu and Xinjiang Province in this region and appointed Dihua as its capital. As such, Dihua become the political center of the Xinjiang region from then on.
Nowadays, as the capital city of the Xinjiang Uygur Autonomous Region, Urumqi includes five districts and the Urumqi County. Because of its particular position, it is a transportation hub for linking the south and north area of the Tianshan Mountains as well as connecting Xinjiang and central China.
- Last modified on Jul. 25, 2019 -