Urumqi Transportation - Getting There
By Air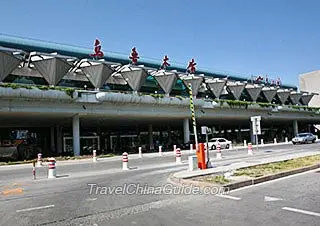 Urumqi Airport

Urumqi Flights
Located to the northwest of the city, Urumqi Diwopu International Airport is about 16km (9.9 miles) from the city center. Having been expanded several times, it has now become a major airport in the west of China and connects China with Middle Asia, West Asia, Europe and Africa. About 141 airlines connect the city with 52 domestic and 31 international destinations such as Beijing, Xi'an, Shanghai, Yinchuan, Guangzhou, Ulan Bator, Kabul, Osh and so on.

By Train
Urumqi is linked by rail to six major Chinese cities: Xi'an, Shanghai, Beijing, Chengdu, Zhengzhou and Lanzhou. Train services also connect Urumqi with other main cities in Xinjiang, such as Korla, Aksu, Kuitun, and Liuyuan. Due to the great distances, we strongly advise you to book a sleeper berth. Besides, an international railway line from Urumqi to Almaty, Kazakhstan, is also available.

Major Rail Lines from Urumqi to:

See detailed Urumqi Train Schedule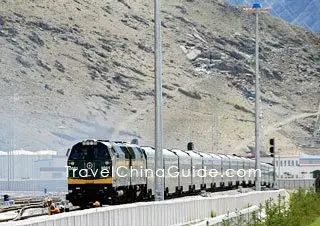 A train running to Urumqi
There are five railway stations in the city:
As the starting point of Lanzhou-Xinjiang High Speed Railway, Urumqi Railway Station is the largest train station in Xinjiang and it mainly handles bullet trains to Turpan, Jiayuanguan, Zhangye, Xining and Lanzhou and ordinary trains to Beijing, Shanghai, Xi'an etc. Public Bus 909, 301, 5302, 5305, BRT 5, airport express line can take passengers to the railway station.

The South Railway Station, lies on Qingfeng Road. It mainly operates ordinary trains to major inland cities and southern Xinjiang.

The West Railway Station is much closer to the airport than the Urumqi Railway Station. Trains to Yining, Dzungarian Gate, Beitu and Kuitun start here.

The East Station and North Station is for freight transport only.

18 ticket-selling offices are scattered throughout the city. Passengers can easily get their train tickets at local main bus stations such as Nianzigou Long-distance Bus Station and North Long-Distance Bus Station. Besides, ticket offices can be found on major streets such as Huanghe Road, North Nanhu Road and Jianshe Road.

By Long-distance Bus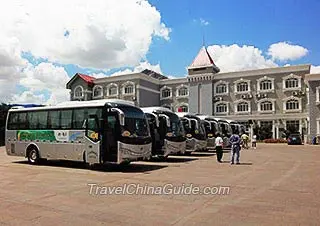 Long-Distance Bus Station
Highway Traffic in Xinjiang is comparatively developed and long-distance buses to most cities in Xinjiang depart every day from Urumqi. There are also special tourist lines to Heavenly Lake (75 miles), Southern Pastures (47 miles), Turpan (124 miles), Shihezi (93 miles), etc.
Jungong Passenger Transport Station
Address: Nanzhan Road (close to Urumqi Railway Station)
Major Destinations: Hutubi, Manas, Kuitun, Shihezi
City Bus Passing: 2, 8, 10, 16, 20, 36, 44, 50, 52, 58, 903, 906, 909, 915

Northern Suburb Passenger Transport Station
Address: No. 437, South Nanhu Road
Route: for places in northern and eastern Xinjiang Province
Major Destinations: Ili, Burqin, Karamay, Hami (Kumul)
City Bus Passing: 45, 906, 103, 529, 914, 921, 75, 901

Southern Suburb Passenger Transport Station
Address: No.21, Yan'erwo Road, Santunbei
Route: for destinations in southern Xinjiang Province
Major Destinations: Aksum Kashgar, Turpan, Kumul, Korla, Hetian
City Bus Passing: 7, 9, 39, 51, 55, 68, 910

Nianzigou Passenger Transport Station
Address: No. 49, Heilongjiang Road
Route: mainly to places in southern and northern Xinjiang Province
Major Destinations: Ili, Burqin, Karamay, Hami (Kumul)
City Bus Passing: 51
- Last updated on Jul. 18, 2022 -
Questions & Answers on Getting to Urumqi
Asked by Sohel from BANGLADESHSH | Nov. 12, 2019 19:39

Reply
How's the distance between Urumqi airport to Urumqi train station (not south station)
where high speed train running to Turpan north.

Thanks
Answers (1)
Answered by Kennedy from DENMARK | Nov. 14, 2019 23:03

0

0

Reply
The distance is around 20km.
Asked by Stanley from MALAYSIA | Oct. 21, 2019 21:10

Reply
How to visit Altay and Kanas Lake ?
Can I know if it possible to travel the Altay region with public transportation ? Are there any buses to the major attractions ?
Answers (1)
Answered by Avery from GERMANY | Oct. 21, 2019 23:20

0

0

Reply
I am afraid that there is no direct public transportation. For your convenience, you are suggested to hire a private to these two scenic areas from Urumqi.
Asked by Daniel from USA | Sep. 28, 2019 22:30

Reply
Getting from Urumqi to Qinghe
Hello, I will be arriving at Urumqi on a Tuesday at 10:00am. What is the best way for me to get to Qinghe? It sounds like there are two buses that leave for Qinghe for ~140CNY, do you know the times? Is there an option for trains?

Thanks!
Answers (2)
Answered by Gloria from NEW ZEALAND | Oct. 07, 2019 20:02

0

0

Reply
As I know, you can take long-distance bus from North Coach station to Qinghe. It only departs at 18:00 with CNY68.
Answered by Daniel from USA | Oct. 09, 2019 05:51

0

0

Reply
When I was there last week one left at 11:15, another at 20:15, both at 140 CNY.
Asked by Rieng | Sep. 15, 2019 08:55

Reply
Transportation to Urumqi railway staion
I will book train to JingHe leaves from Urumqi 07.10 am. I stay at hotel near red hill park.
1. What time do public bus start in the morning?
2. Can I take 3 taxis for 12 persons available in early morning?
I want to know there are taxis run 24 hrs. in Urumqi or not?
Thanks for your reply
Answers (1)
Answered by Bobby from USA | Sep. 18, 2019 19:03

0

0

Reply
1. You can take bus 29 from red hill park to railway station directly, but the first bus departs at 7:20.
2. Yes you can.
Taxi runs 24 hours in Urumqi, but if you are in hurry, it is better to book reservation.