Urumqi Dining - What to Eat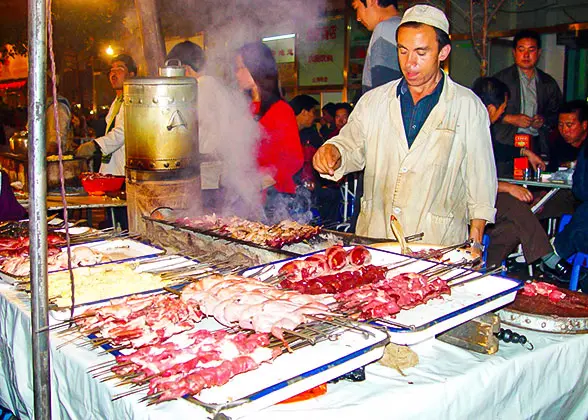 Xinjiang Kebabs
It is not an exaggeration to say that Urumqi is an expo center of Middle Asian delicacies. Some people think dining in a grand restaurant is a better way to enjoy the local delicacies. However, the fact is not like that. Sometimes, a small nameless snack bar can provide more splendid food. Of course, this situation demands your more patient exploration. Take Er Dao Qiao for an example. There are many snack bars in this place. Please don't despise them for the sake of their tempting snacks.

The Featured Food of Urumqi:
Xinjiang Kebabs are chunks of mutton thread on skewers and roasted over charcoal. The kebabs are turned continually and basted frequently, and when they are almost done, salt, pepper paprika and cumin are sprinkled on them. Kebabs are crispy outside and tender inside, slightly salty and hot. They are not greasy and have no unpleasant smell. They are sold in the streets and bazaars throughout Xinjiang. The Yang Fan Kebabs at May the First night market is one of the most popular kebabs restaurants in Urumqi.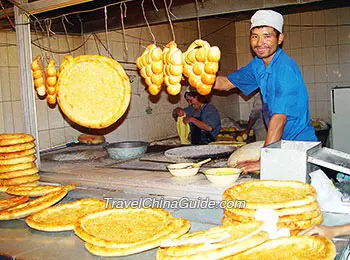 Nang, Uygurs' food
Nang
is Uygurs' food. Uygurs cannot miss eating a Nang any day. Nang comes in more than 10 varieties. Nang is roasted in a special oven which is made of mud and earth otherwise the process is similar to cooking pancakes. The ingredients include wheat flour, corn flour or sorghum flour, with such seasoning as sesame seeds, onions, eggs, vegetable oil, butter, milk, salt and sugar. Nang in gold yellow is crispy and tasty. It is easily portable and it keeps well.
Roasted Stuffed Buns
is another Uygurs' food very popular at festivals or wedding. The stuffing of the buns is a combination of chopped mutton, beef and sheep's-tail fat. Then add chopped onions, salt and cumin. Seal the stuffing in dough square, and put in an oven to roast for 10 - 20 minutes. The buns are thin-skinned, with tender meat stuffing and very delicious.
Xinjiang Noodles
(Lamian) are hand-pulled noodles which are soft and even. They are dressed with fried mutton piece, onions, cooked tomatoes and chili peppers. Locals and visitors consume noodles with gusto.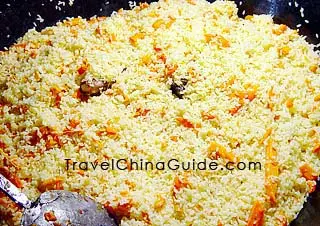 Zhua Fan (Rice Eaten with Hands)
Zhua Fan
(Rice Eaten with Hands) is cooked with ingredients from fresh mutton, carrot, vegetable oil and rice. This food is soft, delicious and nutritious. It is consumed at the festivals, funerals and weddings of Uygurs and Uzbeks. People habitually pick the food from the tray by hand hence the name 'Rice Eaten with Hands'. Nowadays, people use chopsticks and spoons instead of fingers. We recommend the No.17 restaurant in May the First night market and Wuyuehua Restaurant opposite No. 17 in Hetian Jie for your Zhua Fan experience.
Other specialties worth mentioning are Milk Tea, Yoghourt Made of Mare's Milk, Rice-Filled Sausages, and Stewed Mutton Eaten by Hands, etc.
- Last updated on Jul. 18, 2022 -
Questions & Answers on Urumqi Dining - What to Eat
Asked by ADHIL C AZAD from INDIA | Oct. 20, 2015 10:25

Reply
As a students from South India, can i find cheap and best food in Urumqi so that i adjust there?
Answers (1)
Answered by Marcos from NEW ZEALAND | Oct. 22, 2015 01:26

0

3

Reply
Actually, most restaurants in this city have resonable and acceptable prices for students. Don't worry. There are several food streets, such as Changchun Road Food Street. It's located at the east side of the intersection of South Changchun Road and East Suzhou Road. You can easily find many delicious and cheap local foods there. Hope you like.
Asked by rafiullah from PAKISTAN | Dec. 21, 2014 01:03

Reply
how far is urumqi airport from train station?
Answers (1)
Answered by rafiullah from PAKISTAN | Dec. 21, 2014 01:27

0

2

Reply
21km

Asked by Ms.Mas from SINGAPORE | Jul. 25, 2010 01:56

Reply
HI,

Is it easy to find a Muslim Restaurant here? Any mosque here?
Answers (2)
Answered by Ms.Judy | Jul. 25, 2010 03:15

1

0

Reply
Since urumiqi is a muslim area, it is very easy to find a Muslim Restaurant here.

Hanteng Geli Mosque is the biggest mosque here. It is located at the north end of Jiefangnan Ly,urumqi.
Answered by Ms.Ablajan .Jilil from URUMQI /CHINA | Oct. 23, 2012 09:44

2

1

Reply
Essalamu eleikum !

There are a lot of musque and restureant at the southern parts of Urumqi , so you have to find a hotel which is located near the Tuan jie road , Yan an road ,Jiefang road and Xin hua south road . its easy to find resturand and musque near that area .

Key words : Ablajan.jilil