Urumqi Dining - Where to Eat

The Four Gourmet Streets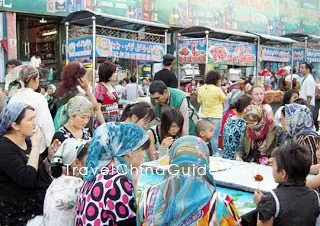 A dining street near
Xinjiang International Grand Bazaar
In Urumqi downtown, there are four famous gourmet streets, including Jianshe Road (Jianshe Lu), Xinfu Road (Xinfu Lu), Tiyuguan Road (Tiyuguan Lu) and Gongyuan Street North (Gongyuan Bei Jie).
Features of these four streets:
Tiyuguan Road: There exist a lot of Muslim restaurants. Among those, Hui Jia Shi Fu (Hui People's Dining Hall) and Hui Jia Can Ting are the most notable ones.
Xinfu Road: There are more than 30 restaurants in this street, such as Lao Shan Zhi Zao (Shaanxi-flavor Food), Six-Taste Roast Goose (Liu Wei Shao E), Spicy Crabs, Chongqing Sha Er Fish and Fei Fan Jiu Bao.
Gongyuan Street North: Over 20 restaurants can be found in this street. Tian-tian Chaozhou Beef Balls (Chaozhou Cuisine), Beijing Restaurant, Chuan Wa Zi (Sichuan-flavor food) and Yunnan Ethnic Flavors are highly recommended.
Jianshe Road: Many hotpot restaurants can be seen in this street, such as Jingdu Shuan and Dou Lai Shuan. Additionally, the restaurant Shanghai Chenghuangmiao Small Steamed Dumplings is well worth a try.



Xinjiang International Grand Bazaar
There is a Food Square in International Grand Bazaar where tourists have a chance to taste the delicious snacks from 56 nationalities of China and some famous international food. Dishes like kebab, hand pilaf, naan and baked samosa of Xinjiang are all worth a try.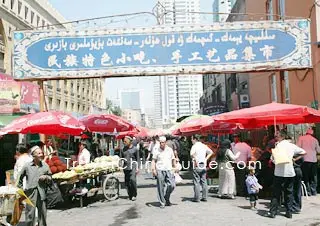 A market selling Xinjiang snacks

Other highly-recommended restaurants:
Chongqing Restaurant
Pinyin: Chongqing Jiujia
Specialties: It is an old-brand Sichuan-flavor restaurant, good at cooking spicy dishes. The Spicy Duck Blood Curd is a very popular dish. Also the Sliced Fish in Hot Chili Oil and Braised Eggplant are quite tasty.
Average cost per person: CNY46
Address: Kelamayi Road East, Shuimo District, Urumqi (near the City Government)
Du Er Dan Snack Bar
Pinyin: Du Er Dan Kuai Can
Specialties: It is a Muslim restaurant, providing very genuine Zhua Fan, yogurt and kebab. The Zhua Fan here is black-colored, but tastes very delicious.
Average cost per person: CNY28
Address: Beijing Road, Xinshi District
Wei Dao Jiang Hu
Specialties: It's a Sichuan restaurant. The lamb chop and mushroom soup are its highlights.
Average cost per person: CNY52
Address: Xibei Road, Shayibake District
Qin He Ju
Specialties: It's popular for superior quality and cheap prices. The dishes Fish Head with Chopped Hot Peppers and Stir-fried Squid are well worth trying.
Average cost per person: CNY26
Address: Kelamayi Road East, Shuimo District
Quan Ju De Roast Duck
Specialties: If you have been to Beijing, you may hear of Quan Ju De Roast Duck Restaurant. It's a very time-honored restaurant in Beijing and now has many branch stores in the mainland China and even in Hong Kong. So, it's not so strange to see it in Urumqi. Some people think this branch store in Urumqi can offer tastier roast duck than in Beijing. Who knows? However, you may have a try, since Quan Ju De can guarantee its quality.
Average cost per person: CNY65
Address: No.24 Beijing Road South, Xinshi District
Qitai Hui People's Stirred Noodles
Pinyin: Qitai Hui Min Ban Mian
Specialties: As the name implies, the food sold here is in the flavor of minority Hui. It is a Muslim restaurant.
Average cost per person: CNY10
Address: Jing Er Road, Shayibake District
Mingliu Hotpot
Specialties: Its Spicy Prawn Hotpot is very good. Fish Hotpot is also Ok.
Average cost per person: CNY38
Address: No.14 Yangzijiang Road, Shayibake District
- Last modified on Jul. 24, 2019 -
Questions & Answers on Urumqi Dining - Where to Eat
Asked by mani from IRAN | Feb. 03, 2017 05:37

Reply
Nearest place to t3 of Urumqi Airport
I only be in the city for short time to change my airplan . May I know where is the nearest place to t3 airport that I can spend 3 hours there and see local people and eating local food?
Answers (1)
Answered by Mindy | Feb. 03, 2017 21:00

1

0

Reply
There is no much to see around the airport. If insist, you are recommended to take a taxi to pay a quick visit to downtown. The Erdaoqiao area is nice, where there is Bazar, local food and local Uygur people. The taxi ride takes about 35min.
Asked by ali from JORDAN | Dec. 30, 2012 00:54

Reply
any arab resturents in urumqi
Answers (2)
Answered by Mina | Dec. 30, 2012 01:52

3

0

Reply
Hi, you can find nice Arabian food at Aladdin Halal Restaurant at Ruihao International Hotel, which is located at No. 2, West Henan Road.
Answered by Ablajan Jilil from URUMQI ,CHINA | Nov. 06, 2013 06:22

0

1

Reply
Hello Assala mu eleykum !

Threr are some Turkish , Uzbek (centrial Asian style) Ruussian here in Uemq but I have no idea about Arab style resturant , I am a private driver and licensed tour guide based here , if you want rent a car or for any information pls contect with me