Urumqi Weather
7-Day Urumqi Weather Forecast
Averages for Urumqi Weather
High/Low Temperatures of Urumqi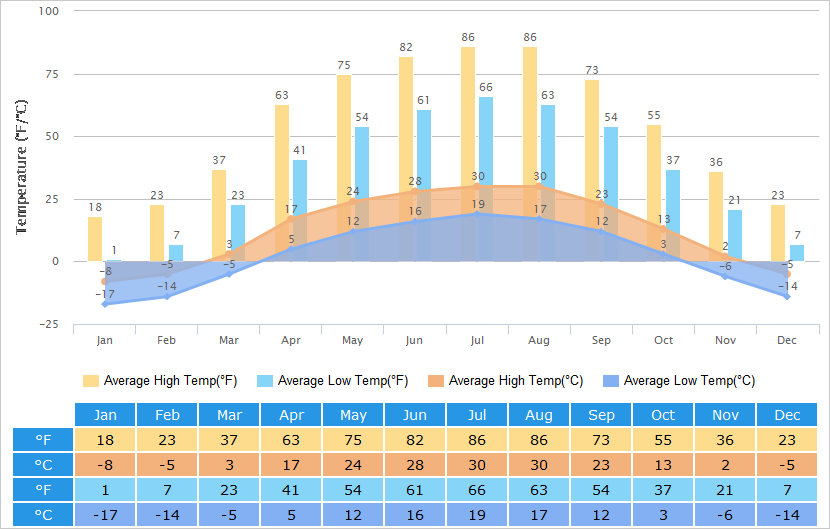 Average Temperatures of Urumqi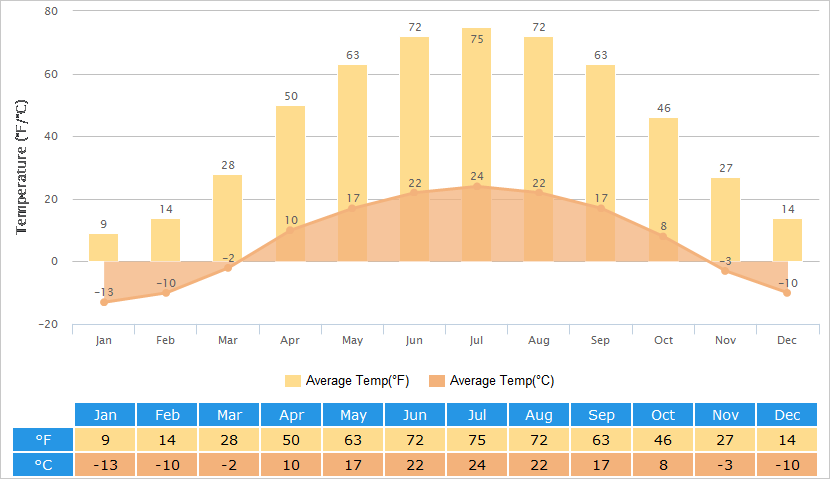 Humidity Graph of Urumqi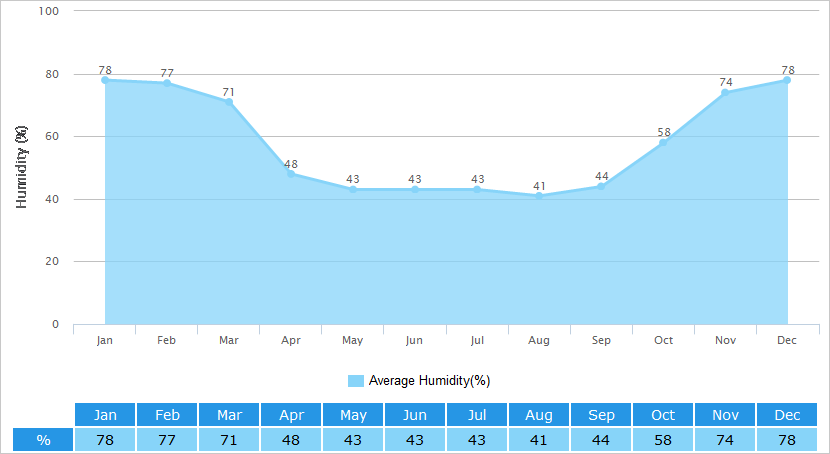 Average Rainfall of Urumqi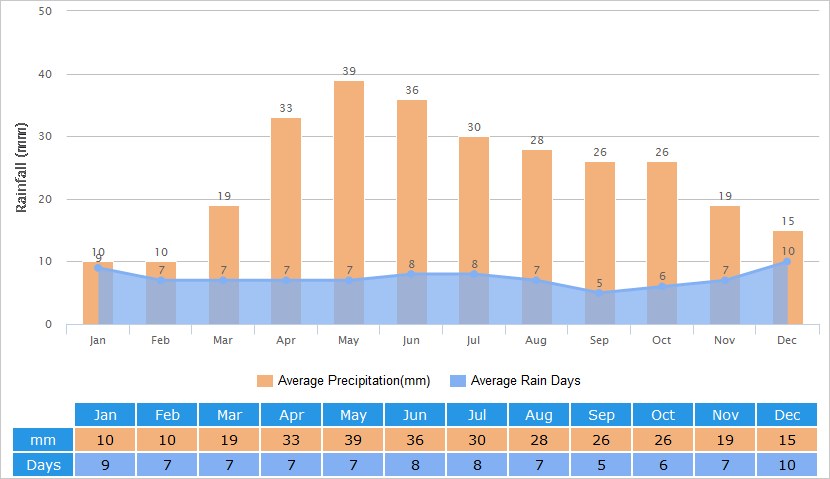 Air Quality of Urumqi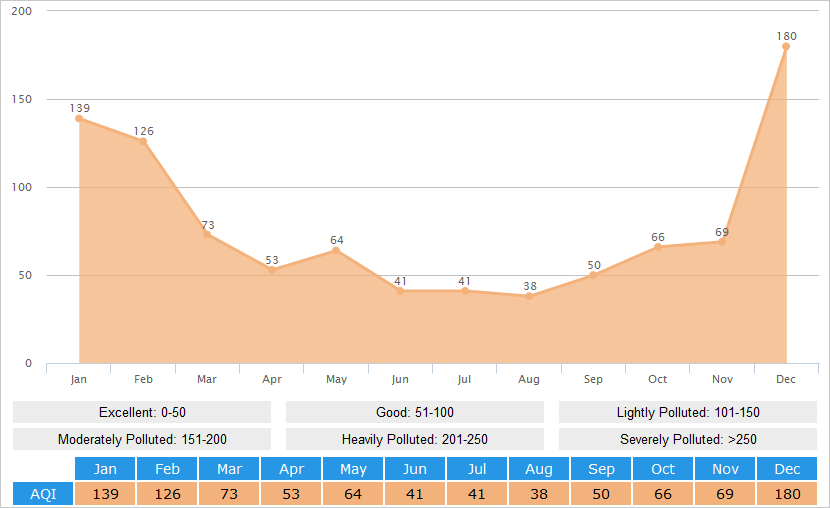 Urumqi Climate - Seasons & Travel Advice
The temperature in Urumqi fluctuates greatly between day and night. The weather of Urumqi is extremely dry due to its geographical location and continental climate. Spring and autumn are short while winter and summer are long. Remote as it is, the local inhabitants fondly call it 'Urumqi' which translates to mean graceful pasture.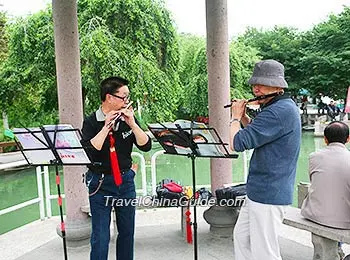 Playing flute in a park of Urumqi
in the green and pleasant spring
Spring here comes comparatively late. Usually the northern suburb of Urumqi has the first touch of spring in late March, the downtown area some two weeks later and the southern suburb ten days later again. Summer is flowery and lush here and lasts typically for about 90 days in the northern suburb and about 60 days in the downtown area. The mild climate of summer makes Urumqi an ideal place for a summer holiday with the average downtown temperature of about 23

C (about 73.4

F). From late August, autumn comes, a golden season of fruit harvests. In October you will experience fluctuations between day and night temperatures. The weather of the long winter here is cold with the average temperature of around -15

C (about 5

F), but the scenery makes up for the cold at that time.
The best period for visiting Urumqi is from May to October when flowers are in full bloom and the melons and fruits smell sweet and are ripe for the picking. Dress warmly even when traveling in the hottest month (July and August) for the temperature differences between morning and night. Be sure to bring a sweater and trench coat in May, June, September and October. During the cold winter (November to March), you will need heavy winter wear.
- Last modified on Nov. 30, 2018 -
Questions & Answers on Urumqi Weather
Asked by Peter Wong from SINGAPORE | Nov. 28, 2018 19:40

Reply
I have to visit Urumqi to see a sick relative from 6-19 Dec 18.
Understand the weather will be extremely cold and dry.
As a Singaporean, not use to this type of weather.
Please advice whether a winter jacket is sufficient to keep warm and type of shoes to wear.
Also, can we catch flu/cold easily ? How to prevent ?
Thank you for your valuable advice.
Answers (1)
Answered by Sansaui from AUSTRALIA | Nov. 30, 2018 00:22

0

0

Reply
You'd better take enough warm winter clothes, such as thick cotton-padded jacket and down jacket, thermal underwear, woollen sweater, down wadded trousers, snow boot... You should take some medicine, such as Antidiarrheal, gastrointestinal agent, patulin and antipyretics. Remember to keep warm and drink more water.
Asked by wong from SINGAPORE | Nov. 28, 2018 19:28

Reply
My family have to visit Urumqi this month from 6-19 Dec 18 to see a sick relative.
What type of winter wear is sufficient to beat the coldness?
We Singaporeans are used to humid and hot weather. This sudden change of temperature will cause common illness like flu/cold. ? Your advice what to prepare for this trip is most appreciated. URGENT REPLY PLEASE
Thank you.
Answers (1)
Answered by Fabian from USA | Nov. 30, 2018 00:24

0

0

Reply
Take thick clothes to keep warm, such as cotton-padded jacket, woolen sweater, down wadded trousers and snow boot. You should take ski cream and some medicine to cure the cold or flu.
Asked by Chyan from SINGAPORE | May. 04, 2018 18:44

Reply
China weather forecast rain in Urumqi on 13 May 2018.
May I know when it rains, is it drizzles, light rain, heavy rain or thunderstorm? Will outgoing and incoming flights to this city be affected? I am travelling on this date.

There is no dust storm in there on 13 May, right?
Answers (1)
Answered by Eva from AUSTRALIA | May. 07, 2018 20:47

1

0

Reply
Oh, don't worry. The lastest weather forecast indicates that there is no dust storm on May 13th. When it rains, it won't be heavy rain or thunderstorm. Generally speaking, it won't influence the flight or sightseeing. Have a nice journey!