Urumqi Diwopu (Diwobao) International Airport
Airport Code: URC

Location: Lying in Diwopu, about 16 kilometers (about 9.9 miles) northwest of the downtown area of Urumqi City

Brief Intro: The airport now covers an area of 4.84 million square meters (1195 acre). The apron can accommodate more than 30 aircraft at the same time. Connecting Xinjiang with major cities such as Beijing and Shanghai, it is often used as a transfer airport for passengers who intend to go to any other places in Xinjiang. Besides, it connects Xinjiang with many Asian and European destinations including Alma-ata, Astana, Ashkhabad, Dushanbe, Osh, Tbilisi, Shymkent, Seoul, Bishkek, Novosibirsk and Baku. Looking at the entire construction in the sky, the airport resembles an elegant flying swan.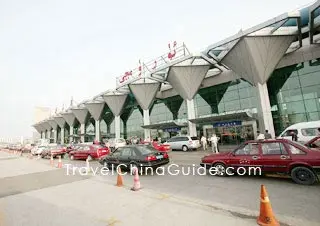 Urumqi International Airport
Terminals:
The airport includes two terminal buildings - T2 and T3. T2 operates domestic flights of 13 airline companies. The airline companies include Air China (CA), Hainan Airline (HU), Shanghai Airline (FM), Spring Airlines (9S), Lucky Air (8L), OK Air (BK), Sichuan Airline (3U), Shenzhen Airline (4G), Tianjin Airline (GS), Shandong Airline (SC), Capital Airline (JD), Juneyao Airline (HO) and China United Airline (KN).
Terminal 3 operates all the international flights from and to Urumqi and all the domestic flights of China Southern Airlines. This terminal has three floors, the first floor as the arrival hall, the second floor as the departure hall and the third one being used as the rest place. Four languages (Chinese, Uyghur, Russian and English) in the airport are used to guide the passengers.
Transportation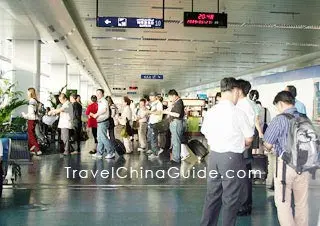 Cross Terminal Free Shuttle Buses
Free shuttle buses are operated between T2 and T3 and the interval is around 30 minutes. The buses can be found at Gate 1, Arrival Hall of T2 and at the elevator outside Exit 1, Arrival Hall of T3. The buses operate from the first flight till the last flight and a single journey takes about 5 minutes.

Shuttle Buses to Downtown
Bus Station in the city: Southern Airlines Pearl International Hotel
Operating Time: 06:30 to 23:00 in summer time and 07:30 to 22:20 in winter
Ticket Fare: CNY15
Main Stations: Red Hill, Wooden Factory, South Youhao Road, Nianzigou Long-distance Bus Station, Railway Station

Metro
Metro
line 1
connecting Santunbei and airport operates from 07:40 to 23:30 with a fare of CNY 7 and a duration of about 50 minutes.

Public Buses to Downtown
Bus Line
Stations
Operating Time
Ticket Fare
Line 27
T3–Yingbin Road –Hangzhou Road–Tianjin Road-Wangjialiang
07:30 - 23:30
CNY 1 from 07:30 to 22:00
CNY 1.5 from 22:00 to 23:30
Line 51
Airport-Yingbin Road – Nianzigoug - Red Hill-Shiqihu
07:30 - 23:30
Line 535
Airport – Hot Spring
07:30 - 23:30

Taxi
The airport is close to the city center, so taxi can be a good choice if one reaches Urumqi for the first time. Generally, the taxi fare from the airport to the city proper area is around CNY 30 to 40 by meter. When taking a taxi, it is suggested to require the taxi drivers to charge by meter; otherwise, it is advised to negotiate a reasonable price before boarding one.



Transportation to Other Cities in Xinjiang
In the Arrival Hall of T2 and T3, there is a long-distance bus ticket office. There passengers who plan to go to cities such as Ili, Altay, Hetian, Kashgar and other 40 cites in Xinjiang can buy bus tickets directly upon arrival. After purchasing the bus tickets, those who want to take bus from Nianzigou Bus Station can take the shuttle bus to reach Nianzigou Bus Station easily.

Facilities & Service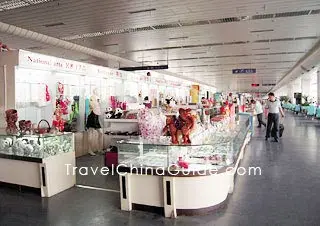 Shops in the Airport

VIP lounges: Passengers can find 6 VIP lounges in A and B1 for domestic planes and 14 lounges in B3 and C for all the VIP passengers.



Visa Application Service: Foreigner passengers who urgently require coming to Xinjiang can obtain their visas upon arrival. They must satisfy the requirements to enter China, along with an invitation letter to come to China and related materials. If they hold this kind of visa, they can also leave the country through any port of entry within China's borders.



Restaurants: KFC (in T3), Best Food, Cafes and other local restaurants can be easily found in the terminals.



Service Numbers
Information Hotline: 0991-3801453 (Chinese, Uyghur and English self-service are provided.)
Complaint Hotline: 0991-3804646
- Last updated on Jul. 18, 2022 -
Questions & Answers on Urumqi Diwopu Airport
Asked by Vera Zmeskalova from CZECH REPUBLIC | Jan. 13, 2020 12:42

Reply
Asked by Věra from CZECH | Jan. 13 2020 21.36

We fly two / 61 and 71 years / from Vienna Flight 6022 to Brisbane with a technical stopen in Urumqui and a stopover in Canton / 6h 25 min / 17.3.2020 and back 29.4.2020 on Flight 6021 from Brisbane to Vienna with a stopover in Canton / 16 h 15 min / and a technical stopen in urumqui.
I've got to say: On one transfer, I don't need a visa if the time between arrival in China and departure from it is: 2 hours • When transferring at Urumqi airport (only on an international flight, on an embedded domestic flight, a visa is always needed - excluding flights CZ6022 from Vienna and CZ6021 to Vienna, if there is only a technical stopover in Urumqi, not a transfer to another flight). Can someone confirm that to me? They weren't even able to answer me at the Chinese Embassy in Prague.
Thanks,
Vera
Answers (1)
Answered by Jack from USA | Jan. 15, 2020 17:12

0

0

Reply
If you have a stopover in Urumqi, you need to apply for a Chinese visa.
Asked by Peta from CZECH | Nov. 04, 2019 13:30

Reply
I travel to Manila from Vienna with one stop in Urumqi (2,5 hours)
and one stop in Guangzhou (4 hours) leaving China within 24 hours. I´m Czech citizen and EU pass holder. Chinese Embassy in Prague hasn´t responded yet, but Slovak consulate in Beijing and Chinese Embassy in Hungary both confirmed, that I can use free transit visa. I also wrote with other Czech travellers that didn´t need visa on this route, just passed through Urumqi without visa and without problems. Can you please explain us why do we need visa for Urumqi?
Thanks,
Petra
Answers (1)
Answered by Dalibor from CZECH | Nov. 06, 2019 09:15

0

0

Reply
Hi Petra, I have the same flight as you and also would like to make sure that visa is not needed for this journey. Can you please share your findings? Thank you a lot Dalibor   
Asked by Pratik Chorge from INDIA | Oct. 28, 2019 10:21

Reply
Is there any cab or bus service from urumqi airport to akqi county?
Answers (1)
Answered by Jannet from CANADA | Oct. 29, 2019 19:26

0

0

Reply
Sorry, there isn't. The distance between them is around 1200km.
Asked by Wolfgang from OBJECT:3257 | Oct. 21, 2019 06:23

Reply
VISE FREE STOPP IN URUMQI???
Hi,
we are AUSTRIAN CITIZENS and will fly with China Southern from
VIENNA via URUMQI (2:10 hrs. Stopp)
to GUANGZHOU (3:15 hrs. Stopp)
and connect with China Eastern via KUNMING (8:30 hrs. Stopp)
to MANDALAY (Myanmar).
In Total we will arrive at URUMQI at 14:55 hrs. and finally depart KUNMING at 08:05 hrs. next morning
= Total Transit time of 17hrs. 10 min.
Return flights are-
BANGKOK to GUANGZOU (5 hrs. Stopp)
GUANGZHOU- to URUMQI (2:35 hrs. Stopp)
URUMQI to VIENNA
DO I NEED ANY VISA IN ADVANCE??
China Southern told me to contact the embassy in Vienna
The Embassy has sent me to China Visa Application Service Center in Vienna
CVASC told me that they are not responsible for visafree Transit and i should ask the Airline!
We are a Family of 5! 5 x €126 = €630,-

Answers (1)
Answered by Adam from USA | Oct. 24, 2019 17:57

0

0

Reply
Obviously, you are not eligible for any visa free transit condition. So you need to apply for the Chinese visa in advance.
Asked by Iva from CROATIA | Oct. 15, 2019 05:17

Reply
I'm a bit confused and I have a question and I'm asking for your help.
I am a Croatian citizen with the passport and I booked a flight with China Southern airlines from Vienna to Bangkok with two stops, first in Urumqi with connecting time for 4h 55 min and second in Guangzhou with connecting time for 2h 50 min.

Can someone please provide me with the information do I need a visa for that time at the airports? For Urumqi says you don't need if it's no longer than 2h.
Maybe someone who already flew this destination?
Thanks,
Iva
Answers (2)
Answered by Kira from UNITED KINGDOM | Oct. 16, 2019 19:54

0

0

Reply
You need to apply for a Chinese visa.
Answered by Iva from CROATIA | Oct. 17, 2019 01:45

0

0

Reply
Hi, thanks for reply.

I contacted embassy and they send me links with the explanation from the websites saying I don't need visa. And if you are traveling from the same airport you can stay in transit without visa.
Hmm, really don't know what to do.