China's Top 5 Places to Travel in January
In January, it is cold and dry in most part of China. The travel theme in this month is mainly appreciating snow and ice scenery and enjoying skating or skiing, with top destinations including Harbin and Huangshan Mountain. For those who prefer warm places, go to the south China like Hainan, where the sun still shines warmly. Here we carefully choose China's top 5 places to visit in January, to help you plan a nice trip.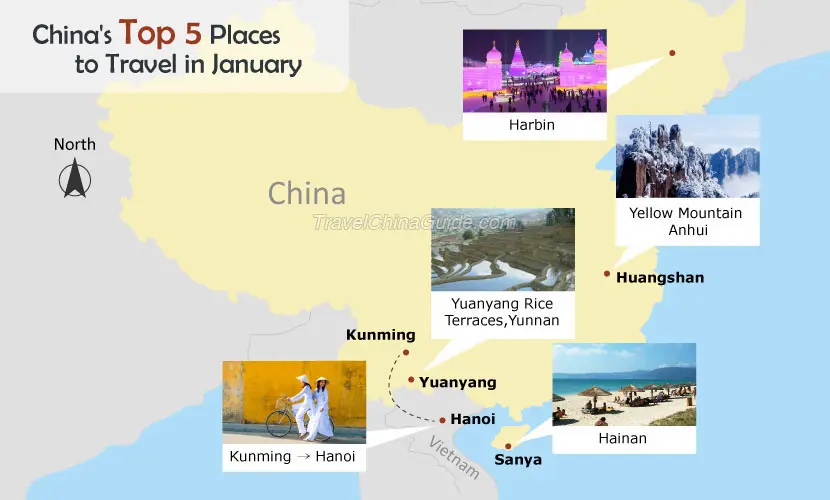 1
Harbin: A World of Ice and Snow Sculptures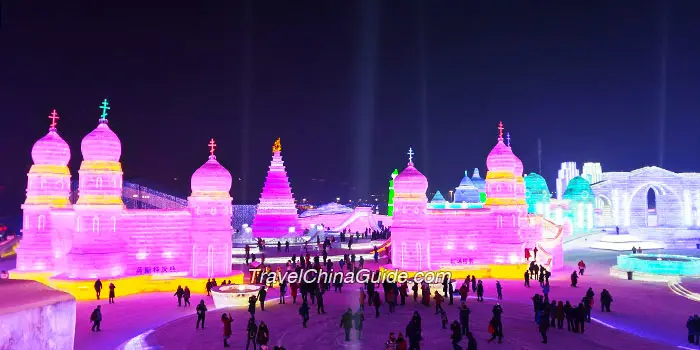 Location: Heilongjiang Province, Northeast China
Harbin Temperature in January
: -24°C ~ -13°C (-11°F ~ 9°F); drop to -30°C (-22°F) sometimes
Weather: The chilly and dry air makes January the coldest month in Harbin. The temperature difference is small; the day time is as wintry as the nighttime.
Highlights:
Ice and Snow Festival
, various snow and ice sculptures, pure white snow scenery, skiing, activities on ice
Things to Do:
One of the best places to visit in China in January is Harbin. In this month, the Ice and Snow Festival is held in many places of this city. Here you can appreciate all kinds of ice and snow sculptures, such as world-renowned buildings, classic cartoon images and ice lanterns and they are lit up by colorful lights, which look dreamlike and incredible. You can also play various ice-sports, including ice-carved slide, rocks and maze, and football on ice. Skiing in
Yabuli International Ski Resort
is also a popular experience. You should also not miss the Central Street during the festival, decorated with colorful lights, various ice sculptures, which is like a fantastic and magical ice and snow art gallery.

Recommended Tour:

Harbin 3 Days Tour Package
Location: South most China
Hainan Temperature in January: 16°C ~ 20°C (61°F ~ 68°F)
Weather: warm but not hot with little rainfall
Highlights: Warm sunshine, soft beaches, blue sea, various seafood and fruit
Things to Do:
Hainan is listed on China's top places to travel in January because of its warm climate. You can enjoy warm sunshine and soft silver beaches in Yalong Bay, or dive in Wuzhizhou Island. You can also enjoy a variety of leisure water activities in the seaside: diving, motorboat or jet skiing, angling, parasailing, and sunset appreciation by yacht. In addition, a must-do thing in Hainan is to taste all kinds of seafood in the First Market.

Recommended Tour:

5 Days Haikou & Sanya Tour
Location: Huangshan City, Anhui Province, East China
Huangshan Mountain Temperature in January: -5°C ~ 0°C(23°F - 32°F) ; the lowest temperature on the mountain can be as low as-15°C ~ 20°C (5°F ~ -4°F)
Weather: cold with occasional snowfalls
Highlights: Sea of cloud, rime, hot spring, photography
Things to Do:
Huangshan Mountain (Yellow Mountain) is an ideal place to appreciate enchanting snow scenery in January, hence listed as one of the top places to go in China in January. In addition, compared with other seasons, there is a larger chance to encounter the sea of clouds and rime in winter. The sunrise and sunset on the mountain is also breathtaking. This is a paradise for shutterbugs. To beat the coldness, a bath in one of the hot springs at mountain foot cannot be better.

Recommended Tour:

Huangshan 3 Days Tour from

$519
Location: Honghe Hani Autonomous Prefecture, Yunnan Province, Southwest China
Yuanyang Temperature in January: about 15°C ~ 20°C (59°F - 68°F)
Weather: It is pleasant and moderate at daytime and a little cold at nighttime. Rain falls sometimes.
Highlights: terraced rice fields full of sparkling water, photography
Things to Do:
Late January is the irrigation time when tourists can see the rice terraces shining brightly in the sun. It forms a spectacular scene of sunglows and colorful clouds reflected in the terraces, which is breathtaking and one of the most popular sites for photographers. There you can also get a learning of China's ethnic minority - the Hani nationality.

Recommended Tour:

6 Days Kunming to Yuanyang Tour from

$1029
5
Kunming to Hanoi: A Trip to Chase Warm Sunshine
Location: Kunming is located in southwest China; Hanoi is the capital of Vietnam and borders on southeast China.
Kunming Temperature in January
: 2°C ~ 16°C (36°F ~ 61°F) ; Hanoi Temperature in January: 14℃ ~ 19℃(57°F ~ 66°F)
Weather: In Kunming, it is like spring all year round with bright and sunny winter days; In Hanoi, January is a cool season with comfortable climate.
Highlights: abundant sunshine, pleasant climate, beautiful natural scenery
Things to Do:
In January, thousands of black-headed gulls fly to Kunming from the north for overwintering and you can feed them in Green Lake Park or Dianchi Lake. A boat trip on Dianchi Lake to appreciate the lake view is also a good choice. Also, you can cruise up Ha Long Bay known as "Guilin on the Sea" in Haoni or go for a walk along the Hoan Kiem Lake to enjoy a leisurely holiday there.

Recommended Tour:

10 Days Kunming Tours to Jianshui, Yuanyang, Hekou, Sapa, Hanoi from

$1739
- Last modified on Mar. 10, 2021 -