Kunming Weather in January
Even though Kunming is known as the Spring City, the weather in January is the coldest with low precipitation and an average temperature of 2°C ~ 16°C (36°F ~ 61°F). Compared with northern provinces, Kunming is warm in January with mild winds and brilliant sunshine, and the air quality is good with high visibility. Generally it snows a little, and the snow hardly accumulates. The temperature difference between day and night is relatively big, so you should pick the right clothes according to the weather.
The celebration of
Chinese New Year
may be held in late January according to the Chinese Lunar Calendar. Kunming is a city where multiple nationalities live. Minorities will celebrate the important festival in their customs. You will experience different ways of celebration.
Averages for Kunming Weather in January
Temperature: 8°C / 46°F
High Temperature: 15°C / 59°F
Low Temperature: 2°C / 36°F
Humidity: 68%
Rainfall: 16 mm
Rainy Days: 4 days
Sunrise: 07:53 ~ 07:56
Sunset: 18:31 ~ 18:53
Air Quality in January
Average AQI:53

What to Wear in Kunming in January
Suits, lined garments, wind breakers, jackets, light sweaters, cotton padded jacket, thick stockings and short skirts are enough to keep you warm. For convenience in your travel, comfortable shoes are necessary.


Things to Do in Kunming in January
Indoor and outdoor activities are all OK. Tens of thousands of seagulls spend winter in the city, becoming one of the beautiful sights. Green Lake Park, Haigeng Dam and lakeside of the Dianchi Lake are good places to watch and feed seagulls. Taking a bath in a hot spring is also a good choice. Hot springs with different styles, levels and scales are easily found here.
Yunnan Nationalities Village
is the best place to learn about minority cultures.
Other Tips
In January, the climate in Kunming is relatively dry, so you need to drink more water and eat more fruit. Sunscreen and sunhat are needed to protect you from intense ultraviolet radiation. To prevent sudden physical discomfort, you are advised to take some medicines, such as a gastrointestinal agent and medicine for colds. For fear of the inconvenience of the
Spring Festival Travel Rush
, you should determine your travel plan as early as possible.
What is the temperature in Kunming in January?
High/Low Temperatures of Kunming in January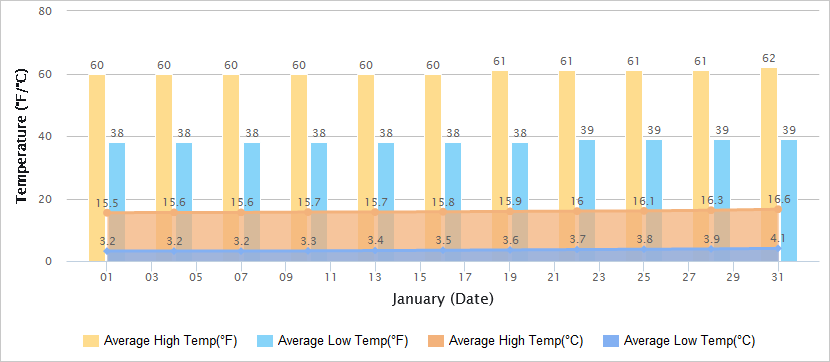 Air Quality of Kunming in January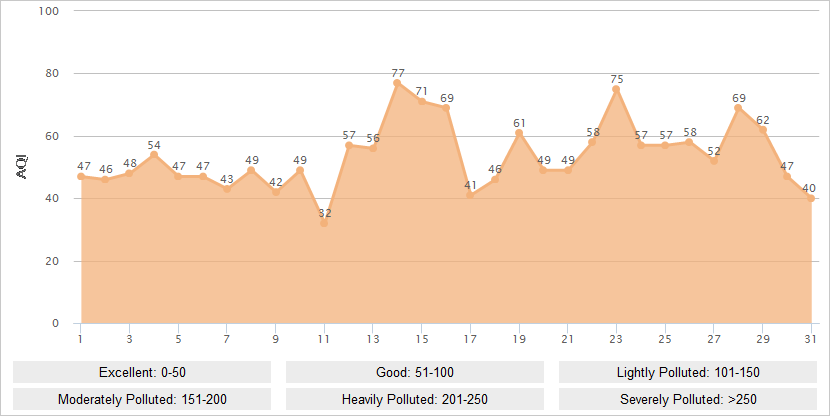 Historical Kunming Weather in January
Jan
Temperature
Sunrise / Sunset
Humi-
dity
(%)
High
Low
1
15.5°C / 59.9°F
3.2°C / 37.8°F

07:54

/

18:31

88
2
15.5°C / 59.9°F
3.2°C / 37.8°F

07:55

/

18:31

79
3
15.6°C / 60.1°F
3.2°C / 37.8°F

07:55

/

18:32

79
4
15.6°C / 60.1°F
3.2°C / 37.8°F

07:55

/

18:33

75
5
15.6°C / 60.1°F
3.2°C / 37.8°F

07:55

/

18:33

68
6
15.6°C / 60.1°F
3.2°C / 37.8°F

07:56

/

18:34

60
7
15.6°C / 60.1°F
3.2°C / 37.8°F

07:56

/

18:35

65
8
15.7°C / 60.3°F
3.2°C / 37.8°F

07:56

/

18:35

65
9
15.7°C / 60.3°F
3.3°C / 37.9°F

07:56

/

18:36

73
10
15.7°C / 60.3°F
3.3°C / 37.9°F

07:56

/

18:37

61
11
15.7°C / 60.3°F
3.3°C / 37.9°F

07:56

/

18:38

59
12
15.7°C / 60.3°F
3.3°C / 37.9°F

07:56

/

18:38

56
13
15.7°C / 60.3°F
3.4°C / 38.1°F

07:56

/

18:39

58
14
15.8°C / 60.4°F
3.4°C / 38.1°F

07:56

/

18:40

60
15
15.8°C / 60.4°F
3.4°C / 38.1°F

07:56

/

18:41

66
16
15.8°C / 60.4°F
3.5°C / 38.3°F

07:56

/

18:41

49
17
15.8°C / 60.4°F
3.5°C / 38.3°F

07:56

/

18:42

52
18
15.8°C / 60.4°F
3.5°C / 38.3°F

07:56

/

18:43

51
19
15.9°C / 60.6°F
3.6°C / 38.5°F

07:56

/

18:44

49
20
15.9°C / 60.6°F
3.6°C / 38.5°F

07:56

/

18:44

52
21
15.9°C / 60.6°F
3.6°C / 38.5°F

07:56

/

18:45

68
22
16°C / 60.8°F
3.7°C / 38.7°F

07:56

/

18:46

69
23
16°C / 60.8°F
3.7°C / 38.7°F

07:55

/

18:47

94
24
16.1°C / 61°F
3.8°C / 38.8°F

07:55

/

18:47

74
25
16.1°C / 61°F
3.8°C / 38.8°F

07:55

/

18:48

57
26
16.2°C / 61.2°F
3.8°C / 38.8°F

07:55

/

18:49

64
27
16.3°C / 61.3°F
3.9°C / 39°F

07:54

/

18:50

64
28
16.3°C / 61.3°F
3.9°C / 39°F

07:54

/

18:50

69
29
16.4°C / 61.5°F
4°C / 39.2°F

07:54

/

18:51

55
30
16.5°C / 61.7°F
4°C / 39.2°F

07:53

/

18:52

59
31
16.6°C / 61.9°F
4.1°C / 39.4°F

07:53

/

18:53

71
- Last updated on Sep. 23, 2019 -