Kunming Weather in October
In October, the weather turns cool in Kunming, but the daytime temperature is mild. The average temperature for the month is 12°C ~ 20°C(54°F ~ 68°F) and the temperature difference between day and night increases further. The rainy season is coming to an end, and the average precipitation reduces significantly and the air is getting drier. Kunming is still colorful in this month with blooming flowers and red maple leaves.
According to the Chinese Lunar Calendar, the
Chongyang Festival
may fall in early October. On that day, local people will climb a mountain, drink chrysanthemum wine and eat Chongyang cakes as well as other snacks on the top of the mountain.
Averages for Kunming Weather in October
Temperature: 15°C / 59°F
High Temperature: 20°C / 68°F
Low Temperature: 12°C / 54°F
Humidity: 79%
Rainfall: 79 mm
Rainy Days: 13 days
Sunrise: 07:01 ~ 07:16
Sunset: 18:29 ~ 18:56
Air Quality in October
Average AQI:35

What to Wear in Kunming in October
You can wear cotton and linen shirts or T-shirts plus thin jeans or casual clothes in fine days. The temperature decreases at night, so you will want to add a windbreaker or a thin sweater to keep warm when going out.


Where to Go in Kunming in October
On sunny days, it is suitable for outdoor activities.
Dongchuan Red Land
is a good option. It is just like a big palette. In autumn, fiery red soil, emerald green barley and wheat, snow white oil flowers and golden yellow buckwheat form a marvelous picture, attracting a number of photographers. Luoxiagou, the most famous attraction of the scenic area, is a gully where rosy clouds change unpredictably. If you want to visit the downtown area, Kunming Botanical Garden is a nice place where you can appreciate camellia flowers or walk through Sideway of Sweetgums to relax your mind. In October, black-headed gulls will fly to Kunming and spend winter there, so you can have a look at the beautiful birds in Green Lake Park or lakeside of the Dianchi Lake.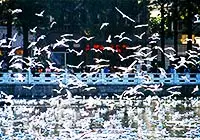 Green Lake Park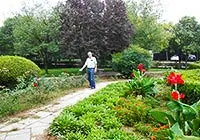 Botanical Garden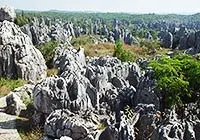 Stone Forest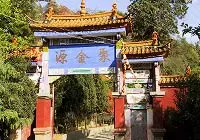 Black Dragon Pool Park
Other Tips
Even though the rainy season is coming to an end, it still rains sometimes, so you should bring rain gear. In October, ultraviolet rays are intense and the climate is relatively dry in Kunming, so you need to apply sunscreen or wear a sunhat and sun-protective clothing, and drink more water during outdoor activities. For fear of the inconvenience of heavy tourist traffic during
National Day
holiday, you'd better have your itinerary arranged as early as possible.
What is the temperature in Kunming in October?
High/Low Temperatures of Kunming in October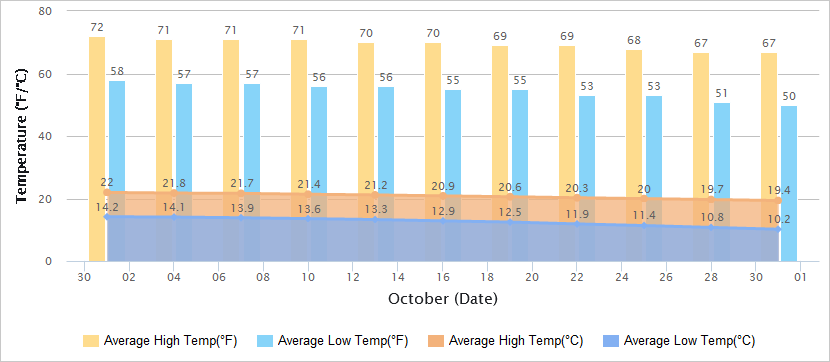 Air Quality of Kunming in October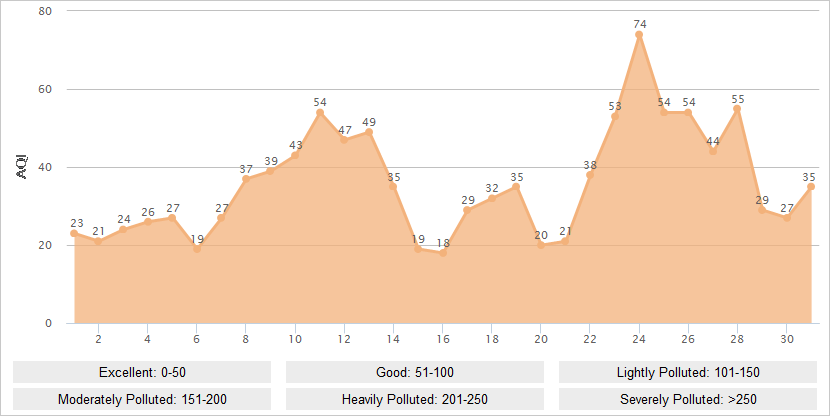 Historical Kunming Weather in October
Oct
Temperature
Sunrise / Sunset
Humi-
dity
(%)
High
Low
1
22°C / 71.6°F
14.2°C / 57.6°F

07:01

/

18:56

97
2
22°C / 71.6°F
14.2°C / 57.6°F

07:02

/

18:55

63
3
21.9°C / 71.4°F
14.1°C / 57.4°F

07:02

/

18:54

56
4
21.8°C / 71.2°F
14.1°C / 57.4°F

07:03

/

18:53

54
5
21.8°C / 71.2°F
14°C / 57.2°F

07:03

/

18:52

60
6
21.7°C / 71.1°F
14°C / 57.2°F

07:03

/

18:51

73
7
21.7°C / 71.1°F
13.9°C / 57°F

07:04

/

18:50

77
8
21.6°C / 70.9°F
13.8°C / 56.8°F

07:04

/

18:49

91
9
21.5°C / 70.7°F
13.7°C / 56.7°F

07:05

/

18:48

90
10
21.4°C / 70.5°F
13.6°C / 56.5°F

07:05

/

18:47

90
11
21.4°C / 70.5°F
13.5°C / 56.3°F

07:06

/

18:46

88
12
21.3°C / 70.3°F
13.4°C / 56.1°F

07:06

/

18:45

86
13
21.2°C / 70.2°F
13.3°C / 55.9°F

07:07

/

18:44

85
14
21.1°C / 70°F
13.2°C / 13.2°F

07:07

/

18:43

84
15
21°C / 69.8°F
13.1°C / 55.6°F

07:08

/

18:42

74
16
20.9°C / 69.62°F
12.9°C / 55.2°F

07:08

/

18:41

74
17
20.8°C / 69.4°F
12.8°C / 55°F

07:09

/

18:40

80
18
20.7°C / 69.3°F
12.6 °C / 54.7°F

07:09

/

18:39

77
19
20.6°C / 69.1°F
12.5°C / 54.5°F

07:10

/

18:38

71
20
20.5°C / 68.9°F
12.3°C / 54.1°F

07:10

/

07:10

67
21
20.4°C / 68.7°F
12.1°C / 53.8°F

07:11

/

18:37

60
22
20.3°C / 68.5°F
11.9°C / 53.4°F

07:11

/

18:36

62
23
20.2°C / 68.4°F
11.8°C / 53.2°F

07:12

/

18:35

58
24
20.1°C / 68.2°F
11.6°C / 52.9°F

07:12

/

18:34

70
25
20 °C / 68°F
11.4°C / 52.5°F

07:13

/

18:33

73
26
19.9°C / 67.8°F
11.2°C / 52.2°F

07:13

/

18:33

84
27
19.8°C / 67.6°F
11°C / 51.8°F

07:14

/

18:32

78
28
19.7°C / 67.5°F
10.8°C / 51.4°F

07:15

/

18:31

77
29
19.6°C / 67.3°F
10.6°C / 51.1°F

07:15

/

18:30

95
30
19.5°C / 67.1°F
10.4°C / 50.7°F

07:16

/

18:30

97
31
19.4°C / 66.9°F
10.2°C / 50.4°F

07:16

/

18:29

89
- Last updated on Jun. 27, 2019 -