Kunming Weather in September
September is the beginning of autumn in Kunming when the weather gradually turns cool. The average daytime temperature is 23°C (73°F), and the average night temperature is 15°C (59°F). It is still in the rainy season, but the average precipitation is much less than July and August. The temperature difference between daytime and night increases day by day.
Around mid September, local people celebrate the
Mid-Autumn Festival
. The performances of minorities in Yunnan Nationalities Village should not be missed. They include Zhuang People throwing an embroidered ball and Jino People walking on stilts. Visitors can also appreciate the glorious full moon in
Grand View Park
. It is a tradition to eat moon cakes during the festival. Ham moon cakes are popular in Kunming and worth tasting.
Averages for Kunming Weather in September
Temperature: 18°C / 64°F
High Temperature: 23°C / 73°F
Low Temperature: 15°C / 59°F
Humidity: 81%
Rainfall: 119 mm
Rainy Days: 16 days
Sunrise: 06:50 ~ 07:01
Sunset: 18:57 ~ 19:28
Air Quality in September
Average AQI:30

What to Wear in Kunming in September
The climate of Kunming in September is pleasant. In daytime, the temperature is mild, so you can wear cotton and linen shirts, thin jeans, T-shirts or long dresses. The temperature is lower at night, and you should add a thin coat or a cardigan sweater when going out.


Things to Do in Kunming in September
In September, chrysanthemums and osmanthus fragrans come into bloom in Kunming. It is a good choice to go out and appreciate flowers. Black Dragon Pool Park is a good place to enjoy osmanthus fragrans, where more than ten species of osmanthus fragrans trees are planted, and the perfume of the flowers permeate the air. In the Golden Temple, not only can visitors appreciate osmanthus fragrans, but also they can see two crape myrtle trees which are more than 400 years old. The Golden Temple is a renowned Taoist temple in Kunming and the largest copper temple in China, and deserves to be visited. Songming County near Kunming is the best place to appreciate chrysanthemums, where the Chrysanthemum Exhibition is annually held at the end of September. Visitors can admire flowers and taste delicacies made of chrysanthemums.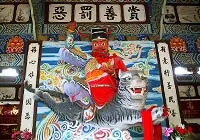 Black Dragon Pool Park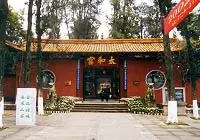 Golden Temple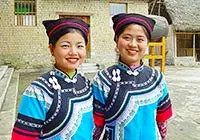 Yunnan Nationalities Village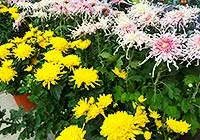 Chrysanthemums Show
Other Tips
September is still in the rainy season, so rain gear is necessary. Ultraviolet rays are intensive, hence you should bring sunscreen, sunhat and sun-protective clothing. In addition, mosquito repellent is indispensable. The number of tourists in Kunming is still large in this month, so you are advised to make your travel plans in advance and book train or flight tickets as early as possible.
What is the temperature in Kunming in September?
High/Low Temperatures of Kunming in September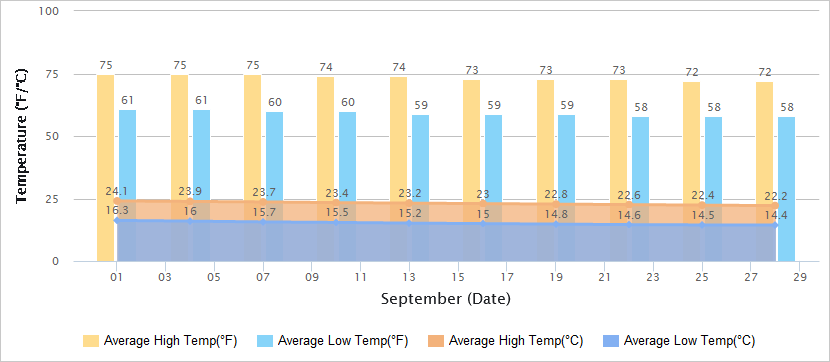 Air Quality of Kunming in September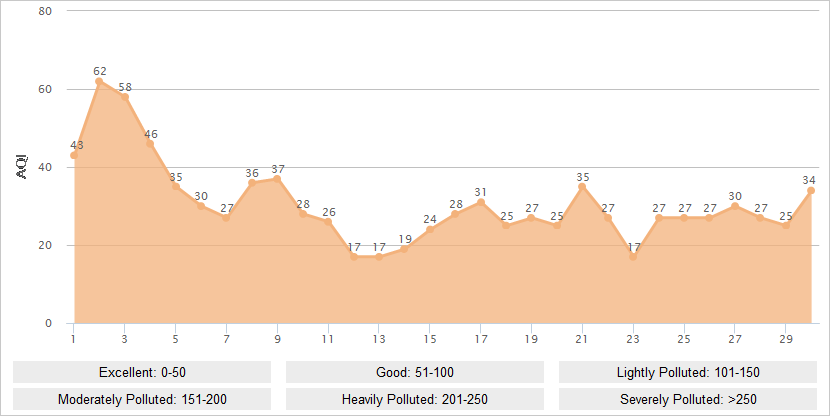 Historical Kunming Weather in September
Sep
Temperature
Sunrise / Sunset
Humi-
dity
(%)
High
Low
1
24.1°C / 75.4°F
16.3°C / 61.3°F

06:50

/

19:28

91
2
24°C / 75.2°F
16.2°C / 61.2°F

06:50

/

19:27

81
3
24°C / 75.2°F
16.1°C / 61°F

06:51

/

19:26

81
4
23.9°C / 75°F
16°C / 60.8°F

06:51

/

19:25

93
5
23.8°C / 74.8°F
15.9°C / 60.6°F

06:51

/

19:24

87
6
23.8°C / 74.8°F
15.8°C / 60.4°F

06:52

/

19:23

81
7
23.7°C / 74.7°F
15.7°C / 60.3°F

06:52

/

19:22

85
8
23.6°C / 74.5°F
15.6°C / 60.1°F

06:53

/

19:21

81
9
23.5°C / 74.3°F
15.6°C / 60.1°F

06:53

/

19:20

83
10
23.4°C / 74.1°F
15.5°C / 59.9°F

06:53

/

19:19

94
11
23.4°C / 74.1°F
15.4°C / 59.8°F

06:54

/

19:18

57
12
23.3°C / 73.9°F
15.3°C / 59.5°F

06:54

/

19:17

80
13
23.2°C / 73.8°F
15.2°C / 59.4°F

06:54

/

19:15

75
14
23.1°C / 73.6°F
15.1°C / 59.2°F

06:55

/

19:14

66
15
23°C / 73.4°F
15.1°C / 59.2°F

06:55

/

19:13

73
16
23°C / 73.4°F
15°C / 59°F

06:56

/

19:12

79
17
22.9°C / 73.2°F
14.9°C / 58.8°F

06:56

/

19:11

82
18
22.8°C / 73°F
14.8°C / 58.6°F

06:56

/

19:10

81
19
22.8°C / 73°F
14.8°C / 58.6°F

06:57

/

19:09

83
20
22.7°C / 72.9°F
14.7°C / 58.5°F

06:57

/

19:08

93
21
22.6°C / 72.7°F
14.7°C / 58.5°F

06:57

/

19:07

83
22
22.6°C / 72.7°F
14.6°C / 58.3°F

06:58

/

19:06

81
23
22.5°C / 72.5°F
14.6°C / 58.3°F

06:58

/

19:05

81
24
22.4°C / 72.3°F
14.5°C / 58.1°F

06:59

/

19:03

70
25
22.4°C / 72.3°F
14.5°C / 58.1°F

06:59

/

19:02

68
26
22.3°C / 72.1°F
14.4°C / 57.9°F

06:59

/

19:01

69
27
22.2°C / 72°F
14.4°C / 57.9°F

07:00

/

19:00

73
28
22.2°C / 72°F
14.4°C / 57.9°F

07:00

/

18:59

75
29
22.1°C / 71.8°F
14.3°C / 57.7°F

07:01

/

18:58

66
30
22.1°C / 71.8°F
14.3°C / 57.7°F

07:01

/

18:57

85
- Last updated on Sep. 23, 2019 -