Best Kunming Tours
Top Kunming Attractions
More Things to Do
Top 10 City Tours
Code: BC-KM02
8 Days Kunming to Shangri-La Bicycle Tour
►

Route: Kunming → Shangri-La → White Water Terraces → Tiger Leaping Gorge → Lijiang → Dali → Kunming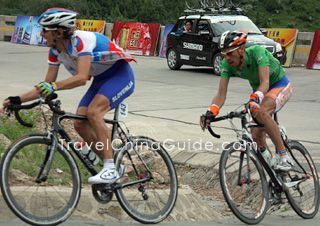 This route towards northeast enjoys high fame among cyclists because it includes most of the marvelous sceneries of
Yunnan Province
. You will see the essence of the Yunnan golden triangle of Kuming, Dali and Lijiang, and also the scenic Shangri-La.
This is not a complete cycling route. The distance between Kunming and Shangri-La and that between Dali and Kunming is long, so you are advised to take a bus. Shangri-La to Dali is the recommended golden section of this route for cycling. The total cycling distance is about 500 km (311 mi). It is recommended that you prepare a foldable mountain bike for this trip.
Upon arrival in
Kunming
, you could look for those delicious local snacks in the remaining time. Then, stay here for one or two days to explore those attractive destinations, such as the Stone Forest, Dianchi Lake, and Golden Temple.
Day 2
Kunming to Shangri-La by Bus
On the second day, please take a coach to
Shangri-La
where you can start a cycling travel back to Kunming. There are buses running to Shangri-La from Kunming West Coach Station. The overnight coach departing at 20:30 is recommended.
►
Bus Schedule: 8:30, 9:30, 14:00, 16:00, 18:30, 20:30
►
Distance: 630 km (391 mi)
►
Duration: 8 to 9 hours
►
Fare: CNY 249
Day 3
Shangri-La Day Tour
Arriving in the morning, you can walk around the Dukezong Ancient City of Shangri-La to get an overview of the Tibetan culture of this land, and then start a round-trip cycling to the Sea of Flowers in Xiaozhongdian.
►
Cycling Distance: 60 km (37 mi)
►
Time: 6 hours
Day 4
Shangri-La to White Water Terraces
On the 4th day, you will cycle to the
White Water Terraces
at Sanba Village, which is a holy place for the local Nanxi people. The route from Shangri-La to White Water Terraces is terrific for cycling, with splendid scenery of Haba Snow Mountain along the way. There is an uphill road extending more than 40 km (25 mi). When you ride to the third mountain pass, there will be a 20 km (12 mi) long downhill path leading to the White Water Terraces.
►
Cycling Distance: 100 km (62 mi)
►
Time: 10 to 11 hours
Day 5
Cycle to Tiger Leaping Gorge
This is a tough day with long riding distance, but the scenery on the road is beautiful and well worth it. It starts with a nearly 60 km (37 mi) ups and downs road to the Jiangbian Village by the Jinsha River, and then 60 km long Tiger Leaping Gorge highway. Stay overnight at Tiger Leaping Gorge Town and have a good rest.
If you have extra days in your plan, you can make a hiking tour of 1 or 2 days along the beautiful
Tiger Leaping Gorge
.
►
Cycling Distance: 120 km (75 mi)
►
Time: 12 to 13 hours
Day 6
Tiger Leaping Gorge to Lijiang
Out of the gorge, you will cycle along the Yangtze River to
Lijiang
. After a morning ride of 40 km (25 mi), you will arrive at Shigu Ancient Town and have an opportunity to overlook the First Bend of the Yangtze River. After lunch, you need to cycle about 50 km (31 mi) to reach Lijiang, including an uphill road of 20 km (12 mi). If time permits, it is suggested that you stay in
Lijiang Old Town
for several days for either exploration or a leisurely vacation.
►
Cycling Distance: 90 km (56 mi)
►
Time: 9 to 10 hours
Today, you can cycle to the next wonderful destination,
Dali
, by the old Dali-Lijiang Road. Not only the good scenery, but also different customs of ethnic minorities can be seen on the way. It's a very intense day of cycling, and you need to get up early and rush through the day, but be safe first. Or if you are not physically able to handle it, you can consider dividing the road from Lijiang to Dali into two days to complete it.
Dali Ancient City
is also worth to lodge for a few days if you have enough time.
►
Cycling Distance: 158 km (98 mi)
►
Time: 15 to 16 hours
Day 8
Dali to Kunming by Bus
On the last day, you can take a bus back to Kunming easily.
►
Bus Hours: 8:40-17:30
►
Frequency: every 10 to 60 minutes
►
Distance: 330 km (205 mi)
►
Duration: 4 to 5 hours
►
Fare: CNY 160