Kunming Bicycle Tours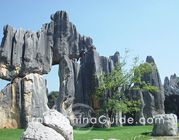 Would you seek for the original China flavor and be far away the bustling metropolis? Are you willing to manage the way totally by yourself? Cycle around this charming itinerary and you can enjoy the breathtaking sunrise and the blooming flowers even in winter.
BC-KM02: 7-Day Kunming - Shangri-la - Xiaozhongdian - Tiger Leaping Gorge - Lijiang - Dali - Chuxiong - Kunming
This route towards northeast enjoys high fame in cyclists because it includes most of the marvelous sceneries of Yunnan Province. Upon arrival in Kunming, you could look for those delicious local snacks in the remaining time. Then, stay here for two or more days to explore those attractive destinations, such as the Stone Forest, the Dianchi Lake and the Golden Temple.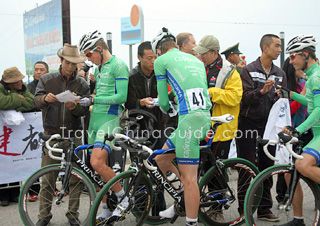 Afterwards, please take a coach to Shangri-la where you can start a travel back to Kunming. It is because the uphill road to Dali is too simple to ride a bike. Usually, the coaches to Shangri-la depart from 13:00 to 19:00 and take about 14 hours. Arriving in the morning, you can spend the day in exploring the Tibetan cultural of this land. On the next day, you will cycle to the White Water Terraces and then the Tiger Leaping Gorge for a hiking tour in the following day(s). En route, you will enjoy so beautiful natural sceneries.
Out of the gorge, you will cycle along the Yangtze River to Lijiang. On the way, you will have an opportunity to over view the First Bend of the Yangtze River. If time is available, it is suggested that you stay in Lijiang for several days either for exploration or for a leisurely vacation. After that, you can cycle to the next wonderful destination-Dali by the old Dali-Lijiang road. Not only the good scenic, but also the different minorities can be seen on the way. This ancient city is also worth to lodge for a few days. On the last day, you can take a bus back to Kunming easily.
BC-KM03: 6-Day Kunming - the Stone Forest - Luliang - Shizong - Luoping - Xingyi - Anlong - Tianlin - Baise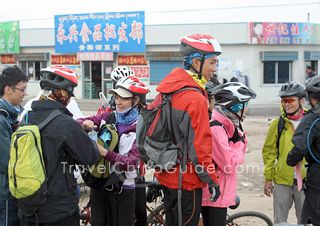 After visiting the urban area of Kunming, you can cycle about 85 kilometers (53 miles) eastwards to the Stone Forest. It is also a good stopover where you can stay in the economical hostel for a night. On the next day, a 100-kilometer (62-mile) journey eastwards will take you to Shizong passing by Luliang. The road is flat that you could enjoy the good scenic on the way leisurely. This night you can stay in Shizong and then leave for Luoping on the next morning. If you get there in April, you will have an opportunity to overview the so beautiful flourishing yellow flower of rape on the 50-kilometer (31-mile) journey to Luoping. In fact, Luoping is well-know in Yunnan for its blooming flower sea in every spring.
Continuing going eastwards by taking the No.324 National Highway, you will get to Xingyi of Guizhou Province after an 80-kilometer (50-mile) journey and Anlong after further 70 kilometers (43 miles). You could in Anlong and explore this quiet historic county in the next day. The next destination is Tianlin of Guangxi Province, which is about 160 kilometers (99 miles) from Anlong. So, you should make a good plan to finish this challenging journey in one day. On the last day, you will have an easy cycling to end up this journey in Baise City.
BC-KM04: 7-Day Kunming - Stone Forest - Luliang - Qujing - Anshun - Guiyang
For the journey to Luliang, please refer to BC-KM03. Then, it is about 60 kilometers (37 miles) from Luliang to Qujiang which is the second largest city in Yunnan. You can stay here to learn its long history, view the beautiful scenery as well as experience the local minorities' local life. Leaving from Qujing, your next destination is Panxian of Guizhou. En route, you will pass by Shengjingguan which is the division of Yunnan and Guizhou Provinces. After having a rest in Panxian, you can lead to Anshun for the Huangguoshu Waterfall. You should be careful of cycling in this rolling mountain road. But, the breath taking scenic is worth a risk. On the last day, you can conclude this journey in Guiyang.
BC-KM05: 11-Day Kunming - Stone Forest - Luliang - Luoping - Bamei - Guangnan - Qiubei - Puzhehei - Kaiyuan - Gejiu - Yuanyang - Jianshui - Kunming
The journey from Kunming to Luoping can be found in BC-KM03 above. Set off on next day, you will arrive in a paradise called Bamei located to the southeast of Luoping. Before entering into Bamei Village, you should lodge the bike in advance because Bamei just can be reached by boat.You could stay in this small village overnight and explore it the next day. This afternoon, you should leave for Guangnan County which is about 40 kilometers (25 miles) to the south of Bamei.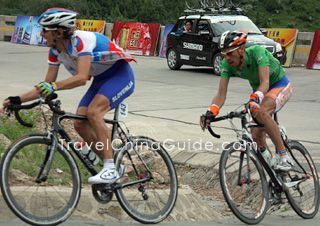 After having a good rest in Guangnan, you will set off early for the next destination Qiubei County westwards. The newly built Qiubei-Guangnan Road is about 120 kilometers (75 miles) so that it is needed to stay overnight in Qiubei. The next morning, you are going to visit the Puzhehei Scenic Spot which is a fairyland 13 kilometers (8 miles) to the north of the county center. Then, return to Qiubei and buy the next day's bus ticket to Kaiyuan. Please consult the bus' time schedule in advan.
After arriving in Kaiyuan, you can cycle southwards to Gejiu and then cross the Honghe River to Yuanyang County. The county is worth a short stay because this region has the most beautiful and breath-taking terraces of the Hani people. It is deeply favored by those amateur photographers for long.
Crossing the Honghe River to its north bank, you will arrive in Jianshui which is another pearl of this journey, boasting long history and the karst landscape. After visiting so many historic sites in the county area, you can take a 30-kilometer (18.6-mile) journey southward to a wonder-the Swallow Cave. Finally, it is suggested that you take a bus to end up the 220-kilometer (137-mile) journey back to Kunming.