Yunnan Weather
There is a famous saying describing Yunnan weather: it's like spring all the year round. The summer is cool and the winter is warm. The whole year's mild temperature makes it a place attracting travelers in all seasons. However, affected by mountain climate, in some areas like
Shangri-La
and
Jade Dragon Snow Mountain
, the weather may change sharply within a day and differs according to the altitude.
The dry season from November to April is the best traveling time. From November to December, the weather is comfortable and perfect for appreciating the snow mountains. January to February may be crowded, when amounts of people come to Yunnan to seek for warmth. In April, you can take part in the grand Water Festival, the New Year of Dai ethnic group, and celebrate with local people.

Annual Weather Facts of Major Cities
Kunming Weather Averages
High Temp: 23~25℃ (73~77℉)
Low Temp: 3~5℃ (37~41℉)
Humidity: 71%
Rainfall: 979 mm
3-Day Kunming Weather Forecast
Lijiang Weather Averages
High Temp: 23~25℃ (73~77℉)
Low Temp: 0~3℃ (32~37℉)
Humidity: 62%
Rainfall: 980 mm
3-Day Lijiang Weather Forecast

See also Dali Weather

Yunnan Climate – Seasons & Travel Advice
The climate of Yunnan is mostly mild through the whole year with the annually average temperature at 15℃ (59℉). The temperature variation in a year is not large, but that in a day varies a lot especially in winter and spring. In these two seasons, it is usually cold in the morning and hot at noon with the daily temperature gap sometimes reaching 12-20℃ (54-68℉). From May to October is the rainy season, and most rain gathers in June to August, so follow the weather forecast and better keep an umbrella to avoid the sudden rains.

Yunnan embraces a lot of mountains. Different altitudes make different climates, forming different scenery. You can see rain forests in Xishuangbanna and special plants that grow on the snow mountains like Jade Dragon Snow Mountain and Meili Snow Mountain. In the province, there live a lot of animals including Asian elephants and precious golden monkeys. Various types of plants and animals make the place "the Kingdom of Plants" and "the Kingdom of Animals".

Spring (Mar - May)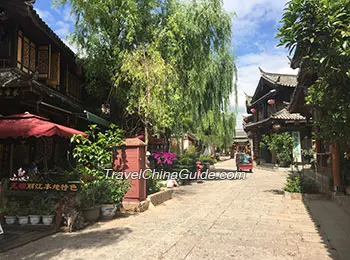 Spring in Yunnan
The temperature of spring is 15-20℃ (59-68℉). You can visit Kunming to see abundant flowers in full blossom. Kunming is called the "the City of Spring" and "the City of Flowers". Also you can go to Luoping to see the fields of yellow rapeseed flowers, like a golden carpet on the ground, which attracts lots of photography fans every year. The weather in spring is also good for a trip to Dali. Riding a bike around the Erhai Lake will help you relax and make you feel like integrating with the natural scenery.

What to Wear: long sleeves T-shirt, pants, thin sweater, baseball jacket

Summer (Jun - Aug)
The summer of Yunnan is not hot with the temperature at 23-25℃ (73-77℉), but the ultraviolet is strong, so sunscreen, sunglasses and a sun hat are necessary. It is a great choice to walk in the Lijiang Old Town to relax in the warm afternoon, or enjoy the beautiful scenery of Shangri-La, "the earthly paradise". If travel to Xishuangbanna, you can taste abundant tropical fruits and play with elephants.

What to Wear: T-shirt, dress, light sun-protective clothing, sunglasses

Autumn (Sep - Nov)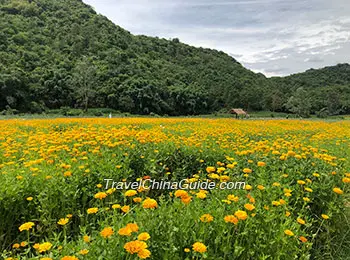 Autumn, Yunnan
Traveling in autumn, you shall not miss the view of Red Land in Dongchuan, Kunming. Due to the warm and humid climate of Yunnan, the iron in the soil deposits after oxidation, which results that the land turns red. In autumn, some lands are dug and haven't been planted yet, showing the red soil, while on other lands, crops like highland barley and wheat have grown up, showing green and yellow, forming a colorful picture seen from a distance under the blue sky and white clouds.

What to Wear: hoodie, trench coat, jeans, walking shoes

Winter (Dec - Feb)
The temperature in winter is generally around 10℃ (50℉). Tengchong in west Yunnan is a great place to seek for warmth. Lots of travelers go to Tengchong to enjoy the hot springs in winter. Apart from staying in a hot spring, you can also visit the Gingko Village in the city. From mid-November to early December is the best time to admire the gingko, when the village will be decorated all yellow. Besides, the Volcanic Geology Park in the city is also a good place to go. Taking a hot air balloon to see the craters from the air is an excellent experience.

What to Wear: sweater, sports pants, wadded jacket, sneakers
- Last modified on Dec. 29, 2020 -