Yunnan Cuisine / Dian Cuisine – Cooking Style of Southwest China
Yunnan cuisine, also called Dian cuisine, combines food features of Han nationality and local ethnic minorities. The ingredients are always fresh with a wide range, and the taste prefers to be sour, spicy, thick and various. The representative Yunnan dishes include Steam Pot Chicken, Fried Rice-Flour Cake, Crossing the Bridge Noodles, Wild Mushrooms Hot Pot, Braised Termite Mushroom and so on.
Chinese Name: 滇菜 diān cài
English Names: Yunnan cuisine, Dian cuisine
Popular in: China's Yunnan Province
Flavors: sour and spicy, thick, various multiethnic tastes
Famous Yunnan Dishes: Steam Pot Chicken, Fried Rice-Flour Cake, Crossing the Bridge Noodles, Wild Mushrooms Hot Pot, Braised Termite Mushroom…
Famous Snacks: Flower Cake, Deep Fried Jianshui Bean-Curd, Lijiang Baba, Dali Dairy Fan, Pineapple Fried Rice, Deep Fried Peameal…
Origin of Yunnan Cuisine
It is said that Yunnan cuisine originated from the period of Yuanmou Man. The primitive Yuanmou Man was the first group of human beings to eat food cooked with fire, and they created multiple cooking methods. They made mud pots, pottery jars, cured meat and hams. Their creativities and invention contribute a lot to Chinese cooking. Up to now, there are still not a few ancient cooking methods handed down in Yunnan cuisine recipes.

Yunnan Food Flavors – Sour, Spicy, and Varied Multi-ethnic Tastes
Most Yunnan dishes are sour, spicy, thick, and oily. Besides, the flavor of Yunnan cuisine is multi-ethnic and various. There are 25 ethnic minorities in Yunnan, and each nationality has their own unique food culture. Yunnan cuisine features the ethnic eating habits, cooking wares, cooking methods and unique tastes. Representatives include the Dali Bai nationality banquet, the Chuxiong Yi nationality banquet, the Dehong headman's banquet, the Hani nationality Long Street Banquet, and the termite mushroom banquet.

Rich Wild Ingredients
Benefiting from the various geographies and climates, many animals and plants living or growing in Yunnan, providing rich natural and healthy ingredients for Yunnan dishes. For instance, Yunnan is honored as "Kingdom of Mushrooms". More than 250 wild edible mushrooms are growing there, such as bolete, termite mushroom, bamboo fungus, matsutake, etc. In Yunnan, flowers can also become delicious dishes. Rose, chrysanthemum, white azalea, lily, magnolia and osmanthus, all can be made into dishes or cakes. Precious herbs, fishes, shrimps, frogs and insects are also the ingredients.

There are always green vegetables in all seasons in Yunnan, thus the ingredients of Yunnan food are usually fresh. For animals, Yunnan people like to cook the fresh ones, to ensure the tenderness of the meat.

Diverse Wild Condiments Used in Yunnan Cuisine
In Yunnan cuisine recipes, you can find a lot of condiments, including common ones as well as wild ones. To make food sour, there are Lufeng vinegar, Dongchuan vinegar, plum vinegar, and Iapapa Berry vinegar for you to use. Sweet soy sauce is the unique seasoning for Yunnan food. Bitter gourd and dried tangerine or orange peel are to add bitter taste, and various chili are for various spicy tastes. In addition, lemongrass, sweet smartweed grass, fennel seeds, camphor seeds and other fragrant plants can also be used to make Yunnan dishes more aromatic and toothsome.

Special Cooking Techniques
The frequently used cooking techniques in Yunnan cuisine recipes are steaming, deep frying, quick boiling, stewing, stewing in soy sauce and other skills of Han people, as well as ethnic minorities' techniques, such as roasting, pounding, warming up and pickling. Roasting is the mostly used skill, seasoned with lemongrass from Xishangbanna.

While cooking, the special cookers of ethnic minorities are used, including those made from bamboo, pottery, wood, leaves or other wild materials. For example, they put glutinous rice into thick bamboo tube and roast it, and the cooked rice will have a light bamboo aroma. Another example, they remove the inside of pineapple and put purple rice in to cook it and the rice will have a pineapple flavor.

Notable Dishes in Yunnan Cuisine
1
Steam Pot Chicken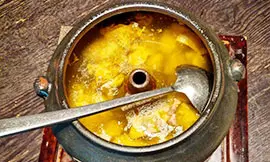 Loafed chicken is steamed in specially made steam pot in Jianshui. This famous Yunnan food has a fresh flavor with the taste of a little sweet. Salt, ginger, shallot, and sweet smartweed grass are added as condiments.
2
Fried Rice-Flour Cake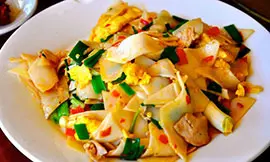 The rice-flour cake, Erkuai in Chinese can be braised, boiled, fried, steamed or deep fried. Fried Rice-Flour Cake is salty and spicy as hams and Chinese sauerkraut are the seasonings. It is one of the most popular Yunnan dishes.
3
Crossing the Bridge Noodles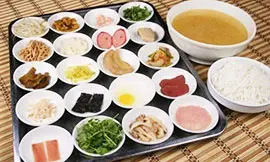 All ingredients are served raw, including rice noodles, sliced pork, chicken, mullet, tine peas, coriander, magnolia with boiling bone soup. Put the ingredients into the soup just before eating to keep the tender taste.
4
Xuanwei Ham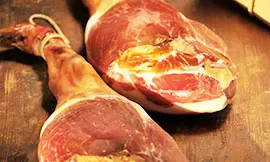 Xuanwei Ham is the well-known specialty in Yunnan, thus it is also called Yun Ham. It is aromatic with red or rose red thin meat and milk white fat meat. It can be fried, steamed, boiled or barbecued. It can also be taken as a condiment.
5
Wild Mushroom Hot Pot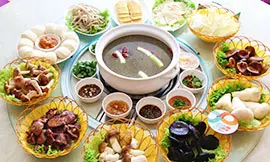 More than 30 kinds of wild mushrooms are used. The soup is stewed with fresh chicken, bones and at least seven kinds of wild mushrooms for about seven hours. Then you can boil different mushrooms in the soup.
6
Braised Termite Mushroom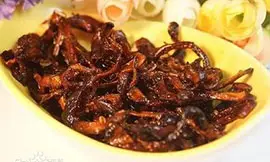 Termite mushroom is a wild edible mushroom in Yunnan. Braised Termite Mushroom is a famous dish in Kunming. It is fresh, sweet and aromatic with date-red color and the effect of nourishing the stomach.

Read More: 10 Special Yunnan Foods You Need to Try, Yunnan Rice Noodles

Menu of Yunnan Cuisine
| English | Chinese | Pinyin |
| --- | --- | --- |
| Steam Pot Chicken | 汽锅鸡 | qì guō jī |
| Fried Rice-Flour Cake | 炒饵块 | chǎo ěr kuài |
| Crossing the Bridge Noodles | 过桥米线 | guò qiáo mǐ xiàn |
| Xuanwei Ham | 宣威火腿 | xuān wēi huǒ tuǐ |
| Wild Mushroom Hot Pot | 野生菌火锅 | yě shēng jūn huǒ guō |
| Braised Termite Mushroom | 红烧鸡枞 | hóng shāo jī zōng |
| Dali Earthen Pot Fish | 大理砂锅鱼 | dà lǐ shā guō yú |
| Zhanyi Spicy Chicken | 沾益辣子鸡 | zhān yì là zi jī |
| Yiliang Roast Duck | 宜良烤鸭 | yí liáng kǎo yā |
| Flower Cake | 鲜花饼 | xiān huā bing |
Best Yunnan Cuisine Restaurants in China

He Shu Shi Fu Restaurant
Chinese Name:和叔食府
Location: No. 9, Zhenxing Lane, Wuyi Street, Lijiang Old Town



Master Duan's Restaurant & Bar
Chinese Name:大理段公子
Location: Fu'an Alley, Dali Ancient Town, 100m (110yd) from the intersection of Renmin Road and Yejing Road



Shiping Guild Hall Restaurant
Chinese Name:石屏会馆
Location: No. 24, Zhonghe Lane, South Cuihu Road, Kunming



Red Cloud Restaurant
Chinese Name:火烧云
Location:
No.174, Old Gulou Street, Xicheng District, Beijing
2nd Floor, Good World Mall, No. 38 East Third Ring Road, Chaoyang District, Beijing



Mystic South-Yunnan Ethnic Cuisine
Chinese Name:云海肴
Location: 7th Floor, Joy City, No.198, North Tibet Road, Shanghai
See more Yunnan Restaurants in Shanghai

5 Major Styles of Yunnan Cuisine
Yunnan cuisine is divided into 5 major styles according to areas. The Central Yunnan style popular in Kunming, Chuxiong and Yuxi is the key part of Dian cuisine. It absorbs different flavors from varied ethnics.

The Northeast Yunnan style in Qujing, Xuanwei and Zhaotong has been influenced by Sichuan cuisine. As a result, the food is similar to Sichuan food.

As to Northwest Yunnan, centered in Lijiang and Shangri-La, the cuisine has obvious features of local plateau style for it neighbors Tibet. The high-energy foods such as green glutinous rice, wheaten cakes, beef and mutton, and self-brewed grain wine are the main food of local diet.

In Dali, Western Yunnan, the cuisine has a strong flavor of Bai nationality. Keeping ancient eating traditions, local dairy products, fisheries, wines and tea make the food different.

In Southern Yunnan, like Dehong, Lincang and Xishuangbanna areas, the cuisine combines subtropical style, diets of local ethnic minorities and Southeast Asia. The wild mushrooms, fruits, flowers and insects could be added in dishes with dipping sauce.​

You May Like:
Top 10 Things to Do in Yunnan
In-depth Guide to Top 10 Yunnan Destinations
Yunnan People
- Last updated on Sep. 09, 2020 -