Best Yunnan Food in Shanghai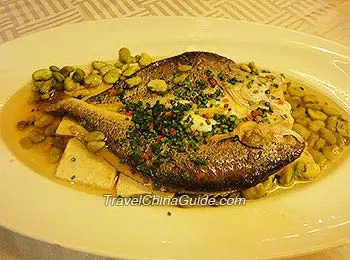 Yunnan Province gathers the most minorities in China. Yunnan Cuisine, also known as Dian Cuisine, consequently featured food and snacks of various ethnic minorities. Such cuisine is sure to be fresh and exciting for Shanghai locals and visitors. Authentic Dian cuisine generally has a mixed sweet, sour, oily and spicy flavor and the top restaurants in Shanghai more or less cater for the locals' taste.

Based on the dishes in Dali and Lijiang (cities in western Yunnan Province), Yunnan Cuisine also has the features of the food in Burma and Laos, which are bordering countries of this province. The best Yunnan food in Shanghai includes Guoqiao Mixian (rice noodles), Xuanwei pickled ham, steamed chicken in boiler and various dishes made of wild vegetables and fungi. Tasty snacks like dairy cakes also should not be missed.
Best Yunnan Restaurants in Shanghai
Lost Heaven Yunnan Folk Cuisine
Chinese name: 花马天堂云南餐厅 (huā mǎ tiān táng yún nán cān tīng)
This famous ethnic restaurant is a three-storey house, with a bar and great dining rooms. The exquisite fittings of the restaurant are of South Asian style. Dishes served here are sour, spicy and curried, focusing on Yunnan and Southeast Asian flavors. It offers best Yunnan food in Shanghai. The wild vegetable cake and chicken with shallot and pepper of Dali flavor are highly recommended.
Average cost per person: CNY200
Location: No. 17A, East Yan'an Road, Huangpu District (near South Sichuan Road)
Lahu Restaurant
Chinese name: 拉祜纳云南时尚餐厅 (lā hū nà yún nán cān tīng)
Lahu
is an ethnic minority mainly living in Yunnan Province. As one of the top restaurants, it is specially decorated in Lahu style. Waiters are in folk costumes and sometimes sing folk songs in Lahu language. Lahu chicken is a must in this restaurant.
Average cost per person: CNY140
Location: No. 1188, Lujiazui Ring Road
Dai Jia Cun
Chinese name: 傣家村 (dǎi jiā cūn)
As one of the best Yunnan restaurants in Shanghai, it focuses on the dishes of
Dai
, an ethnic minority. Its fittings are of ethnic style. Ethnic music and dance are performed sometimes to delight the diners. Bamboo-tube cooked rice and insect platter are recommended to have a taste.
Average cost per person: CNY130
Location: No. 159, Macao Road, Putuo District (near Changhua Road)
Mystic South Yunnan Ethnic Cuisine
Chinese name: 云海肴 (yún hǎi yáo)
The restaurant is at a
Shikumen
house, the typical traditional Shanghai residence. Here, you can find best Yunnan food in Shanghai. The fried minced port with turnip and pepper (Hei San Duo) and cold rice noodles with shredded chicken are recommended.
Average cost per person: CNY100

Meiluocheng Branch
Location: 5F, Zone A, Meiluocheng Shopping Mall, No. 1111, Zhaojiabang Road

Nanqiao Bailian Branch
Location: 3F, Bailian Shopping Mall, No. 588, Baiqi Road

Changtai Square Branch
Location: B1, Lane 1239, Zuchongzhi Road

Xintiandi Branch
Location: Building no. 1, Lane 123, Xingye Road, Luwan District
Lapis Yun
Chinese name: 藏珑云海 (cáng lóng yún hǎi)
The main decoration element of Lapis Yun is bamboo. Its pleasant dining environment attracts many diners. The restaurant has an outdoor terrace where diners can see the busy Nanjing Road and People's Square. The steamed chicken in boiler, fried shrimp and rice noodle are highly recommended here.
Average cost per person: CNY120
Location: No. 128, Daxue Road, Yangpu District (near Jinjia Road)
Mia's Yunnan Kitchen
This is a clean and comfortable ethnic restaurant, providing best Yunnan food in Shanghai. The fried egg with jasmine deserves to be tasted.
Average cost per person: CNY160
Location: No. 45, Anfu Road, Xuhui District (near Changshu Road)
Gathering Clouds Yunnan Restaurant
Chinese name: 醉美云聚云南料理 (zùi měi yún nán liào lǐ)
Average cost per person: CNY170
Location: Building No. 8, Xingfuli Commercial Street, No. 381, Panyu Road
Shang Yue
Chinese name: 尚越 (shàng yuè)
Average cost per person: CNY260
Location: 1F, Hengshan Hotel, No. 534,
Hengshan Road
Cang Yun Lan Na
Chinese name: 藏云兰纳 (cáng yún nà lán)
Average cost per person: CNY150

Dongping Road Branch
Location: 2F, No. 9, Dongping Road

Gubei Branch
Location: No. 1438, Hongqiao Road
Lotus Eatery Shanghai
Chinese name: 云之缘 (yún zhī yuán)
Average cost per person: CNY90

Dingxi Road Branch
Location: No. 1112, Dingxi Road

Meichuan Road Branch
Location: No. 1378, Meichuan Road
southern barbarian shanghai
Chinese name: 南蛮子 (nán mán zǐ)
Average cost per person: CNY100
Location: 2F, Zone E, No. 169, Jinxian Road

Read more about
10 Special Yunnan Foods You Need to Try

Next: Zhejiang Restaurants in Shanghai
- Last modified on Nov. 15, 2019 -