Shikumen Residence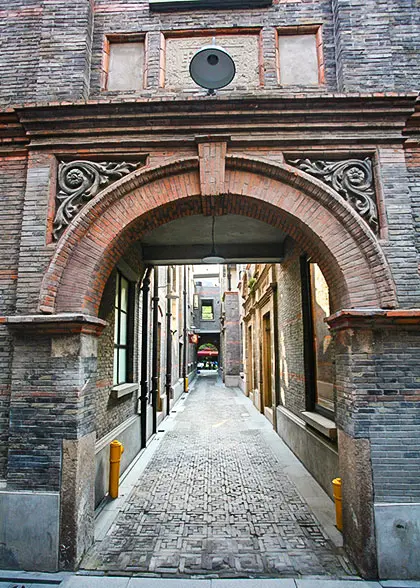 Typical Shikumen
Shikumen Residence, literally meaning 'Stone Warehouse Gate', is regarded as the most representative house style of Shanghai as the
Hutongs
and
Courtyards
are representative of Beijing. It is so named due to the stone door frame. This sort of residence combines the architecture styles of southern China and western countries.
These residences can date back to the 1870s, when the Taiping Rebellion against the domination of the Qing Dynasty (1644 - 1911) broke out. Due to the turbulent warfare, the businessmen, ministers and wealthy people had to move to the concession for protection. As a result, many foreign estate businessmen had a large number of residences built to earn money. Those residences were therefore inspired by western style.
Construction Features of Shikumen Residence
A Shikumen Residence is usually a two-floor building constructed with bricks and wood. On the sloping roof is a dormer window. It has a stone gate frame and wooden doors. Two copper door-knockers echo in the whole lane when they are struck. As the residences are usually linked, a lane naturally comes into being. At the end of the lane, a traditional archway can usually be found.

Stepping through the stone gate, you enter a patio from where the sunshine lights the whole yard. The major rooms are on both sides of the patio. Right in front of the patio, it is a six-meter (about 19 ft) long and four-meter (about 13 ft) wide living room where the hosts meet or treat their guests. Two lateral rooms are on each side, from which you can walk upstairs. Passing through the living room, another patio appears where the cooking bench is set.

The overall framework of the residence is in the architectural style of the courtyards in south China. The indoor furniture and necessity arrangement are also designed based on the representative architectural style. While from the outside, the block of residences looks like western-style townhouses. Moreover, the lintel was usually constructed with Chinese traditional bricks and black tiles. Later, under the influence of western architecture, the doors were gradually decorated with the triangular, circular, arc-shaped or rectangular carvings. Even the outside walls were covered with the western paintings and carvings.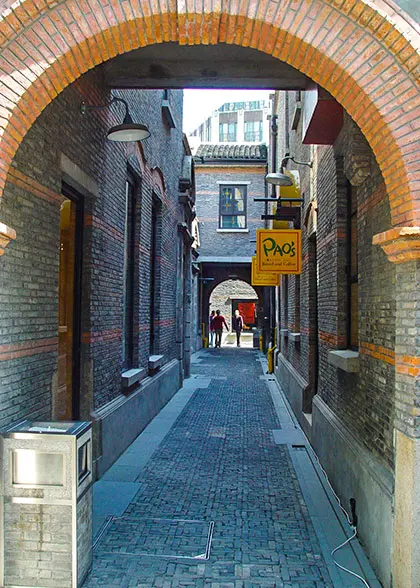 It's said that before the 1950s, these residences constituted up to 60% of all the Shanghai dwellings and sheltered 60% of the local population. These typical residences kept the original estate market records of the city. As these houses originated in the concession, they almost monopolized the city's estate market due to their comfortable, practical and convenient advantages. Apart from these, they were popular because of their good locations, centered distribution and convenient transportation. Such residences were originally built at East Beijing Road, Fuzhou Road, Middle Henan Road and the western surrounding areas. As time passed by, they gradually died out with the pace of the reconstruction of the old areas. Later when some influential architects put forward that these residences should be preserved as a symbol of the typical Shanghai culture, great attention started to be paid to them.

According to official statistics, before 1949, the old residences covered 29.3 sq km (about 11.3 sq mi), including 6.6 sq km (about 2.5 sq mi) of apartments, garden residences and modern lanes and 18.5 sq km (about 7.1 sq mi) old lanes. Even now about 2 million people are still living in these residences, which are mainly seen at Xintiandi, Tianzifang and Jian Ye Li. Such well-preserved residences can also be found at Shang Xi'an Fang, He He Fang, Yu Yang Li, Rui Hua Fang, Pu Qing Li, Bu Gao Li, Heng Chang Li, Heng Feng Li, Zhang Family Garden and Tilanqiao Area.

Shikumen Culture
The appearance of these residences broke through the Chinese traditional lifestyle, under which a large extended family lived in a big courtyard. The new smaller-sized courtyard came into being to lay a foundation for the later Lane Culture. Naturally, Ting Zi Jian (a small room in a building), Ke Tang Jian (living room), Tian Jing (patio) and Seventy-two Guest Rooms are all relevant expressions in the Shikumen culture.

This local culture had a great influence on Shanghai's politics, economy, literature, arts and lifestyle. The literature school of "Ting Zi Jian" was born at the same time. Later the scholars created a large number of masterpieces. Similarly, the architecture also provided abundant opportunities for art creativity so that many movies and music works were made on their background. What's more, due to their complicated and diverse residences, the local inhabitants formed a distinct lifestyle, which laid a solid foundation for their diverse costumes, dieting habits and life habits.

Shikumen Residence Museum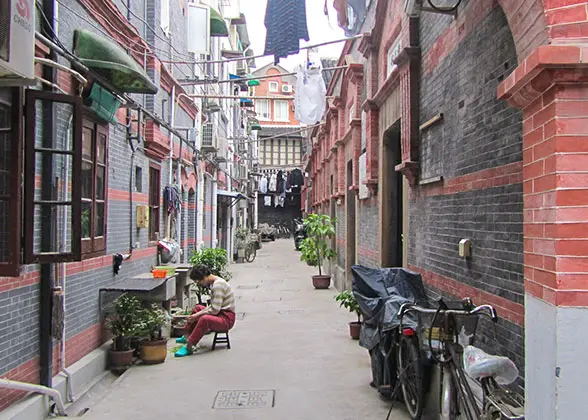 The museum not only presents the typical Shanghai architectural style, but also revives the life space and style of the local residents. In fact, it was reconstructed from an old Shikumen house in the 1920s. Covering 514 sq meters (about 614 sq yards), the museum only includes seven rooms – living room, study, senior's room, landlord's room, daughter's room, son's room and the kitchen.

The displays in the museums are all about the daily necessities of that time. The cooking range, some textbooks, lipstick and rouge are among them. In addition, the whole setting of the museum depicts the vivid life of a middle-class family. "Wu Li Xiang", meaning "home", should be the most representative local expression, whose corresponding expression in English is "Open House". At that time, "Wu Li Xiang" made the neighborhood closer and more harmonious. Living in the nearby residences, people queued up to use the public kitchens and toilets and chattered with each other as they dried their washing in the yards.


See more: Shanghai off the Beaten Path: 8 Lesser-Known Places to Visit

How to get to Shikumen Residence Museum
1. Take metro line 1 and get off at South Huangpi Road Station. Leave from exit 2 and walk south for about 350 m (about 380 yd) to the museum.
2. Take metro line 10 or line 13 and get off at Xintiandi Station. Leave from exit 6 and walk north for about 450 m (490 yd).
3. Take bus 109, 146, 781, 805, 932 or City Sightseeing Bus Line 1 to get there.

Location

No. 25, Lane 181, Taicang Road, Luwan District

Entrance Fee
CNY 20
Opening Time
Sunday – Thursday: 10:30 – 22:30
Friday and Saturday: 11:00 – 23:00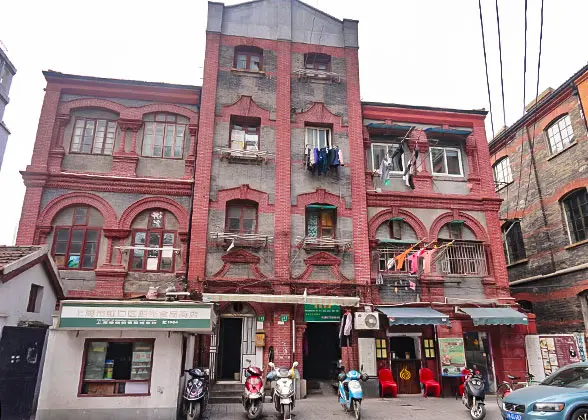 Every Saturday and Sunday, visitors can visit this museum to experience the typical local life. A high fig tree stands in the patio to provide shade on hot summer days. Passing through the patio, you will find the living room, which displays a western and oriental combination style. An old gramophone plays the Blue Danube melody. Then sitting on the sofa, you can look around and experience the locals' life. "Ting Zi Jian" of the residence is used as a study, where there are "the scholar's four jewels" (writing brush, ink stick, ink slab and paper) and some paintings and calligraphy works created and collected over four generations by the residence owners. On the bamboo shelf is a mini character museum, on which you can find oracle bone inscriptions, bronze inscriptions, cursive scripts and others.

How to get to Shikumen Residence Household Museum
1. Take metro line 1, line 10 or line 12 and get off at South Shaanxi Road. Getting out through Exit 6, walk about 900 m (980 yd) to the museum.
2. Take bus no. 24, 41, 104, 146, 301, 304, 786, 864 or 955 to Shaanxi Nanlu Yongjialu Station. After that, walk for 500 m (about 550 yd) to the museum.
Shanghai Bus / Metro Search

| | |
| --- | --- |
| Location | No. 35, Lane 38, Yongkang Road, Xuhui District |
| Entrance Fee | Free |
| Opening Time | Saturday and Sunday: 09:30 – 11:30 in the morning and 13:00 – 16:00 in the afternoon. |

You May Like:
10 Non-Touristy Things to Do in Shanghai
8 Unique Things to Do in Shanghai Only
- Last updated on Jul. 29, 2020 -
Questions & Answers on Shikumen Residence
Asked by David from USA | Nov. 25, 2019 20:10

Reply
The scholar's four jewels
Hello,
You mentioned "the scholar's four jewels" (writing brush, ink stick, ink slab and paper).
Is there a Chinese expression to describe this? If so, can you please tell me what the hanzi for this is? Also, I have seen ink slabs in Tianjin old market, but what is an ink stick?
Thanks
David
Answers (1)
Answered by Elaine from CANADA | Nov. 27, 2019 22:37

0

0

Reply
It is '文房四宝' (笔,墨,纸,砚) in Chinese. The raw materials of ink-stick were pine, oil and lacquer.
Asked by Anne from MALAYSIA | Aug. 18, 2016 05:37

Reply
What's the best option between Shanghai Shikumen Residence, Tianzifang and Xintiandi?
Appreciate if anyone could help to differentiate each scenic spot (cleanliness, building structure, crowded-less crowded, interesting activities can be done).
And let me know which place have muslim/halal food restaurant nearby in order for me to make a decision.
Thanks!
Answers (1)
Answered by Ali from GERMANY | Aug. 19, 2016 01:20

1

0

Reply
Dear Anne, both Xintiandi and Tianzifang are typical SKM dwellings. They integrate western architectural features into traditionall Chinese buildings.

Xintiandi is cleaner, but more crowded than Tianzifang. Shops, cafes, bars and restaurants abound there. In contrast, Tianzifang is characterized by exquisite handicrafts. You can find muslim restaurants at both places. You can choose one according to your preference. ;)