Tianzifang
Little known to Shanghai old timers, Tianzifang has transformed itself from legacy residential architectures and factories into an artsy area housing bars, cafes, crafts shops, design studios, galleries and boutiques. It is ardently supported by crowds of yuppies, trend setters, designers and expatriates, who fall for temptation of old Shikumen houses (stone-framed-door houses) and lanes with infinite novelties.
| | |
| --- | --- |
| Shanghai Tianzifang | A Teahouse |

More Tianzifang Pictures
The development of Tianzifang is fairly recent. It is also known as Taikang Road which was a back street in Former French Concession. One of the Shanghai highlights is the old residential buildings called 'shikumen', literally 'stone doors', which reflects a confluence of architectural tastes. As a prized treaty port, Shanghai had been familiar to venturers since the mid-19th Century. By the 1920-1930s, housing with stone doorframes and solid wooden doors are commonly known as Shikumen. People adopted simple engravings on the stone frames. Taikang Road area was built up by the French Concession expansion. Apart from Shikumen buildings, there are also French style remainders. The distinctive scenes and architectural composition in Taikang Road denotes the city's eventful history. In the 1930s, white-collar workers, including doctors, artists, competent seafarers and bank officers preferred to settle down here. It is equivalent to prosperous uptown of nowadays. Many influential artists in early 20th Century treat this region as their home.
| | | |
| --- | --- | --- |
| Shikumen Building | | Clean Lane |

More Pictures of Shanghai Old City Area
The year 1998 is a watershed in Tianzifang's history. Chen Yifei, one of China's most renowned contemporary artists, took over two abandoned factory buildings in Lane 210, Taikang Road, and converted them into his oil painting, sculpture, fashion and photograph studios. The cross-street sculpture - 'Art Door' designed by Cheng Yifei now stands at the eastern end of Taikang Road, famed as the 'Icon of Taikang Art Street'. Monthly opera concert in Deke Erh Art Center become regular community gathering. Then resident artists from ten countries and regions followed suit. The name of Tianzifang is coined by Huang Yongyu, the dean in Chinese painting circle. Tian Zifang is the earliest recorded painter in China. Mr. Huang reworded the last word 'fang 方' into 'fang 坊' meaning mill, quarter, lane or workshop. The stele with Tianzifang written on it was hung over the entrance of Lane 210 in 2002.
| | |
| --- | --- |
| A Restaurant | A Painter |
Tianzifang enclave has expanded from Lane 210 to Lane 248. It is called the SOHO in Shanghai, and a nest for 29 art and design studios, 58 crafts shops and galleries, 65 antique shops and some boutiques, etc. Many coffee shops, bars, tea houses, and silk shops here are operated by an international mix of owners. They are imbedded either in the modern lanes, castles of Spanish or British styles, or the Shikumen buildings. Restaurants here are small but offer various delicious foods from many countries, such as Thai food, New York steak and burger, grill, Japanese sushi, French goose liver, cheese hot pot…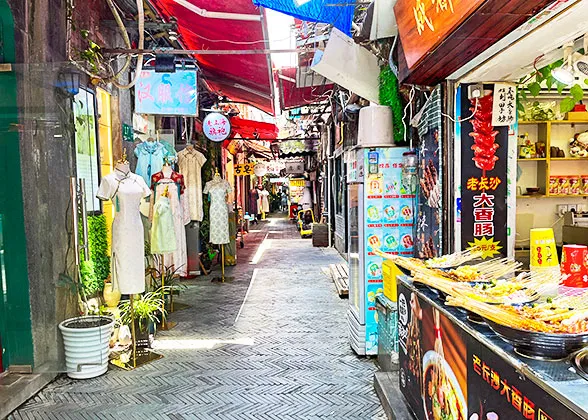 Narrow Lane
Like Xintiandi, Tianzifang is one of a small number of old Shanghai shikumen buildings. The difference is the vivid live atmosphere stimulated from Tianzifang. The original buildings are still intact, true to the authentic features of the lanes in Shanghai, with Shikumen architecture to the fore. There are over 20 varieties of well-preserved shikumen buildings in Tianzifang, whose types and completeness rank with the best in the city. Many original residents still live in the narrow lanes. Please be mindful and respect their privacy. Both visitors and local residents deserve a respite in these acres.

Tianzifang is a vanguard of creative expressions. Every boutique shines with flashes of wit and creativity with one of a kind handmade novelty items. Tourists from overseas sit outside a café, while inhabitants hurry by. Most old walls are used as panels to exhibit latest elaborate doodles in bright colors. Tianzifang survives the surrounding city demolition by working in art. Its preservation is significant for the city's cultural heritage.

By Bus:
1. Take bus no. 17, 24, or 304 and get off at Jianguo Zhonglu Ruijin Erlu Station.
2. Take bus no. 41, 96, 104, 146, 301, 864 or 955 and get off at Ruijin Yiyuan (Ruijin Hospital) Station.
By Metro:
Take
metro line 9
and get off at Dapuqiao Station. Leave from Exit 1 and you will arrive at Tianzifang.
Shanghai Bus / Metro Search
| | |
| --- | --- |
| Location | Lane 210, Taikang Road, Luwan District |
| Entrance Fee | Free |
| Hours | Every shop has different hours of operation, approximately between 10:00 and 23:00. Some bars close later. |

Nearby Attractions:
Former French Concession
Sinan Road
Former Residence of Zhou Enlai

Top 10 Things to Do in Shanghai
Print

- Last modified on Sep. 21, 2018 -