Qibao Ancient Town
Located in the center of Minhang District of Shanghai, only 18 kilometers (11.18 miles) from the downtown area, Qibao Ancient Town can satisfy your curiosity about ancient water townships without the bother of either long distance or the rush of crowds.

As the only ancient town forming part of greater Shanghai, with a history spanning over one thousand years, Qibao is more than just a living fossil of ancient Chinese conurbation and urban planning. The town was built in Northern Song Dynasty (960-1126) and grew into a prosperous business center during Ming (1368-1644) and Qing Dynasties (1644-1911). Qibao Ancient Town is the Chinese for 'seven treasures' and there are two popular theories about its derivation. The more reliable one says that the name originates from the Qibao Temple, famed for its good reputation. It was this that contributed to the growth of business and culture of the previously unknown town. The other theory seems more popular among the local people who tell folk tales about seven treasures. These were an iron Buddha made in Ming Dynasty, a bronze bell also dating from the Ming Dynasty but said to have mysteriously appeared from nowhere, a Gold Script Lotus Sutra written by an imperial concubine of the 10th century, a one-thousand-year-old Chinese catalpa tree, a jade axe, a gold cockerel and a pair of jade chopsticks. Actually of these seven treasures, the existence of only first four can be verified while only the Scripture and the bell have survived to this day.

Qibao Temple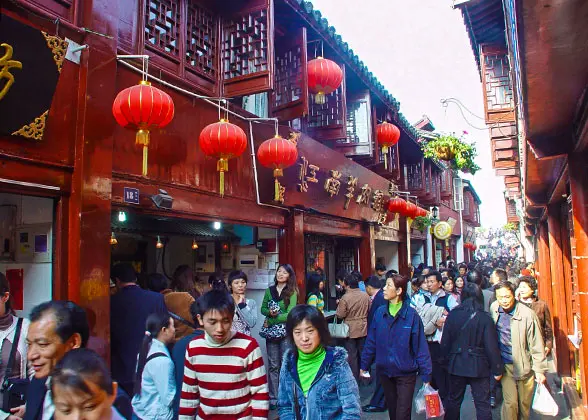 Dating from the period of Five Dynasties and Ten States (907-960) and largely renovated and extended during Ming Dynasty, the Temple is held in high regard by the local populace not only because it was said to contain the seven treasures but also for its splendid appearance and the great significance it has had in fostering the development of Qibao Town. The temple used to cover an area exceeding 40 mu (144 acres), excluding the surrounding rivers of 6 mu (22 acres) when it blossomed in Ming Dynasty. A revered monk named Jing used to study and interpret the scriptures here, something that was recorded in the inscriptions carved on the bronze bell. The temple was rebuilt in 2002 and now covers a total area of 43 mu (155 acres) and was opened to public in the following January. The new Qibao Temple, with its ingenious designs for both buildings and gardens, presents visitors with an insight of the unique architectural styles of Han (BC206-220) and Tang Dynasty (618-907).

Crickets
Once it was one of the most popular folk activities among the ancient Chinese and even now cricket fighting still draws so much interest that the local people have established a special museum where both cricket displays and live cricket fighting shows are to be seen. It may seem strange that such a little insect could bring great popularity to a place, but the crickets in Qibao Town, especially the fiercest species called Iron Sand and Blue (respectively referring to the colors of their necks and feet), are indeed an extraordinary and indispensable feature. Due to its favourable geographic position and fertile lands, the town provides the crickets with an abundance of food and ideal living conditions. In return, the vigorous crickets provide exciting performances each day during the golden weeks (May 1-7 and Oct. 1-7) and the annual Festival of Cricket Culture.

Shadow Play
Shadow Plays were once a feature of Shanghai culture but it was a man named Mao Gengyu from Qibao Ancient Town who first introduced this art to Shanghai area. The Qibao Shadow Play performs mainly entertainments based on widely-known historical events with the local dialect, thus giving the shows a truly local character. The plays are performed using colorful drawings and expressive music to illustrate the emotions of the characters. In October of 1988, some amateur artists held a special exhibition of paintings of the shadow play, so as to develop a wider appreciation of this magnificent form of folk art.

Snacks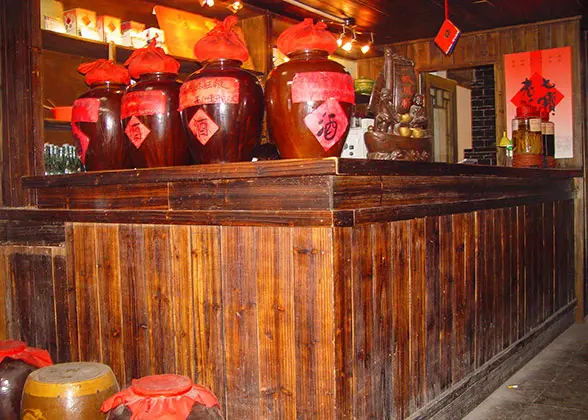 A great variety of snacks in Qibao Ancient Town will attract your eye and tempt your palette when you are walking the streets of the old town. Colourful and appetizing, few resist the temptation to try them. Different flavoured cakes made from polished glutinous rice 'Qibaogao', dried bean curd wrapped in lotus leaves (Hebao doufugan), roasted sweet potatoes (Kaohongshu), smoked toads (Xunlanhamo), and sugar coated haws on sticks (Tanghulu), etc. can be found on every corner in the town. Within this area of 21.3 square kilometers (8.22 sq. miles) that forms the ancient streets and a newly developed district, Qibao Town carries visitors back through the centuries by virtue of its history, culture, architecture and local people. A day spent in this unique and historic town will be very rewarding and is highly recommended.

How to get to Qibao Ancient Town from Shanghai
By Metro - Take
Metro Line 9
and get off at Qibao Station. Leave from Exit 2 and walk south for about ten minutes to the old town.
By bus - Take Bus 87, 91, 92, 92b, 186, 189, 196, 198, 709, 735, 748, 803, Hongqiao Hub Line 4, Nanjiang Line, Husong Line, Huchen Line or Minhang Line 33 and get off at Qibao Station.
Shanghai Bus / Metro Search
| | |
| --- | --- |
| Entrance Fee | Free to enter the town, but visitors need to buy entrance tickets for the attractions inside. A combo ticket costs CNY 30 and a separate ticket for each attraction costs CNY 5 to 10. |
| Opening Hours | All day long. Attractions and indoor exhibitions are open from 9:00 to 18:00. |

Other Ancient Towns in Shanghai:
Zhujiajiao Ancient Town
Fengjing Ancient Town
Xinchang Ancient Town

​ Further Reading

8 Best Water Towns near Shanghai

A Complete Guide to 15 Shanghai Old Towns

​
15 Free Things to Do in Shanghai

6 Things to See in Shanghai in June

Top 10 Shanghai Tourist Spots for Solo Travelers
Print
- Last updated on May. 17, 2023 -
Questions & Answers on Qibao Ancient Town
Asked by Ron from INDONESIA | May. 16, 2023 22:30

Reply
Shooting location of "Romance in The Rain" (情深深雨濛濛) TV drama?
Does Qibao was the shooting location of "Romance in The Rain" (情深深雨濛濛) TV drama?
Answers (1)
Answered by James | May. 17, 2023 18:54

0

0

Reply
Yes, this is the place where the heroine lives.
Asked by Lisa from FRANCE | Jan. 25, 2019 08:38

Reply
Is everything open in Qibao Ancient Town on Mondays ?
I plan to visit Qibao on Monday, Feb. 4th. Will all the attractions be open ? especially because it is the day before Chinese New Year...
Answers (1)
Answered by Benjamin from AUSTRALIA | Jan. 29, 2019 17:45

0

0

Reply
Don't worry, Lisa. This scenic area will open during the Chinese New Year. Generally speaking, most attractions and stores will open that time.
Asked by MM from CHINA | Apr. 07, 2018 21:38

Reply
Are there boats on the canals at Qibao?
Answers (1)
Answered by Olivia from NEW ZEALAND | Apr. 08, 2018 01:10

2

0

Reply
Yes, there are and you can find it easily when getting there.
Asked by Lodabear from CHINA | Oct. 10, 2017 03:05

Reply
Do visitors need to pay to see cricket fighting at Qibao Ancient Town?
Answers (1)
Answered by Julian from AUSTRALIA | Oct. 10, 2017 21:35

1

0

Reply
Yes, as I know, the show is available in the Cricket Museum, which needs a ticket. It costs around CNY5.
Asked by P.B.Rao from INDIA | Aug. 09, 2017 14:06

Reply
Staying at rayfont downtown hotel, Zhaojiabang Road, Xuhui. How to go to Qi Bao Ancient Town?
Answers (1)
Answered by Mike from GERMANY | Aug. 09, 2017 20:31

0

0

Reply
Walk east along Xujiahui Rd for about 5 minutes to Dapuqiao Station of metro line 9, take the metro and get off at Qibao.