Shanghai Zoo
Shanghai Zoo is a large-scale state-level zoo. It was previously named Western Suburban Park and renamed in 1980. It is located in
Changning District
, adjacent to
Hongqiao International Airport
. Covering an area of 740,000 square meters (885,000 square yards), it exhibits more than 6,000 animals, including up to 600 rare animals. There are not only animals from China, such as
giant pandas
, golden monkeys, South China tigers, Manchurian tigers, Yangtze alligators, elks, but also animals from all over the world, such as giraffe, kangaroo, penguin, hippopotamus, sea lion, ostrich, and cougar.
Shanghai Zoo is divided into 5 exhibition areas: Primates, Herbivores, Carnivores, Birds, and Amphibians.
Golden Monkeys
Walking into the park and turning left, tourists first encounter the Primate Zone, where hamadryas baboons, golden monkeys, gorillas and chimpanzees can be seen. Golden monkeys are a unique, rare animal from China. The diet of golden monkeys consists mainly of leaves and fruit. It is reported that golden monkeys are most frequently seen in forests with bamboo, so the zone has abundant fruit trees and bamboo, creating a suitable habitat.

Moving forward, tourists come to the Herbivore Zone, where giraffes, Asian elephants, hippopotamuses and alpacas lead a carefree life. Alpacas deserve to be mentioned; because of their cute appearances, alpacas have created great interest in China.

Giant Pandas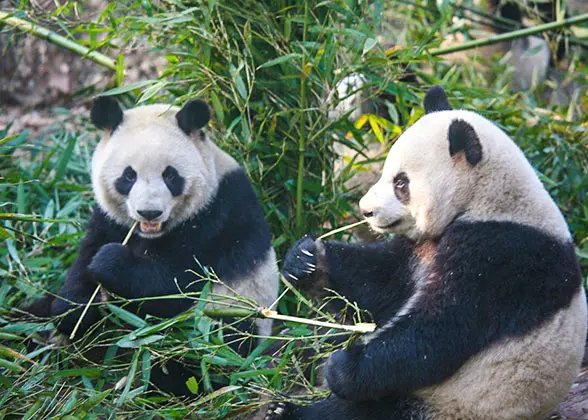 Continuing on, the Carnivore Zone comes into view. The giant pandas, Bengal white tigers, South Chinese tigers, African lions and Sun bears live here and enjoy themselves. You may question why pandas are housed in the Carnivore zone. It's because their forefathers fed on meat a long time ago. Environmental change forced them to switch their diet to bamboo and their digestion system is no longer able to handle meat. The Panda exhibit contains mainly the giant panda and the red panda. The giant panda area is fan-shaped, where an indoor exhibition area and an outside playground can be seen. Tourists can watch the panda's every movement. The playground is covered with trees, lawns, artificial mountains, pools so that the giant pandas can enjoy themselves. The red panda's area is circular, and allows red pandas to rest in a tree or enjoy the sunshine. The whole exhibit is full of several kinds of bamboo to provide enough food for the pandas. Pandas lead a carefree life there. Tourists can have close contact with these cute animals, leaving a deep impression.



See tour offered by TravelChinaGuide, for you to visit pandas in the zoo:


8-Day Private Panda Tour to Beijing/ Xi'an/ Shanghai


Lion and Tiger Hill
In addition, Lion and Tiger Hill in the Carnivores zone is another place to go. It is divided into three parts: east, central and west hills which exhibit three kinds of tigers: Manchurian tigers, African lions and South China tigers. Tourists are separated from the animals by a wall, behind which the tourists can safely stand and watch. There is a mural displayed, on which grassland, forests, water and wild animals are vividly presented. The mural makes travelers feel that they are in the vast field. Tourists can see the vigorous figure of tigers and listen to their roar.

Beautiful Birds
After a tour in the Carnivore Zone, you may want to see the elegant swan or the lovely Jackass Penguin. If so, the Bird Zone is a good choice. No less than 40 kinds of birds nest in the zoo, among which the oriole, skylark, swan, cuckoo and mandarin duck are famous. The Oriental egret, black swan, whooper swan, flamingo, peacock can also be seen here. There is a Swan Lake, which covers a vast area, and is surrounded by various plants. The beautiful environment attracts many birds to nest in the lake. The breath-taking scenery makes tourists indulge in the beauty and not want to go home.

Other Scenic Spots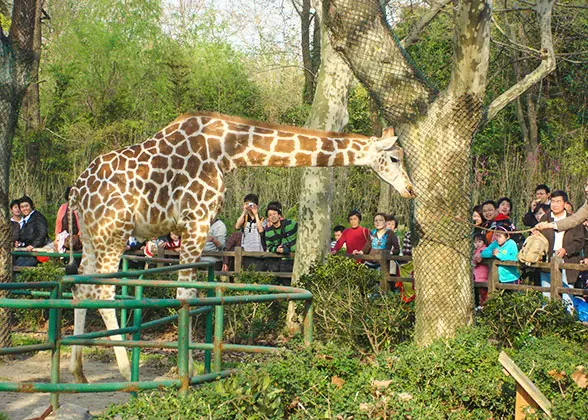 The Amphibian Zone is close to the exit of the zoo. Here, rare amphibian species can be seen, such as Yangtze alligator, varanid, sea turtle, and python. For those who are fond of amphibians, it will be a feast for the eyes.

A wide variety of flowers are also displayed. Standing in the garden, tourists are surrounded by fragrances of flowers. Because the site of the zoo was originally a golf course, it is now reputed for its beautiful environment and extensive green belt. More than 100,000 trees flourish here.

There is also a Scientific Building, the first of its kind established in China, situated in the zoo.

How to get to Shanghai Zoo
1. Take metro line 10 and get off at the Shanghai Zoo Station, then take Exit 4 to reach your destination.
2. Take bus line 57, 91, 196, 328, 519, 721, 739, 748, 807, 809, 865, 911, 941, 1207, Hongqiao Hub Line 1, or Shangzhu Line and get off at the Shanghai Zoo Station.
Shanghai Bus / Metro Search
Entrance Fee
CNY 40
An adult can bring a child under 1.3 meters (4.2 feet) for free.
Opening Hours
March to October: 7:30–17:00
November to the next February: 7:30–16:30

Nearby Attraction:
Sassoon Villa: A pinnacle garden house with English–countryside style building is a splendid scenic spot here.

See also:
Shanghai Wild Animal Park
: in Pudong New Area, 35 km (22 miles) to the city center.

Read more:
Shanghai Tourist Information for April - 7 Things to Do
15 Things to Do in Shanghai with Kids
- Last updated on Jul. 27, 2020 -
Questions & Answers on Shanghai Zoo
Asked by angie from - | Nov. 28, 2019 19:31

Reply
What is the recommended duration to spend at the zoo?
Answers (1)
Answered by Nate from AUSTRALIA | Dec. 02, 2019 00:42

0

0

Reply
3-5 hours will be ok.
Asked by Judy from PHILIPPINES | Nov. 05, 2019 03:00

Reply
Can we buy Shanghai Zoo tickets on the spot ?
Answers (3)
Answered by Matthew from USA | Nov. 06, 2019 00:19

0

0

Reply
Don't worry. It will be ok for you to purchase the tickets on the spot. Have a nice trip!
Answered by Judy from PHILIPPINES | Nov. 06, 2019 01:17

0

0

Reply
Thank you very much!.. May I know what's the fastest route or what to ride from pudong airport ?
Answered by Jill from CANADA | Nov. 06, 2019 17:59

0

0

Reply
You can take maglev to Longyang Rd station, and take metro line 2 to East Nanjing Rd station, then transfer to metro line 10 to Zoo station (Exit 4). It takes 75 minutes with CNY55.
Asked by Yi Ping from SINGAPORE | Jul. 31, 2019 07:02

Reply
Shanghai Zoo Not opened in December?
Hi, the opening hours did not state December. Is it open in December?
Answers (1)
Answered by Olga from USA | Aug. 04, 2019 23:56

0

0

Reply
Yes, of course. From November to the next February, it includes December.
Asked by Hawn from USA | Jul. 18, 2019 13:25

Reply
How far to Shanghai zoo from the bund?
Answers (1)
Answered by Kaye from USA | Jul. 18, 2019 19:45

0

0

Reply
The distance is around 15 km. It takes you around 40 minutes with CNY4 via subway.
Take metro line 10 from East Nanjing Rd Station to the Zoo Station (Exit 4). After arriving, walk to the scenic area.