Shanghai Attractions
Shanghai, a vigorous and energetic international metropolis, welcomes people from all over the world to enjoy its special atmosphere. This modern metropolis with its rich heritage of ancient Chinese culture has much to see and do.
Top Attractions

The Bund
&
Huangpu River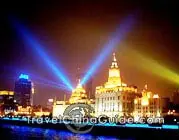 Huangpu River is not only the mother river of Shanghai, which divides the city into east and west parts, but also assembles the splendid attractions of the city. Situated on the west bank of the Huangpu River, the Bund of
Huangpu District
is the symbol and highlight of a Shanghai vacation. New finance and commercial houses as well as grand buildings built in 1930s in the European architectural styles cluster along the Bund. At night bright lights add to the happy atmosphere as people stroll along the wide riverside promenade.

Nanjing Road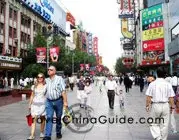 Nanjing Road is considered to be the 'No. 1 commercial street in China', which has been a landmark for this city for a long time. Along its 5.5 kilometers, you will find over 600 shops that on average are visited by some 1.7 million people each day. Here, you could purchase everything wanted, spanning from special and cheap souvenirs to the luxurious world famous brands.

Yu Garden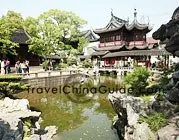 Yu Garden is the largest of Shanghai's ancient gardens with Ming and Qing architectural styles. The garden has six areas, each with its own style. The Grand Rockery, in the center of the Garden, is the most renowned sight. Near the garden, there is the
Old City God Temple
, where various of local snack shops and streets are scattered around.

Jade Buddha Temple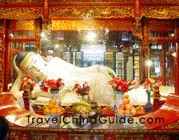 It is one of the most famous Buddhist shrines in the city. The White Jade Buddhas were brought here from Burma in the nineteenth century. One is seated while the other is in the recumbent position of Sakyamuni symbolizing the Buddha's attainment of enlightenment or nirvana. The temple also has some impressive images of the Heavenly Kings. Although many people come to worship each day and burn incense at this very holy and active shrine, visitors are welcome.

Xintiandi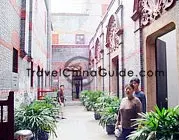 If you want to experience the historical and cultural atmosphere of the city, Xintiandi is a wise choice. Composed of Shikumen and modern architectural style, now it has become a hot and fashionable pedestrian street in the center of the city. Actually, it stands for the popular and leisurely life style of this city's new generation. The outdoor cafés, bars and romantic restaurants can be seen everywhere.
Similar Attraction:
Tianzifang

Read more:


Top 10 Things to Do in Shanghai


15 Free Things to Do in Shanghai


Places of Interest in Shanghai: 12 Historical Sites to Explore


List of 8 Theme Parks in Shanghai


Shanghai Amusement Parks: Top 5 Places to Go

Modern Sights: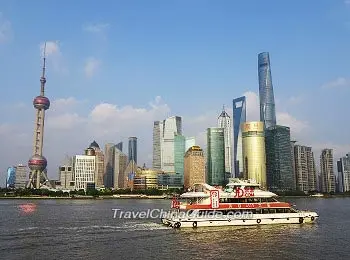 Oriental Pearl Tower is the modern symbol and must-see for a typical vacation in Shanghai. Standing beside the Huangpu River and opposite the Bund with a height of 1,536 feet (468 meters), it is the tallest TV tower in Asia. This unusual structure that dominates the skyline is a great attraction to visitors. Moreover, Shanghai Tower, the highest multi-purpose skyscraper in the country, offers the full extent of Lujiazui and Puxi areas, attracting more and more visitors to appreciate the beautiful panorama of this modern city. Neighboring this tower, stand another two skyscrapers, namely, the World Financial Center and Jin Mao Tower. All these tall buildings are equipped with sightseeing halls, allowing tourists to wander on the cloud.
Historical & Cultural Sites: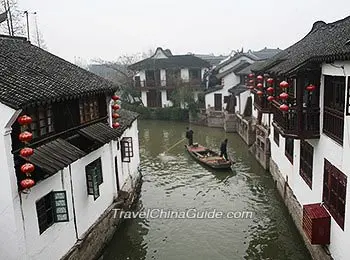 Located on the Longhua Road at the south of the city, Longhua Park is famous for the ancient Longhua Pagoda and Longhua Temple, the Evening Bell-Striking Ceremony and the peach blossoms. The visitor here having marveled at the city's modern architecture and historical sites will be further rewarded when going to see neighboring water towns like Zhujiajiao and Qibao Ancient Town. Here is another world where ancient houses huddle by the rivers running through the towns that with their flagstone-paved roads and typical local flavors will be sure to slow your pace as you savor their traditions.
Museums:

Top 10 Museums in Shanghai

Shanghai Museum

Jewish Refugees Museum

Former Residence of Sun Yat-sen

Auto Museum

China Art Museum

China Maritime Museum

Chinese Martial Arts Museum

China Tobacco Museum

Chen Yun Memorial Hall

Film Museum

Madame Tussauds

Memorial Hall of Fushou Garden

Natural History Museum

Natural Wild Insect Kingdom

Power Staion of Art

Science and Technology Museum

Site of the First National Congress of the CPC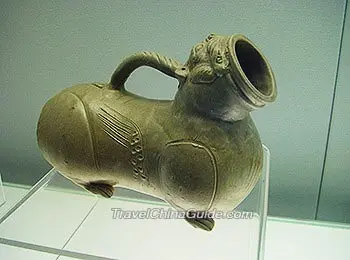 Soong Ching Ling Memorial Residence

Urban Planning Exhibition Hall
Shanghai Museum is a veritable treasure house of ancient Chinese art and houses 120,000 precious relics. Bronzes, pottery, paintings and calligraphies are distinctive features of the Museum's collection. Seen from above, the Museum resembles a large bronze mirror of the Han Dynasty (206BC -220). From the distance, it looks like a bronze Ding, an ancient cooking vessel that contains so many mementos of the 5,000-year-old history of Chinese civilization. If you are interested in visiting more museums, The Site of the First National Congress of the Communist Party of China, The Former Residences of Sun Yat-sen, Song Qingling, Chen Yun Memorial Hall, The Memorial Hall of Fushou Garden, as well as some specilized museums, including Tobacco Museum, Automotive Museum, Science and Techology Museum and Urban Planning Exhibition Hall.
Religious Sites:

Churches

Mosques

Top 10 Famous Temples
Tickets & Activities

Recommended Tours with Low Price:


Private Shanghai 1-Day Tours: 7 options to Shanghai Museum, Yu Garden, the Bund, Huangpu River...


5-Day Shanghai & Suzhou: to the Bund, Nanjing Road, Suzhou gardens, and Zhouzhuang Water Town.


9-Day Shanghai-Beijing-Xi'an: 9 days small group to the Bund, Great Wall, Forbidden City, Terracotta Warriors...
More Shanghai Tours, Best China Tours from Shanghai
- Last modified on Apr. 07, 2021 -
Questions & Answers on Shanghai Attractions
Asked by Kadiee from VIETNAM | Jun. 22, 2019 00:19

Reply
I want to ask that how can i go to Shanghai film studio.
And how much for the entrance ticket to film studio?
Answers (1)
Answered by Jessica from USA | Jun. 24, 2019 19:37

0

0

Reply
1.Where do you start off to go there? Bus No. 703 is the nearest line passing by it. The nearby subway stations are Indoor Stadium Station (Metro Line 1 and 4) and Stadium Station (Metro Line 4).
2. It is free for the public.
Asked by Sam from DUBAI | May. 02, 2019 01:04

Reply
Is there any beautiful romantic restaurant for couples in shanghai?
Would you like to tell me any romantic place/restaurant for Couple where we can also have good food,coffee,juice,cakes ETc....in food/drink anything will be fine but the place should be nice like pleasant environment and good view .....
Answers (1)
Answered by David from USA | May. 05, 2019 23:49

0

0

Reply
Mon the Bund is recommended because of its beautiful views. Location: 7 Floor, No. 5 Bund, 20 Guangdong Road, Huangpu District.

Cucina, an Italian restaurant at 56th Floor, Jinmao Building, 88 Century Avenue, Pudong.
Asked by Angel from UNITED STATES | Dec. 16, 2017 00:37

Reply
Where can I find reasonable pricesmd photo studios in Shanghai where I can get glamour shots taken?
I wanted to get dressed up in ancient costumewear (i.e. royal princess, etc) and get professional photos taken? I am staying by the Bund area near the east nanjing road. Thanks.
Answers (1)
Answered by Amenda from UNITED KINGDOM | Dec. 17, 2017 21:16

0

0

Reply
I happen to know Photo Studio nearby; it's Huangjia Sheying in 168 West Lujiazui Rd, about 6km east to the Bund.
You can take metro line 2 to Lujiazui and leave from Exit 2; walk southwest for 5 minutes to the studio.
Asked by FELEE93 | Oct. 30, 2017 21:09

Reply
I want to ask about can i take metro line to shanghai film park? which line is it?
Answers (9)
Answered by White | Oct. 31, 2017 01:13

0

0

Reply
Sorry to tell you no subway station is around the film park.
Since you didn't mention your departure place, I can only provide some buses to the park.
Bus Songjiang 6 to Lianying Rd, Qiuchang Rd; Bus 881/Songjiang 6 to Beisong Highway, Yingwei Rd. After getting off, walk south for 5 minutes to the park.
Answered by FELEE93 | Oct. 31, 2017 02:15

0

0

Reply
i'll arrived by 22.45 at night and waiting for luggage bout 30-45minutes, what transportation that i can take to reach my hotel? (still searching for hotel anyway)
Answered by White | Oct. 31, 2017 03:00

0

1

Reply
Well, I assume you will srrive at Pudong Airport.
I suggest you to stay near People's Square, and you can take Shuttle Bus Night Line there, which takes about 1 hour and CNY20.
Then hotels like Haiyou Hotel in 7, Lane 66, Middle Xizang Rd, Magnificent International Hotel in 381 South Xizang Rd and International Hotel in 170 West Nanjing Rd.
Answered by FELEE93 | Oct. 31, 2017 03:47

0

0

Reply
Night Line
Route Pudong International Airport - Hongqiao East Transportation Hub
Service Hours 23:00 (T1), 23:05 (T2) till 45 minutes after the last flight
Frequency Less than 45 minutes
Main Stops T1, T2, Longyang Rd. Fangdian Rd., Century Avenue Subway Station, East Yan'an Rd. Middle Zhejiang Rd., Middle Yan'an Rd. Huashan Rd., West Yan'an Rd. Hongxu Rd.
Fare CNY 16-30 (Based on distance)
Consulting Hotline 021-68346612


you mean this one mha?
Answered by White | Oct. 31, 2017 19:50

0

0

Reply
Yes, and you need to get off at East Yan'an Rd, Middle Zhejiang Rd.
Answered by FELEE93 | Nov. 01, 2017 01:34

0

0

Reply
it said "Service Hours 23:00 (T1), 23:05 (T2) till 45 minutes after the last flight" ill be arrived at t2 pudong airport 22.45, is it possible to take that bus? cause taxi fare in the night is more expensive, hmm.
Answered by Lisa | Nov. 01, 2017 01:49

0

0

Reply
Yes, you can take the bus. No worry!
Answered by FELEE93 | Nov. 01, 2017 04:08

0

0

Reply
thankyou so much, such a nice website that i can ask lot of things, hihi. anyway i'll be in SH and hangzhou, what card that should i buy for transportation used? yi ka tong? can i buy it in pudong airport? how much it cost?
Answered by Kayla from SINGAPORE | Nov. 01, 2017 20:49

0

0

Reply
Yes, I also think it's really useful!
As for your question, I'd like to help! you can buy Yi Ka Tong at the counter of metro station in the airport and as I know, it costs CNY20 as a deposit, which can be returned when you return the card.
By the way, you need to buy another transport card when in Hangzhou, and it can also be bought in the metro stations.