Shanghai Mosques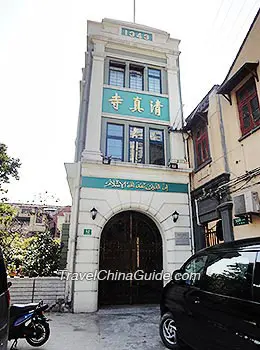 Xiaotaoyuan Mosque
Xiaotaoyuan Mosque
As a center of religion, education and culture of islam in Shanghai, it was first built in 1917, and reconstructed in 1925. It was originally named Hui Mosque of Western Shanghai. Covering 500 sq meters (about 598 sq yd), the worship hall can hold nearly 500 persons. The roof of the two-floor hall is a grand arch dome. On the flat area of the roof is Moon Watching Pavilion. Star-Moon Pole, the mark of a Moslem fane, stands on the top of the pavilion. Since being established, it had run several schools in the fane, such as Shanghai Muslim National Primary School, Chongben Primary School and Orphans Cultivating School and others.
Location: No.52, Xiaotaoyuan Street, Huangpu District
Transportation: Take subway
line 8
or
line 10
and get off at Laoximen. Leave from exit 7 and walk east along East Fuxing Road till the end of the street.
Opening Hours: 04:00 to 18:00
Tel: +86-021-63775442
Songjiang Mosque
As one of the popular Shanghai mosques, it is the oldest Shanghai Muslim building in Shanghai, originally named Real Religion Mosque. Covering 4,900 sq meters (about 5,860 sq yd), the building was first built in the Yuan Dynasty (1271-1368). The existing shadow wall shows the cultural communication between China and Arabia.
Location: No. 75, Gangpeng Lane, Huating Old Street, Zhongshan Central Road, Songjiang District
Opening Hours: 09:00 to 16:00
Tel: +86-021-57823684
Jingxing Road Mosque (Jiangwan Mosque)
Built in 1947, it covers an area of 132 sq meters (about 158 sq yd) by now, but at the very beginning, it was only a room. In 1959, it amalgamated with Fenzhou Road Mosque. Since then, a great many Shanghai Muslim followers were welcomed after its several restorations. In 2009, it was reconstructed and moved to another place. The name of the new one is Jiangwan New Masjid, becoming one of the important Shanghai mosques.
Location: No. 86, Government Road, Yangpu District
Transportation: Take Shanghai subway line 10, get off at Jiangwan Gymnasium and have a 15-minute walk to get there.
Opening Hours:
Tel: +86-021-33812066
Huxi Mosque
As one of a popular Shanghai mosques, it was originally named Yaoshui Lane Mosque. The worship hall has two floors and the roof of the hall is a grand cove. Nowadays, there are Muslim restaurants, martial art training classes, Muslim ideology book shops inside.
Location: No. 4, Lane 1328, Changde Road
Tel: +86-021-62995374
Pudong Mosque
It was established in 1935 in a manner of donation. The worship hall can hold over 100 followers.
Location: No. 16A, Wujiating, Pudong Avenue
Tel: +86-021-50540416
Fuyou Road Mosque
As the second one established by Shanghai Muslims in Shanghai, it was originally called Chuanxin Street Mosque. The worship hall of this masjid di Shanghai China is Chinese wooden construction. The designs and patterns of the hall are delicate. The battle of 1932 in which Muslims fought for their religious dignity was directed in this masjid.
Location: No. 378, Fuyou Road, Huangpu District
Opening Hours: 05:00 to 21:00
Tel: +86-021-63282135
Caoxiewan Mosque
Originally named South Mosque, it is the first Islamic shrine constructed by Muslims in Shanghai. It is on the list of Best Shanghai Mosques. At first, in order to worship together, three simple rooms were constructed for Muslims to pray and bath. Caoxiewan Mosque Shanghai prayer times can be informed by the staff.
Location: No. 70, Caoxiewan Street, Outside of Small South Gate

Further Reading: More
Islamic Mosques in China