Shanghai Travel Tips
Visa
Passport holders of 53 countries and regions including the United States, United Kingdom, Canada, Australia, and New Zealand enjoy a 144-Hour Visa-Free Transit when taking an international transfer via Shanghai Pudong International Airport (PVG), Hongqiao International Airport (SHA), all railway stations and cruise ports in Shanghai.

Visitors from other countries still have to obtain a visa before entering the city. You can apply for the visa in the Consulate of P. R. China in your country. Alternatively, you can obtain the visa through a travel agency. Special fast applications can be generally completed with 24 hours.

Cruise passengers from all foreign countries can enjoy a 15-day Visa-Free Policy for Cruise Tour Groups to Shanghai if they meet all the requirements.

Further information:

China Embassies Abroad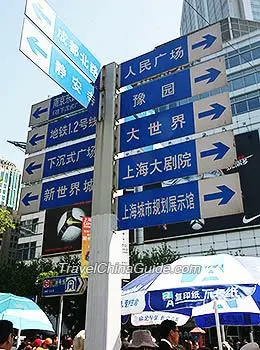 Road Sign
Health and Hygiene
Before entry and departure, all visitors need to fill in the Health Declaration Card. Upon entry, all visitors need to accept the body temperature scanning.
Currency and Banks
Currency in mainland China is RMB (Ren Min Bi), namely CNY. So is in Shanghai.

Bank: Shanghai Branch of Bank of China is located in Zhongyin Building, No. 200, Yincheng Middle Road, Pudong New Distrit. It has dozens of sub-branches. Foreign exchange service is provided in these branches.
Most banks in the city open from Monday to Saturday.
Office Hours: 9:00 - 17:00, From Monday to Friday
9:00 - 13:00, Saturday

Postcode:
200000

Dialing Code:
0086-21

International long-distance telephone

: Please dial 00 + country code + city code + telephone number

More on

Shanghai Area Code & Zip Code
Telephone:
Phone booth is easily found in the street. CNY 0.5 every three minutes and CNY 1 every five minutes at coin call.

Time Zone

: GMT + 8

Voltage

: 220 V, 50Hz alternating current

Tip

: 0 - 15% in restaurants and hotels

Dining

: Reservation is necessary. Make a reservation 24 hours beforehand when planning to dine in a well known restaurant. KFC, McDonald's, Yonghe Soybean Milk and Xinya Da Bao provide food delivery.

Toilet facilities

: big shopping malls, fast food restaurants, subway station and main scenic spots have clean and sanitary toilets. Some have to be paid. The price is no more than CNY 1.
| | |
| --- | --- |
| Postal Savings Bank of China | A Telephone Booth |
Useful Numbers
Fire
: 119
Police
: 110
Ambulance
: 120
Consumer Complaint: 12315
Tourists Complaint: 64393615
Telephone Trouble: 122
Local Telephone Number and Long-distance City Code Inquiry: 114
International City Code Inquiry: 116
Weather Forecast: 121, 221
Zip Code Inquiry: 184
Customer Service Center of Post Office: 185
Train Ticket Reservation: 63171880, 8008207890
Coach Ticket Reservation: 56630230
Hongqiao International Airport Consultation: 62688918
Pudong International Airport Consultation: 38484500
Activities
As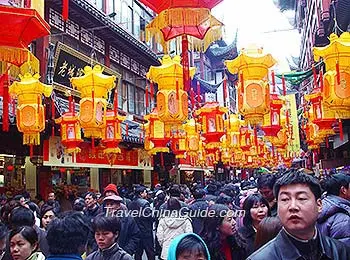 Yuyuan Tourist Mart during Spring Festival
with other cities throughout the country, Shanghai celebrates all Chinese public holidays, like
Chinese New Year
, International Labor Day, Children's Day and
National Day
, etc. In addition to the national holidays, local regional folk festivals add their own touch of traditional jubilation to city life. On every Spring Festival Eve, local people swarm to Longhua Temple to toll the bell to celebrate the coming New Year. The Shanghai International Tea Culture Festival is held during April. In May there is the International Dragon Boat Race in the Qingpu District. Established in 1993, there is the Shanghai International Film Festival. This is the only international film festival to be held in mainland China. The Shanghai Tourism Festival is held during September and October; this includes a wide variety of celebrations and activities.
In September, 2004, the Shanghai Formula One World Championship was held for the first time in China. This prestigious event which is the world's fastest, most expensive motoring competition with the highest of technical standards helps to promote the image of the city's economic development and tourism industry and brings commercial opportunity to the city. It also hosts many other international competitions and conventions, such as the APEC Convention, International Ballet Competitions, etc.

Getting to know more tips for visiting China, please visit China Travel Advice.