Top 9 Useful Shanghai Travel Tips
This is perhaps the most useful Shanghai travel tip. Passport holders of 53 countries and regions including the United States, United Kingdom, Canada, Australia, and New Zealand enjoy a 144-Hour Visa-Free Transit when taking an international transfer via Pudong International Airport (PVG), Hongqiao International Airport (SHA), all railway stations and cruise ports in Shanghai.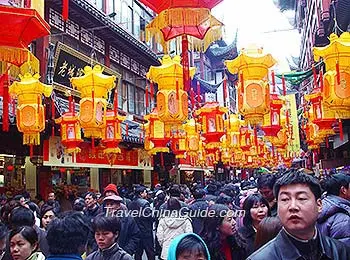 Yuyuan Tourist Mart
Visitors from other countries still have to obtain a visa before entering the city. You can apply for the visa in the Consulate of P. R. China in your country. Alternatively, you can obtain the visa through a travel agency. Special fast applications can be generally completed with 24 hours.

Cruise passengers from all foreign countries can enjoy a 15-day Visa-Free Policy for Cruise Tour Groups to Shanghai if they meet all the requirements.

Further information: China Embassies Abroad

The Bund, as the landmark of Shanghai, is a must-see for travelers going there. On in, there is a cluster of western style buildings erected in 1920s and 1930s. Benefiting from their different styles, they are called "expo of world buildings". Opposite the Bund across the Huangpu River, is a totally different skyline with skyscrapers standing one by one including Oriental Pearl Tower, Jin Mao Tower, and World Financial Center. What's more, it's recommended to spend time appreciating Shanghai's other beauties, covering Yu Garden, Yuyuan Bazaar, Jade Buddha Temple, Zhujiajiao, Waibaidu Bridge, Longhua Pagoda, Old Street, etc.
See More About: Shanghai Attractions, Top 10 Famous Temples in Shanghai

3. Convenient Currency Exchange at Airports, Banks and Hotels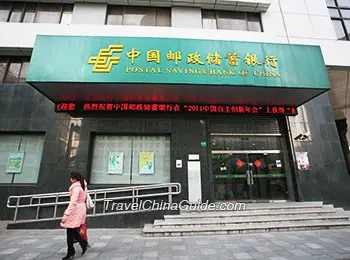 Postal Savings Bank of China
Currency in mainland China is RMB (Ren Min Bi), namely CNY. So is in Shanghai.

Bank: Shanghai Branch of Bank of China is located in Zhongyin Building, No. 200, Yincheng Middle Road, Pudong New Distrit. It has dozens of sub-branches. Foreign exchange service is provided in these branches.
Most banks in the city open from Monday to Saturday.
Office Hours: 9:00 - 17:00, From Monday to Friday
9:00 - 13:00, Saturday

Tourists can also exchange CNY at many other banks like Postal Savings Bank of China, ICBC. At airport, there are also bank branches offering the service.

4. A Converter May be Necessary.
The standard voltage in China is 220V, 50 Hz. A majority of sockets are dedicated to flat double socket or flat triple socket. Most hotels provide converters for their guests. But just in case, packing a converter should be on the "What to do before going to Shanghai" list, or travelers can buy one from electronic stores in Shanghai. This must be one of the most useful Shanghai China travel tips.

5. Squat Toilets in Public Areas and Western Toilets in Hotels
Most public toilets are squat toilets; but a few western toilets can be found as well, like in shopping malls, scenic spots, and airport. Some places will have the prompt to inform which type of toilet it is. The toilets in hotels mainly are western toilets. Remember to carry toilet tissues for most public toilets do not provide it.

6. Free WIFI is Widely Available.
The coverage of free wireless networks is extensive, and you can easily connect WIFI freely in your hotel, shopping mall, airport, scenic spots, coffee shops, restaurants, and other public areas. But sometimes the Internet speed is relatively slow, not so satisfactory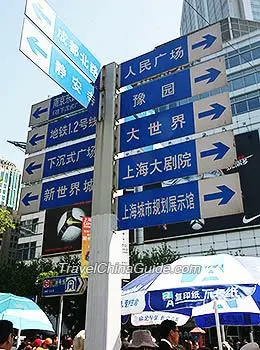 Road Sign
7. Medical Services
Zhongshan Hospital, Fudan University
Location: No.180, Fenglin Road, Xuhui DistrctHotline: 021-64041990

Ruijin Hospital, Shanghai Jiao Tong University
Location: No.197, Ruijin 2nd Road, Huangpu Distrcit
Hotline: 021-64370045/021-34186000

Huashan Hospital, Fudan University
Location: No.12, Urumqi Middle Road, Jingan District
Hotline: 021-52889999

Renji Hospital, Shanghai Jiao Tong University School of Medicine
Location: No. 1630, Dongfang Road, Pudong New Area
Hotline: 021-58752345

Shanghai Sixth People's Hospital, Shanghai Jiao Tong University School of Medicine
Location: No. 600, Yishan Road, Xuhui Distrct
Hotline: 021-64369181

8. How to Make an International Phone Call in Shanghai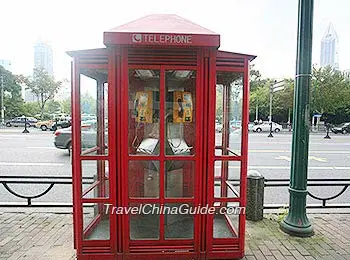 A Telephone Booth
Please dial 00 + country code + city code + telephone number.

Phone booth, designed in delicate appearance, is easily found in the street.

It's more advisable to purchase a SIM card packages at the airport or at the three major internet operators' service sites with your passport. It makes your connection with overseas families and friends more easily.

9. Useful Numbers
Fire: 119
Police: 110
Ambulance: 120
Consumer Complaint: 12315
Tourists Complaint: 64393615
Telephone Trouble: 122
Local Telephone Number and Long-distance City Code Inquiry: 114
International City Code Inquiry: 116
Weather Forecast: 121, 221
Zip Code Inquiry: 184
Customer Service Center of Post Office: 185
Hongqiao International Airport Consultation: 62688918
Pudong International Airport Consultation: 38484500

- Last modified on May. 23, 2021 -
Questions & Answers on Top 9 Useful Shanghai Travel Tips
Asked by w. waugh from USA | May. 18, 2021 08:10

Reply
How do I properly address a letter to a resident of Shanghai?
The address is 96-1 Ronghua Dongdao, Shanghai, NA 201103
Answers (1)
Answered by Ellie | May. 23, 2021 19:02

0

0

Reply
The address: 96-1, Ronghua Dongdao, Changning District, Shanghai City.
Zip Code: 201103
Asked by Diego from SPAIN | Jan. 25, 2020 02:00

Reply
Spanish citizen traveling to Shaghai and then onwards to Seoul
Hello, I´m a Spanish citizen who is traveling to Shanghai via Singapore, staying in Shanghai for three nights and then flying to Seoul. Am i elegible for the 144 hours visa free. If so, how long in advance can i apply for the visa free online?. I will be arriving on 24 November and departing 27 November.

Thank you
Answers (1)
Answered by Nathan from FRANCE | Feb. 01, 2020 19:42

0

0

Reply
Yes, you are eligible for the 144 hours visa free policy. You don't need to apply for it in advance. Just apply it when you landing at the airport.
Asked by Nancy Guthrie from USA | Aug. 30, 2019 14:58

Reply
US citizen. Flying into Shanghai from Singapore.
Boarding Spectrum of the Seas for 2 seven day cruises. Departing SH the day of disembarkation. Do I need a Visa?
Answers (3)
Answered by Stella from CANADA | Sep. 02, 2019 19:44

0

0

Reply
Would you mind offering your route?
Answered by Nancy Guthrie from UNITED STATES | Sep. 03, 2019 08:03

0

0

Reply
PVG to SFO
Answered by Stella from CANADA | Sep. 03, 2019 19:18

0

0

Reply
Don't worry, you are eligible for 24 hour visa free transit.
Asked by Hitesh goel from INDIA | Jul. 12, 2019 17:39

Reply
Want to visit child fair in Shanghai July 25
Planning to visit child fair on July 25 to 27 and another 3 days to explore or around area
Answers (1)
Answered by Jessica from NEW ZEALAND | Jul. 18, 2019 23:47

0

0

Reply
So do you want to book a tour or have some other problems? If you want to book a tour, then you can contact the e-mail:
travel

travelchinaguide.com
Asked by Ashley from MEXICO | Jun. 21, 2019 23:33

Reply
Hi, I am going Shanghai on 26th of June until 1st of August.
I will staying in the summer camp program with a Chinese school in Shanghai, the school provided me the invitation letter including the start and end date which is 30th of June-28th of July. I have provided the flight details and the invitation to the Mexico embassy to get the tourist visa, but the visa is only valid for 30 days, but I will be staying in China for 36 days. I do not want to be charge for overstay, but I am leaving in two days so I don't have time to go to the embassy to ask about them(weekend today and tomorrow), Can I extend the visa when I'm in China? What documents do I need? I will be with my sister and we both 12 and 11 years old. The school teacher will go with me to extend the visa but is this necessary? Is there another way? Also, I am curious as I have provided my flight details which shows that I will staying over 30 days, why did the embassy issue me a 30 day visa?
Besides, I have informed them when I applied the visa that my guardian will be taking me and sister few days early before the start date of the camp to settle down.
Can someone please advise me what is the best solution to fix this problem?
Answers (1)
Answered by James from CANADA | Jun. 25, 2019 01:17

0

0

Reply
Yes, you can extend the visa in local police station when you get to China. The documents you need to take your passport and flight details, travel itinerary. It is necessary to go with your teacher. Have a nice trip!