Shanghai 15-day Visa-free Policy for Cruise Tour Groups
The Shanghai 15-day visa-free policy enables cruise tour groups from all over the world to visit Shanghai and other Chinese coastal provinces for up to 15 days. Tourist groups should enter Shanghai by cruise ship and exit from China by the same cruise ship. The local Chinese travel agency receiving the tourists will handle the official paperwork upon their arrival.
Requirements

A qualified foreign tourist group must contain at least two members and will be received by a legitimate Chinese travel agency like TravelChinaGuide at the Shanghai Port International Cruise Terminal or the Wusong Passenger Transport Center. The local Chinese travel agency should have legally registered in mainland China.

Tourists should book a tour with the local Chinese travel agency at least 24 hours before their arrival.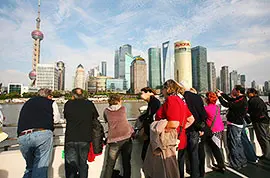 Private Shanghai One Day Tours
To Yuyuan Garden, the Bund & Huangpu River...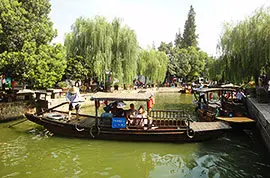 2-Day Private Shanghai Tours
To Zhujiajiao Water Town, Jade Buddha Temple, Tianzifang...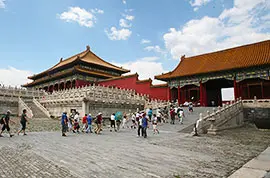 2-Day Private Beijing Tours
To Badaling Great Wall, Forbidden City, Summer Palace...

Upon arrival, passengers just need to show travel document, usually a passport, at the immigration counter to disembark from the ship. Neither an Entry Card nor an Exit Card is needed. No entry or exit record will be stamped on the travel document.

The total time that the applicant spends in China shall not exceed 15 days, the 15-day limit counting from the following day after their arrival.
Areas Allowed
Aliens eligible for this policy are not only allowed to stay in
Shanghai
. They can also travel to
Beijing
and other coastal provinces with the ship, including
Liaoning
,
Hebei
,
Tianjin
,
Shandong
,
Jiangsu
,
Zhejiang
,
Fujian
,
Guangdong
,
Guangxi
and
Hainan
. For example, if a French citizen enters Shanghai with a cruise and he has booked a tour from TravelChinaGuide, then he visits Dalian, Beijing, Weihai, Guangzhou, and Japan along with the ship, and his total layover time in China is less than 15 days, he will qualify for the 15 days visa-free policy. Therefore, there is no need for him to apply for a visa for China.
FAQ about Shanghai 15 Days Visa-Free Policy for Cruise Tour Groups

1. If I enter Shanghai by cruise but don't leave with the cruise, can I still use this policy?

Sorry, if you want to use the 15-day visa-free policy, you must leave by the same cruise. You can check whether the 24-hour direct transit or 144-hour visa-free transit is applicable to you. See more about
24-Hour Direct Transit
and
144-Hour Visa-Free Transit
.

2. What should I do if my stay is longer than 15 days due to circumstances beyond my control?

If you have to stay for more than 15 days, you need to take relevant proof and a letter from the travel agency to the local exit and entry administration to apply for a normal visa.

3. Must I return to the ship to spend the night or can I stay in a downtown hotel?

Either is fine. When you register at the hotel, your passport and a tour member name list stamped with entry record are required.

4. Who should I contact if I want to learn more about this policy?

You can contact Shanghai General Station of Immigration Inspection at 086-021-31366000 or Pujiang Immigration Inspection at 086-021-31366700.