144-hour Visa-free Transit in Shanghai, Zhejiang, and Jiangsu
As early as 2016, Shanghai, Jiangsu, and Zhejiang introduced the 144-hour visa-free transit initiatively, which targets citizens from 53 countries and regions and allows them to transit in the three places for a stay length not more than 144 hours, ie., six days.

Who can enjoy the 144-hour visa-free transit in Shanghai, Jiangsu, and Zhejiang? - List of 53 Qualified Countries

24 Schengen Agreement Countries: Austria, Belgium, Czech Republic, Denmark, Estonia, Finland, France, Germany, Greece, Hungary, Iceland, Italy, Latvia, Lithuania, Luxembourg, Malta, Netherlands, Poland, Portugal, Slovakia, Slovenia, Spain, Sweden, Switzerland



15 Other European Countries: Russia, the United Kingdom, Ireland, Cyprus, Bulgaria, Romania, Ukraine, Serbia, Croatia, Bosnia-Herzegovina, Montenegro, Macedonia (FYROM), Albania, Belarus, Monaco



6 American Countries: the United States, Canada, Brazil, Mexico, Argentina, Chile



2 Oceania Countries: Australia, New Zealand



6 Asian Countries: Korea, Japan, Singapore, Brunei, United Arab Emirates, Qatar

Things to Know before Designing Your Visa-free Travel Plan

No. 1: Transit Route: Country A → B: Shanghai, Jiangsu, Zhejiang → Country C
The travel from A to B and from B to C should be non-stop, without a stopover anywhere in Mainland China. Visitors applying for the 144-hour visa-free transit need to hold a ticket to a third country or region. In this context, Hong Kong, Macau and Taiwan are considered as third regions, which is a great help for planning a transiting route. For example, if a visitor coming from the UK wants to use the visa-free transit but actually have no plan to another country after visiting Shanghai, he or she can leave for Hong Kong, and then go back home.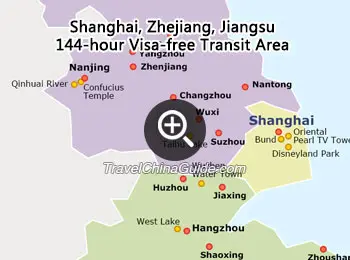 Areas Allowed to Stay

No. 2: The actual allowed stay length is calculated from 00:00 after the date of your entry, therefore you can maximize your stay by taking an early flight on the date of entry and a late flight on the date of exit.


No. 3: Some passengers may try to cancel the ticket to the third country or region after arrival and book a ticket back to the departure country instead, while this is not allowed within the visa-free policy. Don't risk doing this for you may face serious results.

Areas Allowed to Stay
Passengers eligible for the 144-hour visa-free transit can travel within Shanghai, Jiangsu, and Zhejiang, all of which are in the Yangtze River Delta of China and boast mild climate and rich tourism resources. Top travel destinations include Shanghai, Hangzhou, Suzhou, and Nanjing.

How to Apply for 144-Hour Visa-Free Transit in Shanghai, Zhejiang, and Jiangsu
Prepare the required documents, including a passport valid for at least three months from the date of entry, a valid visa to the third country or region if required, and a ticket to the third country or region. Visitors had better also prepare hotel bookings in case of immigration check. Then follow the steps in the chart.

Good News: Passengers wishing to use 144-hour visa-free transit in Shanghai can log into the online platform (
https://gaj.sh.gov.cn/crj/144zy.jsp
) to make the application in advance. The system will pop up notices if you do not qualify for the visa-free transit policy, reducing the risks of being denied on the spot. After arrival, you can use the self-help machine to print the Arrival Card.
What Are the Eligible Transit Ports?
According to the rules, all ports in Shanghai, Nanjing Lukou Airport, Ningbo Lishe Airport and Hangzhou Xiaoshan Airport are the eligible ports for the 144-hour visa-free transit scheme.
Note: Currently, train passengers can only get in / out through Shanghai Railway Station, which operates trains to and from Kowloon, Hong Kong every other day.
What Can I Do During the 144 Hours in Shanghai, Jiangsu, and Zhejiang?
Taste the flavor of old and modern Shanghai
Shanghai, as an open port city, is where the east and west meet. Spending one or two days in the city, you can visit Shikumen, a unique residence style, to find the traces of old Shanghai in the narrow alleys. In Lujiazui, dense high rises present the thriving and energetic side of Shanghai. Choose one from Shanghai Tower, the World Financial Center, and the Oriental Pearl Tower to overlook the city and you will never regret. If travelling with your kids, set aside one more day for Shanghai Disneyland Park to enrich your trip.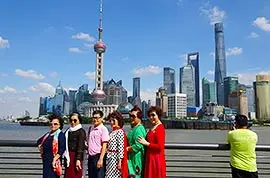 4 Days Shanghai Tour with Tongli from $489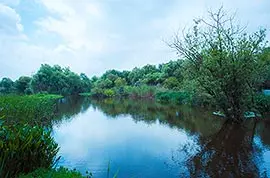 3 Days Hangzhou Private Tour from $359
Take a side trip to nearby cities by bullet train
During the 144-hour visa-free period, no matter you are transiting in Nanjing, Hangzhou, or Shanghai, you can include nearby cities in your itinerary by high speed train. Usually, it takes less than two hours to travel between. Different from Shanghai, Jiangsu and Zhejiang are more classical and characterized by the water towns. A side trip to water towns like Wuzhen, Xitang near Hangzhou and Tongli, Zhouzhuang near Suzhou can highlight your trip.

Enjoy night activities
Night activities in Shanghai are colorful. You can take a cruise on the Huangpu River to enjoy the night scene along the banks or wander around the Nanjing Road to experience the local life. When travelling in Suzhou, the unique story-telling ballad and Kun Opera performed in classical gardens at night are a feast for your ears.



Further Reading:
144-Hour Visa-Free Transit in Beijing, Tianjin, and Hebei
144-Hour Visa-Free Transit in Liaoning
144-Hour Visa-Free Transit in Guangdong
Xiamen, Wuhan, Qingdao, Chengdu, Kunming, Xi'an, Chongqing
- Last modified on Jan. 19, 2020 -
Questions & Answers on 144-hour Visa-free Transit in Shanghai, Zhejiang, and Jiangsu
Asked by Malcolm Elliott from UNITED KINGDOM | Jan. 27, 2020 06:34

Reply
Arrive on Cruise Ship Shanghai for two days on 4 and 5 April then depart on ship
Are visas required for visit
Asked by Les Burrows from UNITED KINGDOM | Jan. 26, 2020 12:47

Reply
Chinese 72/144 visa forms
Where can I get the forms for a 72 or 144 visa for my 2day stay over in Shanghai China I am in the United Kingdom and will go to China in April for a 2day stay over and them broad a princess cruise and sail to Singapore can I download the forms? Or do I have to fill them in at the airport when I arrive
Thank you
Answers (1)
Answered by Saul | Jan. 26, 2020 13:27

0

0

Reply
At the airport on arrival only.
Asked by Donald S Mulholland from UNITED STATES | Jan. 24, 2020 11:22

Reply
After cruise, return flight has 5 hr layover in Shanghai
Flying from US to Shanghai (PVG), staying 3 days before cruising to 7 ports (non-visa) ending in Singapore. Return flight from Singapore has a layover of 5 hours in Shanghai (PVG) before return flight to US. Are we eligible for 144 hr transit visa?
Asked by John from ENGLAND | Jan. 23, 2020 04:51

Reply
I'm going to Shanghai in transit for a cruiseAm I elegance for the 144 hours visa free
Answers (1)
Answered by Saul | Jan. 24, 2020 11:01

0

0

Reply
Not enough information. It depends on where you arrive from, where your next port of call is, and what passport you travel under.
Asked by Christian Olsen from DANMARK | Jan. 21, 2020 16:44

Reply
Question regarding flexiblity around exit ports
Hi Travel China Guide
I am going to use this visa-free transit to spend a couple of days in China. I will arrive in Pudong Airport in Shanghai and I will travel with train to Wenzhou in Zhejiang to visit my friend. My question is: Am I allowed, with my visa-free transit, to leave China through Wenzhou Longwan International Airport? Or do I have to make use of one of the 8 transit ports you have listed on this webpage, when I am exiting China?