Shanghai Hospitals
Health Centers and Medical Clinics
Shanghai United Family Hospitals and Clinics
Chinese name: 上海和睦家医疗 (shàng hǎi hé mù jiā yī liáo)
This is a comprehensive international hospital, including dental service. Emergency room is staffed by in-house expatriate physicians. As one of the popular medical centers for foreigners, it has advanced equipments.
Add: 1139, Xianxia Road (General and Cosmetic Dental Center)
Tel: +86 (0)21 2216 3999
---
Shanghai East International Medical Center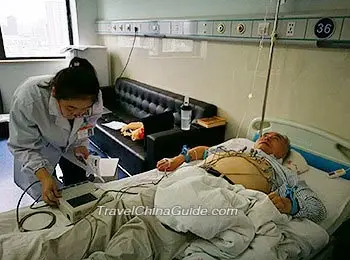 Medical Examination
Chinese name: 上海东方联合医院 (shàng hǎi dōng fāng lián hé yī yuàn)
As one of the most famous Shanghai hospitals, it provides 24-hour out-patient and in-patient care to the international community not only in Shanghai, but also surrounding provinces, located inside Shanghai East Hospital.
Add: No. 150, Jimo Road
Tel: +86 (0)21 5879 9999
---
Parkway Hospitals Shanghai
Chinese name: 百汇医疗 (bǎi huì yī liáo)
24-hour Appointment: +86 (0)21 400-819-6622
People's Square Branch: 4F, No. 389, West Nanjing Road
Jing'an Branch: No. 1376, West Nanjing Road
Xintiandi Branch: 3F, No. 170, Danshui Road
Jinqiao Branch: No. 997, Jinqiao Biyun Road, Pudong
Lujiazui Branch: 1F, Jinmao Tower, No. 88, Century Avenue
---
Huashan Hospital Worldwide Medical Center
Chinese name: 华山医院国际医疗中心 (huà shān yī yuàn guó jì yī liáo zhōng xīn)
It is one of a popular Shanghai international hospitals.
Add: 12 Middle Urumqi Road (Out-patient Clinic: 8F, Building 1; Night Emergency: 15F, Building 6)
Tel: +86 (0)21 6249 3246/5288 9999
Hours: 08:00 to 17:00 (8F of Building No. 1); 17:00 to 21:00 (15F of Building No. 6)
---
Renai Hospitals Shanghai
Add: No. 127, Caoxi Road, Xuhui District
Tel: +86 (0)21 5489 3781 / 6468 8888
Hours: 08:30 to 17:00
---
Shanghai International SOS
Chinese name: 上海国际SOS援助 (shàng hǎi guó jì SOS yuán zhù)
Add: Unit.1804-1806, 18F, Building B, Baodi Square, No. 588, Dalian Road, Yangpu District
Tel: +86 (0)21 5298 9538
Fax: 5298 9539
---
America-Sino OB/GYN Service
Chinese name: 美华妇儿服务 (měi huá fù ér fú wù)
As one of a popular private hospitals in Shanghai, it has high reputation.
Add: 2-3F, Dingxiang Apartment, Lane 800, Huashan Road
Tel: +86 (0)21 4001 634 482
Hours: 09:00 to 18:00 (Obstetrics and Gynecology); 09:00 to 20:00 (Pediatrics)
---
Bioscor Shanghai Clinic
Chinese name: 保加医疗美容门诊 (bǎo jiā yī liáo měi róng mén zhěn)
Headquartered in Melbourne, Australia, Bioscor now has 20 branches in 12 countries. It is on the list of Best Shanghai Hospitals for Foreigners. Bioscor Shanghai Clinic has Australian, American and Chinese doctors specializing in plastic/cosmetic surgery, medical skin treatment and cosmetic dentistry. Thus, as one of a famous western/American hospitals in Shanghai, it wins high populartiy among local people.
Add: No. 5, Lane 89, Xingguo Road
Tel: +86 (0)21 6431 8899
Fax: 6471 3888
---
Body & Soul – Shanghai Medical Center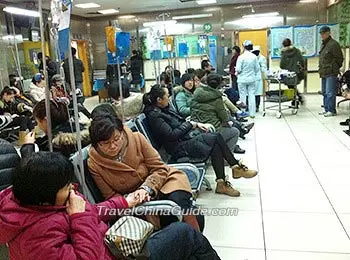 Intravenous Infusion Room
This is a German managed medical clinic for Integrative Medicine, treating acute and chronic disease in internal medicine, gynaecology, acupuncture etc, with English French, German, Spanish and Chinese consulting.
Hongqiao Branch: No. 211, Chengjiaqiao Branch Road, near Hongmei Road
Tel: +86 (0)21 6461 6550
Fax: 6461 6525
Xintiandi Branch: 14F, Anji Plaza, No. 760, South Xizang Road
Tel: +86 (0)21 5101 9262
Fax: 5101 9278
Pudong Branch: No. 1518, Minsheng Road, 80, Hanxiao Road, Jinying Building, Building B, Room 1303
Tel: +86 (0)21 6162 0361
Fax: 6162 0362
---
SinoUnited Health
Chinese name: 曜影医疗 (yào yǐng yī liáo)
Add: Room 305-306, 3F, No. 757, Mengzi Road
Tel: +86 (0)21 400 186 2116
---
American Medical Center (AMC Shanghai)
Add: No. 888 Tianlin Road (1 East) Near Lianhua Road
Tel: +86 (0)21 6485 7333
---
Dental Clinics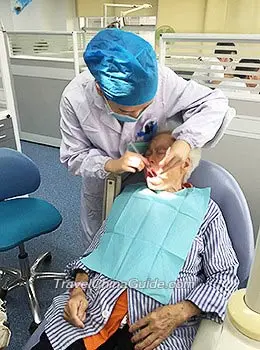 Dental Clinic
Art Dentistry
Add: Room 801, Oriental Center, 21 Wujiang Road, near West Nanjing Road
Tel: +86 (0)21 5211 0521
Care Dental Clinic
Add: Room 9, 7F, Super Brand Mall, 168 West Lujiazui Road
Tel: +86 (0)21 5047 1790
Dr. Harriet Jin's Dental Surgery
Add: Room 1904, Huiyin Plaza, 2088 Huashan Road, near Hongqiao Road
Tel: +86 (0)21 6448 0882
DDS Dental Care
Puxi Branch: B1-05 Evergo Tower, 1325, Middle Huaihai Road
Tel: +86 (0)21 5465 2678
Pudong Branch: B-1, POS Building, 1600 Century Avenue
Tel: +86 (0)21 6876 0447
Hongqiao Branch: Suite 2, 85 Jinhui Road
Tel: +86 (0)21 3431 7387
Japan Tokyo Shiseikai Dental Group-Kooka Dental Clinic
Add: Room 306, Jinjiang Dickson Center, 400 Changle Road (near Garden Hotel)
Tel: +86 (0)21 6445 9927
Fax: 64453928
Hygeia Dental Care
Add: No. 3040 West Yan'an Road / No. 3721 Hongmei Road, neighboring the Hongqiao Pearl City
Tel: +86 (0)21 6406 1866
- Last updated on Aug. 20, 2018 -