China Art Museum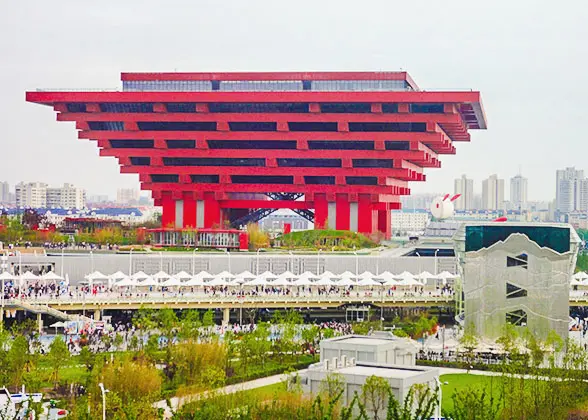 China Art Museum, located at No. 205, Shangnan Road, Pudong New Area, Shanghai was formally opened on October 1, 2012. It was previously the China Pavilion of Expo 2010, and then had been transformed to an international modern-art museum with a lot of brilliant exhibitions as the Shanghai Art Museum moved in.

Shanghai Art Museum was originally located on the North Huangpi Road, No. 325, West Nanjing Road. However, as the area was too limited, less than 6,000 square meters (1.5 acres), thousands of excellent works could not be exhibited for a long time. But now, the new venue is much too larger than the original one. Covering about 39 acres (16 hectares), it is one of the largest museums in Asia. After relocating, the Shanghai Art Museum was renamed China Art Museum.

Twenty-seven exhibition halls are mainly distributed among the 49-meter floor, the 41-meter floor, the 33-meter floor and the 0-meter floor. A top-down visiting route is recommended.
Basic Exhibitions in China Art Museum
The basic exhibitions include four themes: the Origin of Chinese Modern and Contemporary Art, Artworks Featuring Shanghai's Historical and Cultural Development, the Artworks of Noted Painters and Arts Development in the New Century.

The artworks of "The Origin of the Chinese Modern and Contemporary Art", are arranged in Halls 2, 3, and 6 of the 49-meter floor and Halls 7, 8, 9, and 10 of the 41-meter floor. They were mainly created in modern Shanghai. About 1,200 pieces of delicate artworks, including Chinese paintings, oil paintings, prints, sculptures, and calligraphy are on display. This themed exhibition is the first one focusing on the history of art of Shanghai and China.

The second themed show is called "The Exhibition of the Achievement of the Project for the Creation of Artworks Featuring Shanghai's Historical and Cultural Development", which is located in Halls 15 and 16 on the 0-meter floor. The artworks in this unit keep a close relationship with the local culture.

Famous paintings of seven noted painters are displayed in Halls 22, 23 and 24 on the 0-meter floor.

The fourth show is displayed in Hall 1 of the 49-meter floor and Halls 20 and 21 of the 0-meter floor, Chinese culture and the beauty of the Chinese landscape are expressed through about 200 paintings and 50 sculptures in this chapter. It is open to the public for one year from October 1, 2012 to September 30, 2013.

Classical Collections
Apart from the four basic exhibitions, there are two excellent paintings in China Art Museum. The highlight of the museum collections - the painting "Immortals Toasting the Birthday of Heavenly Queen Mother" - is exhibited in Hall 4, of the 49-meter floor. It is a representative work of Ren Bonian, a famous Chinese painter in the late Qing Dynasty (1644 - 1911). The painting describes the lively scene at a birthday party. Forty-six figures as well as trees, birds, stones and other characters are well proportionately arranged on the painting. In order to protect the treasure, this painting is covered by glass and visitors are required to stand on the conveyor belt to appreciate this treasure without stopping in front of it. Those who are eager to get a close look can pass the conveyor belt again or see a replica in red and white colors outside the hall.

The other famous collection is the moving multi-media "Riverside Scene at Qingming Festival". It used to strike the audience's eyes during the Shanghai Expo and now it is stored in Hall 5 of the 49-meter floor. This modern electronic picture is 30 times larger than the original one created by the famous artist Zhang Zeduan of the Northern Song Dynasty (960 - 1127). It vividly depicts the prosperous city life in ancient China. More than 1,000 figures appear in the day and night scenes.
How to get to the China Art Museum

By metro:
1. Take Line 8 and get off at Zhonghua Yishugong (China Art Museum) Station.
2. Take Line 7 and get off at Yuntailu Station. Take exit 6 and walk north for about 700 meters (770 yards).


By bus:
1. Take bus no. 83, 314, 454, 1049 or Nanchuan Line and get off at Xueyelu Shangnanlu Station. Then you need to keep walking until you find a crossroad, turn north and walk along the Shangnan Road around 300 meters (330 yards) to find the museum.
2. Take City Sightseeing Bus Line 3 to get to the museum directly.
Shanghai Bus / Metro Search
Tickets
Visitors can get the free tickets when they arrive there.
1. One ID or passport is valid for one ticket.
2. CNY20 for visiting the moving multi-media show "Riverside Scene at Qingming Festival".
*Children under 1.3 meters (4.3 feet) can enjoy the show free of charge.
Opening Time
10:00 to 18:00 from Tuesday to Sunday (No entry after 17:00)
Closed on Monday except legal public holidays
Facilities
Audio Guide Service: Deposit: CNY200; Rent: CNY20.
Bassinet and Wheelchairs Service: Deposit: CNY200, Free rent.
Storing Service: Free storage service is provided.
Hotline: 400-921-9021

Further Reading:

​
Power Station of Art

​
Long Museum

​
Top 10 Museums in Shanghai

​
15 Free Things to Do in Shanghai

Top 10 Shanghai Tourist Spots for Solo Travelers
- Last updated on Dec. 18, 2020 -
Questions & Answers on China Art Museum
Asked by Maria from PORTUGAL | Jul. 07, 2014 09:07

Reply
Do we have to reserve tickets online for entering China Art Museum?
Some websites there is a free ticket machine near the museum. Is this true? Where is the machine located?
How early do you recommend going in order to make sure we have a ticket?


Answers (2)
Answered by Paul from FRANCE | Jul. 07, 2014 20:04

2

0

Reply
If there are not so many tourists, you can get a ticket from the ticket window with your valid documents.
In order to make sure, you are suggested to reserve in advance. You can reserve about 2 to 3 days in advance.
Answered by Mary from USA | Jun. 30, 2016 17:39

0

0

Reply
We - a party of 3 - visited this museum on Sat. 6/25/16 and Sun. 6/26/16. We did not reserve tickets in advance. We were there around 1-2 pm, there was no line, we got tickets at the entrance and went right in.
Asked by Teo | Oct. 16, 2013 19:20

Reply
Need to book tickets to China Art Musuem. How to buy online? Tks for help.
Answers (1)
Answered by Rita from CANADA | Oct. 16, 2013 21:00

3

2

Reply
The museum is free for visiting. You can get a ticket on the spot, but it may requires you to line up. To reserve the tickets, you may call 010-85009668 to consult.