Shanghai Lupu Bridge
Lupu Bridge Facts
Name: Lupu Bridge
Chinese Name: 卢浦大桥
Length: 8.7 kilometers (about 5.4 miles).
Location: from Luban Road in Puxi to Jiyang Road in Pudong

Shanghai Lupu Bridge starts from Luban Road, Puxi in the north, crosses the Huangpu River and ends at Jiyang Road, Pudong in the south, with a total length of 8.7 kilometers (about 5.4 miles). It was designed by Shanghai Municipal Engineering Design Institute, and took about 3 years to built the bridge by the local government from 2000.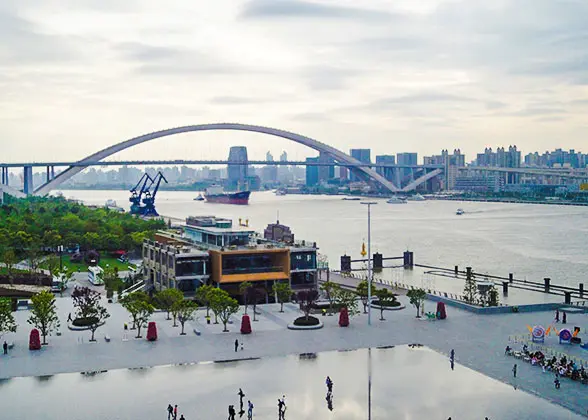 Shanghai Lupu Bridge
seen from Expo Park at dusk

Enjoying its fame as 'the First Steel Arch Bridge in the World', Lupu Bridge's main body is an all-steel construction, with only one span. It has a total length of 3,900 meters (4,265 yards), of which the main body takes up 750 meters (820 yards). Its main body is arc-shaped, like a rainbow flying across the Huangpu River. Integrating the technology of cable-stayed bridge, arch bridge, and suspension bridge, Lupu Bridge is a real engineering feat, built with the most complicated construction techniques and huge amount of steel. The cross section of its main arch is the biggest among the bridges in the world, 9 meters (30 feet) high and 5 meters (5 yards) wide. The bridge carries 6 lanes of traffic, while under it even a 70,000-ton-class ship can pass through smoothly.

Like the Bay Bridge of Sydney in Australia, Lupu Bridge is not only used for transport, but is also an attraction. Unlike the Napu Bridge and the Yangpu Bridge, its sightseeing platform was built at the top of its arch, which means sightseers get an amazing view from the top on one hand. On the other hand, it requires visitors to climb up over 300 steps to enjoy the scenery. Of course, there are high-speed lifts for visitors' convenience as well. Walking along the steps for about 280 meters (306 yards), you will get to the 100-meter-high (328-feet-high) and basketballcourt-sized sightseeing platform, where the beauty of the Huangpu River will fill your eyes. Since Lupu Bridge is situated on the axis of the 2010 Shanghai Expo. the sightseeing platform at the top is also the best point to have a bird's eye view of the Expo's ground, yesterday, today and tomorrow. What's more, there are plans for a bridge museum and the world's largest water screen laser show built on site at the foot of the bridge in the future.

How to get to the Lupu Bridge
1. Take Metro Line 13 to Shibo Dadao Station. Leave from exit 4 and then walk northward for two or three minutes.
2. Take bus 17, 36, 146, 205, 733, or 1212 and get off at Lupu Daqiao (Lupu Bridge) Station.
Shanghai Bus / Metro Search
| | |
| --- | --- |
| Entrance Fee for the Sightseeing Platform | CNY 80 |
| Opening Hours | 10:00-16:00 |
Print
- Last updated on Jun. 17, 2019 -
Questions & Answers on Shanghai Lupu Bridge
Asked by yo wang cum from VIETNAM | Jun. 17, 2019 07:07

Reply
supposedly the Shanghai Lupu bridge is closed right now, does anyone know otherwise?
Answers (1)
Answered by Bowen from USA | Jun. 17, 2019 21:03

0

0

Reply
As I know, it is opened now.
Asked by donny from INDONESIA | Jun. 21, 2017 20:00

Reply
How is Shanghai Lupu bridge now ? is it open or still closed ?
Answers (1)
Answered by Dana from GERMANY | Jun. 22, 2017 02:32

0

0

Reply
As I know, it is still open.
Asked by Oki from IRELAND | Sep. 24, 2013 13:02

Reply
is Lupu Bridge open or closed?
Any one know is this bridge is closed? If so when will it open again?
Thanks
Answers (5)
Answered by Miller | Sep. 24, 2013 21:47

4

4

Reply
Yes, it was open in 2010.
Answered by Oki from IRELAND | Sep. 25, 2013 02:19

2

3

Reply
Thanks for replying, I heard that it is reopened in 2010 but did you read the post just below this one saying it was closed in June 2013?
Let us know if you really know what the full story is.Thanks.

Answered by Emily from UNITED KINGDOM | Sep. 25, 2013 04:39

1

1

Reply
I went there in end of June and it was cloes then. But I've just read a piece of news which reported the bridge will open during 2013 Chiese National Day holiday, since Oct. 1.
Answered by Oki from IRELAND | Sep. 30, 2013 11:33

1

3

Reply
Thank you...
I wonder if it will stay open after the Golden Week.
Answered by Oki from IRELAND | Oct. 29, 2013 02:50

1

3

Reply
CLOSED CLOSED CLOSED CLOSED CLOSED!!!!!
It is amazing that one has to go there to find this out, no info any where.....
Asked by Erika | Jun. 30, 2013 10:14

Reply
We were today by the Lupu bridge and nobady was there. Everything closed. ;( Is it construction, or?
Answers (2)
Answered by Emily from CANADA | Jun. 30, 2013 20:55

2

1

Reply
I heard it reopened in 2010 and I went there last year. It is still open, but I am not very clear about the current situation now.
The opening time is from 08:30 to 17:00 on Luban Road, Puxi.
Answered by Erika | Jun. 30, 2013 21:35

1

2

Reply
We were there yesterday at 11:00, but nobady was there, everything closed. :(
Very interesting, because no paper, no opening hours writing there.