Expo 2010 Shanghai China

Exhibition Time: May 1, 2010~Oct. 31, 2010


Theme: Better City, Better Life


Site: The site of Expo 2010 Shanghai is between the Nanpu Bridge and Lupu Bridge, in the waterfront area on both sides of the Huangpu River. It covers an area of about 5.28 square kilometers (about 2.04 square miles), of which 3.93 square kilometers (about 1.58 square miles) is in Pudong and 1.35 square kilometers (about 0.52 square miles) is in Puxi.



Expo 2010 Shanghai Tour Guide


3-Day Virtual Tour

Explore Shanghai City

Suzhou Tours

Hangzhou Tours


Shanghai Expo video
Travelers' Reviews:


Expo for Handicapped -- Written by Mr. Steve P. J. - Jul. 23, 2010 01:24


Taking Kids to Shanghai Expo -- Written by Mrs. LIZ CHEN - Jun. 21,2010 21:12


Visit the Shanghai Expo -- Written by Mr. JACK YANG - Jun. 8,2010 20:23


Legendary World Expo Trip -- Written by Ms.TRAVELINGINCHINA - May. 6,2010 04:25


One Day in World Expo--Without Famous Pavilion -- Written by Mr.JAMESWONG - May. 4,2010 22:35


Experience the Expo Park on the First Day -- Written by Mr.LEOSTAR - Apr. 30,2010 02:56



Pavilions of Expo 2010 Shanghai
China Pavilion

Popular Pavilions and Buildings

Top 10 Romantic Pavilions
Expo Center
Expo Axis
China Pavilion
Theme Pavilion
USA Pavilion
UK Pavilion
Gemany Pavilion
Belgium-EU Pavilion
France Pavilion
Spain Pavilion
Italy Pavilion
Corporate Pavilions
Urban Best Practice Area

Transportation


Entrance & Exits of Expo Park


How to Get to the Expo Park?
Shanghai Expo committee aims to promote the leading function of public transportation during the Expo. Except the Special Expo Metro Line, there are over one thousand buses of 42 special Expo bus lines from suburban and city center to the Expo park. Entering by ferry through water gates along Huangpu River is also a good way. Passengers can be sent to the ferry docks inside the park directly.
Metro Special Expo Bus Ferry Taxi Chartered Vehicle



How to Get Round in the Expo Park?
During the Expo, visitors can take rail, shuttle bus and ferry within the expo park. There is a station to get the public means of transportation every 200-300 meters, which is really convenient and considerate.
Expo Special Metro Line Bus Cross-river Ferry



How to Get to the Expo Park from Nearby Cities
Hangzhou, Suzhou and Nanjing provide bus direct from their central bus stations to parking lots next to the entrances of the Expo. In addition, there are visitor buses available at visitor center of those places and many other cities in Jiangsu and Zhejiang.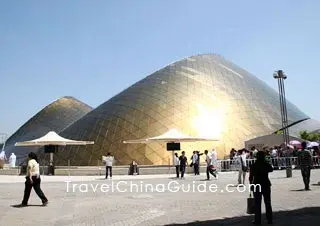 UAE Pavilion

Tickets

Ticket Categories & Price

How to Identify a Genuine Expo Ticket?

Expo 2010 Ticket Agents

FAQs
Opening Time, Visiting Reservation, Prohibitions, Parking Lots, Restaurants

Expo Knowledge

Emblem of Expo Shanghai

Mascot of Expo Shanghai

Construction Plans

World Expo

World Expo History

Map of Expo 2010 Shanghai

Pictures of Expo Shanghai
UK Pavilion

Germany Pavilion