Popular Pavilions Expo 2010

Expo Center
Covering an area of about 140,000 square meters (about 35 acres), it is located on the Zone B with 350 meters (about 0.2 miles) from east to west and 140 meters (about 0.09 miles) from north to south. It is one of the permanent buildings of Expo 2010. During Expo, it will be the command center, celebration and conference center, news center and forum activity center. After the event, it will be a first-class international conference center.



Expo Axis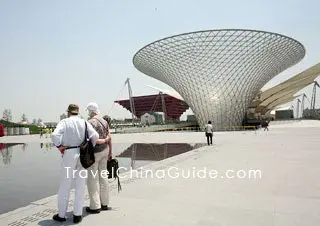 Expo Axis
The 1,000 meters (about 0.6 mile) long and 110 meters (about 0.07 mile) wide, Expo Axis is the largest building of Expo 2010. It is in the central area of Pudong, linking the four permanent constructions - China Pavilions, Expo Center, Performance Center and Theme Pavilions. It have two floors below ground and two above. It is a traffic hub connecting the pedestrian walkways, providing visitors convenient ways to enter the various exhibition pavilions and center. As well as being a transit hub, it will be a large commercial center with catering and entertainment facilities.



China Pavilion

Located in Zone A, the core area of Expo 2010, it is at a prime position when entering the Pudong
Section of Expo 2010. Its main structure is called 'The Crown of the East' with distinctive roof made of traditional wooden arches or brackets. The style of architecture dates back over 2000 years.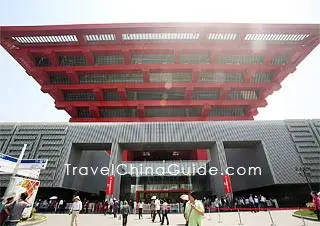 China Pavilion
The core exhibition area is on the top floor, the experience area on the second and the functional area on the first floor. In terms of the layout, this area consists of three parts-the immortal China National Pavilion, the China Regional Pavilion as well as the Hong Kong, Macau and Taiwan Pavilion.

Now, the China Pavilion is reconstructed to
China Art Museum
.

Theme Pavilions

They will occupy Zone B, corresponding to the five sub-themes of Expo 2010.
Urban Being Pavilion: To show the daily activities of people in cities, reflecting how the cities satisfy their needs and what kind of cities can offer a better life style.
Urban Life Pavilion: To show the interaction between people and cities, it aims to demonstrate ways to protect cities, and ways in which life styles can improve them.
Urban Planet Pavilion: Will show the changes in the relationship and flux between rural and urban areas as well as zoological transformation worldwide, and reflect on the effects on the earth due to urbanization.
Urban Civilization Pavilion: With an exhibition of a number of artworks, it aims to reflect the footprint of humankind from ancient civilization to the present day.
Urban Future Pavilion: Will focus on people's aspirations and pursue the future of urban life, it shows how intellect, enthusiasm, science and technology, influence the future for humankind.


This pavilion was changed into the Power Staion of Art since October, 2012.
| | |
| --- | --- |
| Theme Pavilions | Performance Center |

Performance Center
With a floor-space of about 45,000 square meters (about 11.1 acres), the Performance Center located in Zone B is a multifunctional place for variety performances, celebrations and congregations, art exchanges, academic research, food and entertainment and tourism viewing.



USA Pavilion

It is a gray steel structure like an eagle stretching its wings in welcome, representing the American spirit of perseverance, innovation and community-building. It features a show entitled 'The Garden' – the story of a 10-year-old girl who envisages turning a vacant city lot into an urban oasis, working with her neighbors to make that happen. There is a daily 'Dance-America' outdoor show and in addition, a wide range of performances including jazz, pop, ska and classical music, university marching bands, theater and dance, etc.



UK Pavilion

Its theme is Building on the Past, Shaping our Future. The structure is small but also one of the most beautiful and attractive pavilion in 2010 Expo Shanghai, like a Seed Cathedral. In memory of the Crystal Palace where the first great World Expo was held, the United Kingdom brings visitors a new version of the Crystal Palace – a dazzling cube formed by more than 60,000 slim and transparent acrylic rods containing seeds of different plants that were collected in a bio-diversity project. Visitors can watch, touch and recognize those seeds inside the pavilion. At night, light sources embedded in each rod make the whole structure to glow.



Belgium-EU Pavilion

The 'Brain Cell' structure of Belgium has warm and calm exterior appearance in contrast with its novel and attractive interior decoration. The 1,000 square-meter Exhibition Hall is located inside it. It is especially attractive by its movements and interactions. Diamonds designers from all over the world bring their works for exhibition on this occasion. Visitors can also go into the dreamy 'chocolate plant' which shows the chocolate-making process, chocolate figures of some Shanghai's landmark buildings and gives chocolates from Belgium to visitors for free. Q&A and prize draws will also be held here. First prize winner would have the chance to have a trip to Belgium or a Belgium diamond.



Africa Joint Pavilion
Joint-Africa Pavilion
Located in the west side of Puxi area of Shanghai Expo, it is the biggest among totally 11 joint pavilions, and its is Africa's largest one in World Expo history. It has 43 independent pavilions inside the building from 42 African countries and African Union. It provides a grand cultural tour for visitors to showcase colorful cultures of Africa. African music and food all can be found there. To see as many countries as possible in the shortest time, Africa Joint Pavilion is a good choice.

France Pavilion
'The Sensual City' is wrapped into a huge wire mesh that is made of a new type concrete material, making it looks like a while floating palace. The building is impressive with a large classical roof garden and a pond. Located in the center of the structure, the French style garden with streams flowing alongside provides a romantic and cool space. Visitors can taste the champagne in a specially made bottle marked with 'France Pavilion at Expo 2010', may also have chances to witness a romantic French wedding for many new couples in the beautiful garden.

Corporate Pavilions
They are located in Puxi and are to be sponsored by prominent domestic and international corporations. In terms of the preliminary plan, 16 corporate pavilions will occupy an area of about 110,000 square meters (about 27 acres). Apart from exhibiting products, the more important aim of this part is to show the theme of Expo 2010 by high-technology, cultural atmosphere and performances.



World Expo Museum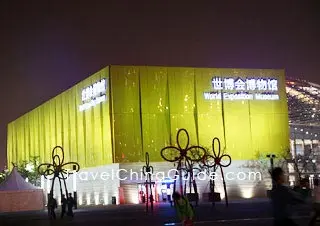 World Expo Museum
It will be built in Zone E to show excellent cultural works from all over the world at all periods. With the Theme Pavilions and Urban Best Practice Area, it forms part of the vital thematic areas of Expo 2010.

Urban Best Practice Area

To show urban civilization, city building experience and urban development, Shanghai World Expo select 55 cases from over a hundred cases which are aimed to solve urban difficult problems all over the world. That is where the Urban Best Practice

Area comes from. Covering an area of about 15.12 hectares (about 37.36 acres), the Urban Best Practice Area stands at Zone E, mainly comprised of the north and South blocks. The four exhibition areas formed here will be - practical housing, sustainable urbanization, protection and use of historical legacy as well as science and technology innovation, corresponding to the themes of Expo 2010. It also provides an exchange platform for the representatives from all over the world.
- Last modified on Apr. 08, 2021 -
Questions & Answers on Popular Pavilions Expo 2010
Asked by Ms.Ooi from MALAYSIA | Oct. 22, 2010 00:53

Reply
Hi,
Plan to visit Shangahi World Expo either on 29/Oct or 30/Oct.
Pls advise:-
(a) how to purchase the ticket now, as these are 2 peak days? How much it will be cost for the ticket?
(b) since I am only have 1 day, which Pavilions I should not missed & appreciate if you could guide me on the visit plan (which Pavilion 1st & next),so that I could fully utilize my limited time to see more things?
(c) I am going to stay in Crowne Plaza Pudong, how can I get there? Which door I should enter? How much it will cost?
(d) Do I need to do the Reservation for all the Pavilion or the Reservation is only needed on those hot ones.
(e) How long I can stay in there if I am purchase the Single Day ticket?
Thanks!
Answers (1)
Answered by Ms.CELIANA from CHINA | Oct. 22, 2010 04:10

0

0

Reply
1. The special days tickets of the last two days will be sold at the Expo Site till 29th, Oct. The tickets will not be sold at the Expo Site on the last two days. The ticket office open from 08:00-20:50. So you'd better book ticket in advance, you can book through China Post, China Mobile, China Telecom and Bank of Communications.
2. Since you only have one day there, I strongly suggest you firstly read the introduction of every pavilion and then pick some to visit, since the time is really too short to cover all of them. If just the hot ones, you might can only cover at most 4-5 ones.
3. You can take Subway Line 10 to Laoximen Station and then change to Subway Line 8 to Xizangnan Lu Station ,after getting off, you can find the Xizangnan Lu Entrance/Exit. The special day ticket is CNY200 per each.
4. You just need to reservation for the pavilions you want to see, no need to do reservation of all popular ones.
5. You can stay there the whole day till the Expo Site close in the evening.
Asked by Mr.Mr. Daroa Peter from PAPUA NEW GUINEA | Jun. 16, 2010 21:46

Reply
Where can I find them in the PNG Boot
Answers (1)
Answered by Mr.michael | Sep. 16, 2010 04:26

0

0

Reply
Find what?