Q & A of Expo 2010

What time does the Expo Park is open?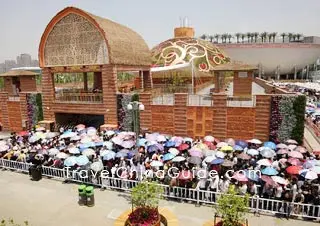 Visitors wait in line before India Pavilion
It is in operation at 09:00~24:00 from May 1~October 31, 2010. These exhibition pavilions are opened from 09:30 to 22:30 everyday. However, visitors will be prohibited to enter into the park after 21:00. Visitor holding Evening Admission should enter into the park from 17:00 to 21:00.

How to make a reservation for visiting?
Visiting reservation could be made at these self-service machines set around every entrance to the Expo Site. Visitors can choose to make an appointment ahead or join in the queue at each pavilion. For some popular and 'hot' pavilioins, it is better to book in case of the waste of time. Reservation is a must to China Pavilion. Visotors can not enter China Pavilion without making appointments in advance.

Must all the exhibition pavilions be reserved for visiting?
No, only about thirty pavilions require reservation for visiting. However, it is suggested that visitors make reservations for these hot pavilions, such as China Pavilion, British Pavilion and Japan Pavilion. There is no need to make appointments for enterprises pavilions and some other less focused places.

How many pavilions could be reserved by one ticket?
One ticket is valid for reserving one of the comprehensive pavilions (including China Pavilion and the five Theme Pavilions), as well as five other pavilions or performances

What items are prohibited to bring into the park?
Apart from these prohibited items included in the National Law, there eight categories of items are also forbidden:
a. Water, drinks and other liquid (but excluding necessary medicines, milk for baby and cosmetics)
b. Lighters and matches
c. Banners, billboards, fly sheets and other propaganda materials
d. Conveyance includes bicycle, electric bicycle, motor bicycle, motorcycle, motor wheelchair, but excludes baby car, manual wheelchair and electric wheelchair

Related travel reviews:
Taking Kids to Shanghai Expo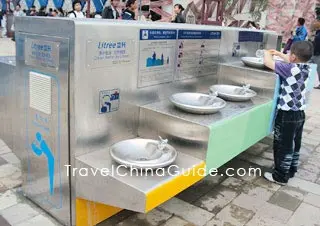 Drinkable Water in Expo Park
e. Animals, but except of seeing-eye dogs
f. Kites, paraglider, fire balloon, aviation models and other flyers
g. Radio transmitting equipments, such as remote-controller toys and intercom
h. All of items may harm other visitors and their treasures, or disturb the park's order and security.

Is there any drinkable water in the park?
In the park, there are 101 water centers supplying drinkable water for visitors for free. Other drinks, such as juice and café, could be purchased at these commercial centers.

Can I smoke in the park?
Smoking in the public area of the park and in the pavilions is banned, but some Smoking Areas have been set up, where devices for ignition are supplied.

Where is the parking lot?
There are 24 parking lots have been built up around the Expo Site, 19 of which are located in Pudong area and 5 are in Puxi area. Visitors could enter into the park through the closest entrance gate conveniently.


Parking Lots Map of Expo 2010 Shanghai

Where is the obstacle-free parking lot for disabled visitors?
There are 8 obstacle-free parking lots respectively at Pudong and Puxi area. Free manual wheelchairs are also lent to visitors.
5 obstacle-free parking lots in Pudong: P12 and P13 close to Gaoke Xi Lu, P16 at Shangnan Lu, P17 at Changqing Lu, P19 at Houtan
3 obstacle-free parking lots in Puxi: P2 close to Luban Lu, P3 at Gaoxiong Lu, P4 at Bansongyuan Lu
| | |
| --- | --- |
| Japanese Fast Food in Expo Park | African Culture Restaurant & Pub |

Are there any restaurants in the park?
131 restaurants in the public area and 60 exotic restaurants in these pavilions have been set up to cater to 40,000 visitors at one sitting. Between the Theme Pavilions and the Expo Center, there is a 16,000-square-meters fine food eatery, supplying various kinds of Chinese food and snacks. The price of having a dinner in the park is also affordable for every visitor.
- Last modified on Apr. 08, 2021 -
Questions & Answers on Expo 2010 Shanghai
Asked by Mrs.Janet from PHILIPPINES | Oct. 21, 2010 18:36

Reply
Is Shanghai expo date extended until December?
Answers (1)
Answered by Ms.SUMMERLING from CHINA | Oct. 21, 2010 20:13

0

0

Reply
No, it will be closed on the last day of October.
Asked by Mr.JOSEPHBUKOWSKI from UNITED STATES | Oct. 18, 2010 10:46

Reply
Can anyone purchase an Expo miniature postbox flask for me? It has both the 2010 Shanghai expo and the 2015 Milan expo imprinted.
Answers (1)
Answered by Mr.Jamie | Oct. 21, 2010 01:45

0

0

Reply
Have no idea about the postbox you mentioned. You may search some designated shops online~
Asked by Mr.ASIANGUY from SINGAPORE | Sep. 20, 2010 13:12

Reply
Is there any way to secure a ticket earlier outside of China ?

I will not want to make a trip to Shanghai without visiting the Expo.
I understand they will stop selling tickets when the day's limit is sold off eg May 1st.
Answers (2)
Answered by Ms.SUMMERSNOW from FIJI | Sep. 20, 2010 20:36

0

0

Reply
Hi,that's true. The tickets for peak days may have been already sold off. You can tele the ticket outlet in your country to comfirm for this. Now, you can just get ticket for standard days on the spot and evening at the site.
Answered by Ms.Nunwaura from SINGAPORE | Oct. 09, 2010 10:30

0

0

Reply
The whole site is very big, many times bigger than our own S'pore expo hall 1-6. Size of each pavilion is at least like our 1 expo hall, and bigger.

There are free shuttle buses at designated locations within the site and depending on the popularity of the pavilian of the day, the queue time can be as long as 5-8 hrs(eg. Saudi Arabia pavilion). The not so popular ones, queue time average 15mins.

One tip is, if you are visiting your own country's pavilion (except China, I assume), you just need to show your passport and you are allowed to cut the queue to enter.

As for me, I came early on Sunday morning and managed to visit the Chinese pavilion with ease, whereas a friend who visited the mid afternoon, the next day, was not allowed to enter.

Yes, the site is indeed well-managed, cos' as a non-mandarin speaking visitor, who came alone and first time in Shanghai, I managed to move around and got there by using the subway train, with ease, thanks to the numerous volunteers scattered around the city and within the park.