3 Days Virtual Tour of Expo 2010 Shanghai
After getting a general idea of about Shanghai Expo, here is a recommended three-day tour itinerary as a reference for those who are not sure about their expo visit arrangement. Valuable tips are also included, which will be greatly helpful.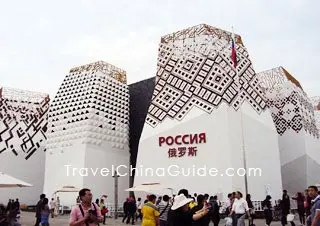 Russia Pavilion
To visit the expo park, firstly, pay attention to the opening time. The opening hours of the park is said to be 15 hours, from 9:00-24:00, while pavilions is opened during 9:30-22:30. So, there is spare time during 9:00-9:30, 22:30-24:00. Do not worry about nothing to do during these periods. There are more than one hundred cultural performances and shows in the park every day, among which the opening ceremony and closing ceremony are the most brilliant. Opening ceremony of the park and most pavilions are held during 9:00-9:30. Visitors are not allowed to enter the park since 21:00, to get into most pavilions since 22:00. If it is not in special visiting days (ordinary days: May 4–September 30, October 8 - 24), visitors can buy night tickets at the entrances after 17:00 (still before 21:00).
Then, the expo visit can start like this:

Day One
First day morning, take Metro Line 7 or 8 to Yaohua Road Station. Get out of the subway station and find Shangnan Road Entrance/Exit to the park around 8:30. Get through the entrance and approach to the reservation machines to make appointment for visiting time to China Pavilion. Reservation on the spot should be made by individual visitors, except those who go through a travel agency and for all exhibition halls. For popular pavilions, such as China Pavilion, reservation is a must. There are some 200 reservation machines in entrances/exits all over the park. Volunteers can tell where to find the machine and how to make reservation. Just bring your ticket and valid ID certificates.
Make reservations for all the places to be visited that day and then start to visit freely. Walk down the Expo Axis to the end till you find the Celebration Square. There is a grand opening ceremony. Then, get to the Expo Center where opening ceremonies of each national pavilion are held daily. Next is the Theme Pavilion. There are five theme pavilions, namely Urbanian, City Being, Urban Planet, Footprint and Future pavilions. They are in one building but choose to join a short queue first to save time. There is a bridge in Urban Planet Pavilion with the earth below. Get close to the earth planet, you will find this is a ball-screen theater. To be notice is that there are usually two passageways to each pavilion. One is fast track for hurried tours. Visitors can go through slow track to have a careful look at those pavilions they are interested in.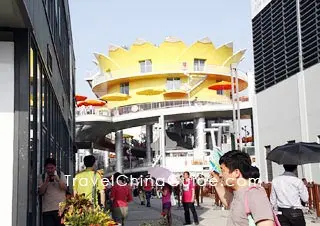 Pavilion of the Netherlands
It is approximately lunch time after finishing the above pavilions. There is a food street between Expo Center and Theme Pavilion. Have a short break there and then continue to the Performing Arts Center with flying saucer shaped roof. China East Song and Dance Troupe puts on two shows every day free of charge. Show time can be known by checking online before going to the park. On the way towards to China Pavilion, there is Taiwan Pavilion highlighted by LED ball-screen sky lantern. There will be a long queue on the square under China Pavilion. Beside China Pavilion, there are the pavilions of provinces and cities. Then visit Macau Pavilion and Hong Kong Pavilion. In Macau Pavilion, visitors can lie down and watch movies shown on the ceiling. You may get back to the entrance after that.
If you still plan to go on visiting, do not get out and continue to some Asian pavilions, such as Oman, Pakistan, Israel and Sri Lanka. Cross the road then to see Nepal Pavilion where the Buddha relic of a thousand year is shown. India Pavilion is next to Nepal and Saudi Arabia Pavilion is the next. Saudi Arabia Pavilion is worth of visiting. This is the most expensive pavilion among all the foreign pavilions with the largest IMAM Theater in the world. After a quick visiting at Asia Joint Pavilion, Morocco, Turkmenistan and Qatar, spend more time on UAE Pavilion which is called 'dune'. The pavilion will be removed back to UAE and rebuilt in Abu Dhabi. Tap water in the park is safe to drink and there is a store supplying beverage and food every 5 minutes' walk. Have a short rest and get to Japan and Korea pavilions at the end of this day. These two pavilions are located close to Huangpu River, having beautiful nightscape. Then walk along Expo Avenue to Performing Art Center. There may be parades if luckily, or leave after seeing the closing ceremony on the Celebration Square.

Day Two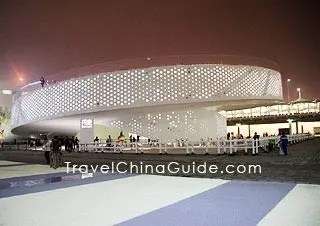 Denmark Pavilion
In the second day, get to Changqing Road Entrance/Exit by Metro Line 7 at Changqing Road Subway Station. Recommend to make reservations to the USA, France and Switzerland pavilions and visit in the afternoon or at night. Get through Changqing Road Entrance, there is Thailand Pavilion on the right side. Australia Pavilion is in front of Thailand and Singapore Pavilion is on the right side of Australia. Singapore Pavilion is not big, but it has garden on the top level for rest and music fountain in the square. In the following time, you can make a circle to visit Malaysia, New Zealand, Indonesia, Joint Pavilion of International Organizations, Brunei and Philippine. Have a rest in the square and get onto the skywalk and walk to the blue Pavilion of United Nations. MeteoWorld Pavilion is nearby. If the weather is gorgeous, rainbow can be seen outside the pavilion. Walk forward to the whole building, International Red Cross&Red Crescent Pavilion. There are shows in the Theme Park. It should be at noon while finishing these pavilions and nearby buildings. In the afternoon, visitors can go on to visit some European pavilions.
Come across Changqing Road beside United Nations Pavilion to Spain Pavilion. On the other side of the square in front of UN Pavilion, there is Belgium-EU Pavilion with free chocolates and expo knowledge contests. Poland Pavilion is next to Belgium and visitors can enjoy a cup of coffee inside the pavilion. Cable car is available in Switzerland Pavilion with sparkling façade on the Huangpu riverbank. Its neighbor France Pavilion houses many art treasures, including The Age of Bronze by Rodin, The Meal-The Bananas by Gauguin, etc. In addition, thousands of new couples suppose to have their wedding ceremony here. Other nearby pavilions are Poland, Germany, Ireland, Norway, Ukraine, Iceland, Sweden and Finland. Walk across the skywalk then to visit pavilions of Portugal, Slovak, Czech on the opposite side of the bridge and next to see Europe Joint PavilionⅠandⅡ, Hungary, Bosnia, Herzegovina Pavilion and White Russia.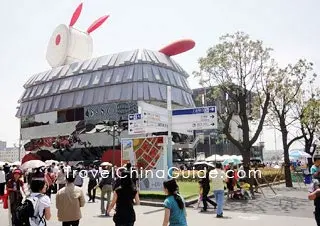 Macau Pavilion
Come across Xiying Road after getting out from Hungary Pavilion, there is the Caribbean Community Pavilion with Cuba, Venezuela, Chili and Mexico in neighborhood. Canada Pavilion will give wonderful shows by Circus of the Sun. In Peru Pavilion, there are delicious foods to taste. The next are Columbia Pavilion and Brazil Pavilion. Visitors can admire the World Cup live show in Brazil Pavilion. Then go to the Joint Pavilion of Central and South American Countries and after that have a visit to the USA Pavilion and have dinner there. After the USA Pavilion comes a series of rented pavilions: Argentina, Slovenia, South Africa, Egypt, Tunis, Algeria, Angola, Nigeria, Libya, Lithuanian and Croatia. Have a quick peak on those pavilions and shift your sight into Russia Pavilion. It has a fairy land with twelve petal towers. Not far away, there is a giant bitten green apple. That is Romania Pavilion. That is a good idea to watch a movie inside the building. Following are Holland and Luxemburg pavilions. Italia Pavilion is nice, made of semitransparent structural materials. United Kingdom Pavilion located nearby is small but really amazing. It has tens of thousand illuminant palpus and looks fascinating in the evening.
The last place in the second day is suggested to be finished in Africa Joint Pavilion. There are African bazaars and an amusement park outside the pavilion. Houtan Park is good place to have a rest. Then get out of the park from Houtan Exit, take Metro Line 7 to leave.

Day Three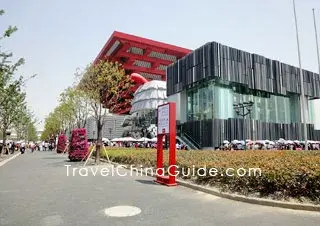 Hong Kong Pavilion
The third day is spent mainly in Puxi, the enterprises pavilions, which also play an important role in Shanghai Expo. The organizer opens up a special zone, Urban Best Practices Area (UBPA) to introduce the effort made by every country for the improvement or urban life standard. South Xizang Road is the biggest entrance/exit of the park located in Puxi, just close to South Xizang Road metro station of Metro Line 8. The third day trip will start from this entrance.
The first is China Shipbuilding Industry Corporation Pavilion displaying the ship industry of the country. Models of fleet of Ming Dynasty are exhibited here. Walking towards to Nanpu Bridge, there are Private Enterprises Joint Pavilion, Vanke Pavilion and Broad Pavilion. Vanke should be the biggest land real estate developer in China. Their pavilion is made of compressed wheat straw. Inside the building, there is the mode of China cities in 2049. After that, get to UBPA Display. Walk up when you see a skywalk. The district close to South Zhongshan Road is the most excellent part of UBPA. UBPA itself is a big exhibit. The design of all light effects comes from Lyons, France. There are Ningbo Tengtou's UBPA Case, Xi'an's UBPA Case, Maijia's UBPA Case, Vancouver's UBPA Case, Shanghai's UBPA Case, Madrid's UBPA Case, London's UBPA Case, Hamburg's UBPA Case, Alsace's UBPA Case, Rhone-Alpes Pavilion, Macau's UBPA Case, Chengdu City's UBPA case, Odense's UBPA Case. Among them, Daming Palace of the Tang Dynasty of Xi'an, Tengtou Village of Ningbo, zero-carbon buildings of London, Hamburg Home of Hamburg bamboo building of Madrid are especially recommended.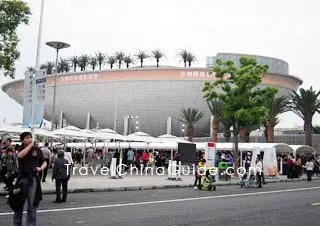 Saudi Arabia Pavilion
Go back to the skywalk to the south part of the UBPA and have a rest under the big tent in Global Urban Square. There is a big restaurant just near the skywalk. Have lunch there and begin the afternoon visit with the Future Pavilion next to the restaurant as a start. This big pavilion tells about the future of urban life. Walk backwards to enterprises' pavilions again and visit the cloud-like Space Pavilion, the Information and Communication Pavilion and the SAIC_GM Pavilion. Then admire the performances in Expo Square, or have fun around the old boatyard in Shipping Industry Corporation Pavilion. For those who are interested in collection, Aurora Pavilion can tell a lot of knowledge about jade, which is next to the China Railway Pavilion. Beautiful Shanghai Corporate Joint Pavilion has advanced robot Haibao, the mascot of Shanghai Expo.
In the evening after dinner at Jiangnan Park, it is time to visit Coca-Cola Pavilion, Space Home Pavilion, State Grid Pavilion and the Expo Museum. Coca-Cola Pavilion is easy to be recognized for its cola bottle liked appearance. The latest space technology can be learned in the Space Home Pavilion nearby. China State Grid provides reservation service on their own website, so that visitors can make reservations in advance and do not make up lines while visiting. The pavilion close to Huangpu River is Korea Corporate Joint Pavilion with exhibits of E-Mart, Samsung, Hyunda, LG, etc. After the Shanghai Expo, this pavilion will be removed and made into recycle bags given to Shanghai citizens.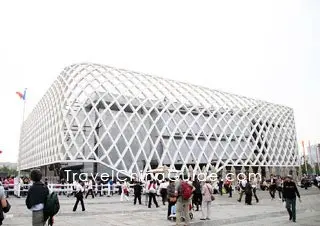 France Pavilion
At last, visitors can get to visit the Expo Museum to learn the 160-year history of World Expo. The museum and Entertainment Hall are in one building, so you can also see various shows while visiting the museum. Japanese Industry Pavilion would be interesting, for Japan always pays great efforts on World Expo.
Then, leave from Luban Road Entrance/Exit. Next to the entrance is the Lupu Bridge. Visitors can pay some money on daytime to have a bird-eye view of whole park. From Luban Road, Metro Line 4 and some expo special bus lines are waiting there to take visitors away from the park.
This is a virtual 3-day expo visit recommended by a volunteer. The park is too large and there are so many pavilions, shows and activities to see here too. After getting more information, visitors can choose what they are interested in and make up their own itineraries.
- Last modified on May. 13, 2019 -
Questions & Answers on 3 Days Virtual Tour of Expo 2010 Shanghai
Asked by arwin | Nov. 02, 2011 02:32

Reply
Enquiry about expo pavilion after 2010
Hi
I am a visitor from Malaysia which plan to visit expo by 12th of nov with my friends(12pax).
I would like to ask what structure been retained,wat event is held currently?is it open for public?or admission fee request?if yes where to purchase the ticket?can we buy on the spot or purchase online before few days we visit?do you provide service -booking tickets?thanks
Answers (1)
Answered by Hank | Nov. 02, 2011 21:00

0

0

Reply
The pavilion of Saudi Arabia is opened now which you could visit. For individual visitors, you should purchase the entrance ticket after 12:00 of the same day. The fare is CNY60/adult on weekday and CNY80 at weekebd.
Asked by Mr.rehman | Oct. 24, 2010 00:15

Reply
how much i have to pay for one day ticket and for three days tickets?

when expo 2010 will end?
Answers (1)
Answered by Ms.SUMMERSNOW from FIJI | Oct. 24, 2010 01:09

1

0

Reply
The price is as following:
CNY200 per Single Day Admission of Peak Day;
CNY120 per Special Admission of Peak Day;
CNY160 per Single Day Admission of Standard Day;
CNY100 per Special Admission of Standard Day;
CNY400 per 3 Day Admission of Standard Day.
It will be end on 31, Oct.


Asked by Mr.EUGENIO LOPEZ from USA | Oct. 01, 2010 14:04

Reply
I am going to be in Shanghai from October 24 through October 31. What days or passes should I buy for the Expo and where I will find a chinese doctor for sinus?
Answers (2)
Answered by Mr.Jamie | Oct. 07, 2010 01:00

0

0

Reply
I'm afraid that you couldn't purchase a Expo ticket currently since it is reported that the last week's tickets have been sold out.
Answered by Ms.Lynn | Oct. 14, 2010 21:37

0

0

Reply
You can call 12580 to book the Peak Day Single Day Admission. The radio said the last 2 days is hard to get(30 and 31), but other days, I think it's not too hard to get. You can also buy the ticket when u get there, but it takes a risk. If you have friends here, u can let them help u to book previously.