Huaihai Road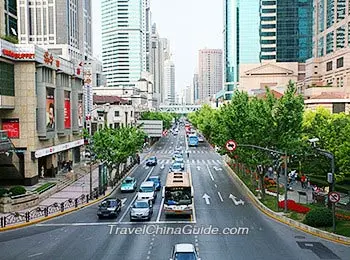 Shanghai Huaihai Road
On a par with Nanjing Road, Huaihai Road, Shanghai is another one of the busiest streets. With numerous modern buildings and fashionable branded merchandise, it is acknowledged as the most beautiful and romantic shopping street all over Shanghai. The pleasant shopping environment, high-end restaurants and excellent hotel services all contribute to the popularity of the street. As the 'Oriental Avenue des Champs-Élysées', the shopping street often reminds people of Fifth Avenue in New York, Ginza Tokyo in Japan and Orchard Road in Singapore.

Location
Huaihai Road is located in Luwan District and broadly stretches from East Huaihai Road to West Huaihai Road. In narrower terms, this road covers the distance from Huashan Road to South Tibet Road, with an overall length of around 3.4 miles (5.5 kilometers). Nevertheless, to local residents, Huaihai Road generally refers to Mid Huaihai Road, which runs from South Shaanxi Road to South Tibet Road.

History
Dating back to about 100 years ago, the road was named Avenue Joffre and traversed Former French Concession. During the subsequent political upheavals, more and more foreigners moved to the area to seek a haven. After settling down, they operated various stores and led an elegant life style, appealing to the cultural elite and pioneers of new thinking. In 1950, the street was renamed Huaihai Road to commemorate the victory in the Huaihai Campaign. The straight street, lined with plane trees and western style architecture on both sides, maintains its exotic atmosphere till today.

Shopping
Famous as a paradise for shoppers, this commercial street has a large number of international brand stores, for example, the flagship stores of Zara, H&M, C&A, and Adidas. Large shopping markets, such as the Golden Bell Plaza, Hong Kong Plaza, Libao Plaza, Shanghai Times Square, Kering Department Store, Pacific Department Store, and Parkson Shopping Center, offer luxurious and the latest high-end goods. If you are keen on products of superb quality, you can find almost all designer goods here, like Louis Vuitton, Cartier, Gucci and Tiffany. In addition, there are Shanghai Women's Goods Shop and Gujin Underwear Store, both providing affordable and comfortable articles for women. Shopping at Huaihai Middle Road will be an impressive memory for tourists!
Map of Huaihai Road
Walking along the Street
For those who are not interested in shopping, this road is also a good place for a stroll. The former residence of Madam Soong Ching-ling is located along this road. The consulate generals of the USA, France and Japan as well as the newly-built Shanghai Library are all near this street. As one of the finest residential areas in Shanghai, the surrounding roads are filled up with pretty gardens and magnificent villas. If you are just killing time, you can wander around the streets and take in local life or admire the architecture. On autumn days, as the yellow leaves of plane trees cover the road, walking on the street is indeed an enjoyable experience.
| | |
| --- | --- |
| Stores Along the Road | Modern Buildings on the Road |
The night view on this street is also vey admirable. When night falls, cars flow in an endless stream along the boulevard. Neon lights circling the buildings flash in different patterns and colors, adding more charm to Shanghai, a sleepless city.
How to Get to Huaihai Road Shanghai

By Metro:
There are several metro stations located just along Mid Huaihai Road. Visitors can get off at any of them to reach the famous street.
1. Take
metro line 1
and get off at South Huangpi Road station, South Shaanxi Road station, or Changshu Road station.
2. Take
metro line 7
and get off at Changshu Road station.
3. Take
metro line 8
and get off at Dashijie station.
4. Take
metro line 10
and get off at Jiaotong University, Shanghai Library, or South Shaanxi Road station.
5. Take
metro line 13
and get off at Huaihai Middle Road Station.

By bus:
1. Take bus line 42, 167, 198, 320, 911, 920, or 926 and get off at Mid Huaihai Road South Shaanxi Road station.
2. Take bus line 24, 41, 104, 146, 301, 304, or 955 and get off at South Shaanxi Road Mid Huaihai Road station.
3. Take bus line 146 or 986 and get off at Mid Huaihai Road Sinan Road station.
4. Take bus line 45 or 327 and get off at Xiangyang Park station, then walk north along South Xiangyang Road to get there.
5. Take
City Sightseeing Bus
and get off at Huashi Plaza, No.688 Huaihai Road.
Shanghai Bus / Metro Search

Shanghai Museum

Former Residence of Sun Yat-sen

Fuxing Park

Former Residence of Zhou Enlai

Sinan Road

Wukang Road

Xin Tian Di

Huaihai Park

Read more:
10 Cool Things to Do in Shanghai for Youngsters
- Last updated on Jul. 05, 2022 -
Questions & Answers on Huaihai Road
Asked by Wina from INDONESIA | Nov. 20, 2019 18:20

Reply
Return for my IC Card
Hello,
This week I've been travelled in Beijing. And I bought IC Card. I heard this card can return and refund for the left balance.

But now, I am in Shanghai. Is it still possible for me to return and refund this card? Or this can only happen in Beijing?
Answers (1)
Answered by Ada from AUSTRALIA | Nov. 21, 2019 19:48

0

0

Reply
Do you mean the transportation card? If so, you only can return it in Beijing.
Asked by Wina from INDONESIA | Nov. 20, 2019 18:17

Reply
The best route by metro, which station I should get off? I start from Shanghai station
Hello
I stayed at holiday inn zhabei. If I used metro, which best route I should choose? The nearest one to this shopping area.
Answers (1)
Answered by Claire from USA | Nov. 21, 2019 19:46

0

0

Reply
Do you start from the Main Railway Station and your hotel is Holiday Inn Express Zhabei? The distance is only 1.5 km so you can take taxi directly.