Shopping in Shanghai
Shanghai is hailed as the "Shopping Paradise" and "Oriental Paris". Shopping in Shanghai should not be missed any more than its other charming attractions. Providing the very best of shopping has become an indispensable part of the city's tourism industry.

To welcome more visitors, Shanghai has adopted Tax refund policy since July 1st, 2015 among tourists from foreign countries, Hong Kong, Macau, and Taiwan. At present, there are 27 tax free stores in the city, mainly situated at Nanjing Road and around Yu Garden.


See list of tax free stores in Shanghai. Hereunder is the guide for Where & What to Buy in Shanghai.

Shanghai Shopping Areas
Four Streets
1. Nanjing Road
As one of the four streets, it enjoys the reputation of No.1 Commercial Street in China, including East Nanjing Road and West Nanjing Road. Developed from the beginning of the 20th century, Nanjing Road has clusters of a wide variety of shops from those that are centuries old, to special ones and modern malls. In these modern times, Nanjing Road is not out done by its numerous competitors but becomes more and more prosperous.
2. Huaihai Road
No less famous than Nanjing Road, it is celebrated for its elegance. It features top-end designer brands from all over the world. Parkson Shopping Center on the Huaihai Road is worth visiting. Here you will find reasonable prices and many special offers in the form of discounts and other promotions. Even the brand-name clothing is reasonably priced here. Maison Mode, located at No.1312, Huaihai Road, claims to be the aristocrat on this street. What to buy in shanghai? You can find the leading designer brands such as Gucci, Ferragamo, Hugo Boss, Bally, Kenzo, etc. here. It is no exaggeration to say that the reputation of Huaihai Road is enhanced by the presence of Maison Mode.
3. North Sichuan Road
It offers good inexpensive merchandise and is always the first choice of ordinary people. If you want to find cheap shopping in Shanghai, North Sichuan Road will be a good choice.

4. Middle Tibet Road
Food and tourism are well provided for on Middle Tibet Road. Local snacks and special local products are must things to buy in Shanghai.
Four Cities
1. Yuyuan Bazaar
Yuyuan Bazaar (

Video of Yuyuan Bazaar) is the venue for specialist Chinese goods ranging from small articles, local crafts and the like to antiques, jade wares and gold and silver jewelry.
2. Xujiahui Shopping City
The newly-established shopping and entertainment plaza, Xujiahui consists of large stores where you can obtain both costly and middle-range priced goods in abundance.
3. New Shanghai Shopping City
New Shanghai Shopping City is on the grand scale and offers the best facilities and amenities. Located in the middle of Pudong Lujiazui Finance and Trade Zone, it is surrounded by a variety of retail outlets.
4. Jiali Sleepless City
Like a bright pearl on the landscape, Jiali Sleepless City facing Shanghai Railway Station, and on the metro line 1, is a bustling commercial area.
Besides the famous "Four Streets and Four Cities", some other streets and roads are also worthy of a visit. Tourists can find best things to buy in Shanghai.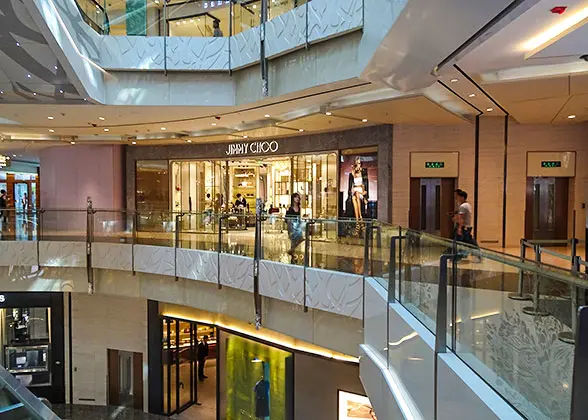 Shopping Mall
Clothes & Shoes Shopping Malls
If you just intend to buy small articles and find cheapest shopping in Shanghai, Hong Kong Famous Shops Street and Dimei Shopping Center beneath People's Square and Xiangyang Road will whet your appetite. In Dimei Shopping Center, clothes are competitively priced and fashionable, but you will seldom find the top brands here. With the alternation of four seasons the small shops here, sell clothes in vogue which cater for the needs of young people. You can bargain at ease.
The distinguishing feature in North Shaanxi Road is its shoes. Not only abundant varieties and original styles, the prices are reasonable and moderate. This is a good place to experience bargain shopping in Shanghai. If you admire Chinese-style clothes, some shops selling them are on Maoming Road, Changle Road will meet your requirements. Generally clothes will be tailored to ensure a good fit.

Fabric Markets & Tailor Shops
More and more people realize the joy of having clothes tailor-made. To find the fabric, there is fabric market and tailor shops recommended here. Nan Wai Tan (South Bund) Fabric Market in Lujiabang Road is perhaps the largest fabric market you can find in the city. Take subway to Nanpu Bridge Station and walk along Lujiabang Road for a short while, you can see the market. To have anything tailor-made, get to the shop nearly one month in advance. Several fittings will undergo for it may not fit you very well at the first time. Nearby the fabric market, there are many tailor shops in Duojia Road. You can find various fabric materials to make curtains in the market as well. Maoming Road and Changle Road also have some feature tailor shops. For example, KATANO in Maoming Road is an 82-esr-old tailor shop of a Japanese owner. You can have your suit, shirt, office-look clothes made here. Psyche .Q in Xiangdai Plaza (Huaihai Middle Road, north of Xintiandi) has more fashion customers. Yang Yang is a tailor shop good at making Chinese traditional clothes. Go and explore more by yourself!

Bookstores
Fuzhou Road earned its fame as "Culture Street" a century ago. The outlets here deal mainly in manner of cultural items, ranging from books, music and art... It is now the fashion for local people to wander along Fuzhou Road after work to browse through all sorts of books and magazines in the stores along the road.
Ancient Books Store: 1-2F, No. 401, Fuzhou Road
Foreign Languages Bookstore: No. 390, Fuzhou Road
Books City: No. 465, Fuzhou Road
Fine Arts Articles Shop: 3F, No. 390, Fuzhou Road

Dongtai Road Antique Market
Antique Markets
Dongtai Road Antique Market is a market mainly dealing with the porcelains, jade wares, bronze wares, wooden wares, calligraphy and paintings and embroidery utensils. Lots of visitors from home and aboard come to this famous market.

Shanghai Souvenirs Market
Local products like, Gu Embroidery , also called Luxiang Yuan Embroidery, from the Ming Dynasty (1368-1644), is now used in producing clothes, ornaments and bedding. Tapestry is divided into two types, for appreciation and daily use. It is popular among visitors because of various colors, vivid figures and visual design. A scroll of tapestry depicting the Great Wall of China is exhibited in the United Nations building. Shanghai souvenirs like Jade sculpture, wood sculpture, and stone sculpture feature Shanghai's tourism industry with its exquisite and delicate carvings. The city was one of the original producers and exporters of Chinese silk and silk produced here remains unique owing to its age old traditions as well as new means of production and design. You can have best souvenirs' ideas and find best souvenirs from Shanghai.
Tourist Souvenirs Shopping Building: No. 558, East Nanjing Road

Home Appliance Markets
As for the purchase of household appliances, big home appliance markets, like Gome, Guotong and Quyang Home Appliance City are highly recommended. Household appliances here have low prices and good quality.
Gome in Changning Shopping Center: No. 986, Changning Road

Supermarkets
For everyday requirements, supermarkets offer a wide range of goods. You will find Carrefour, Metro, RT Mart, Hypermarkets & Shopping malls, Lotus and Hualian, etc. Most of them are located near to the transportation hubs and residential areas. Furthermore, up to 100 supermarket chains and 24-hour-open Lawson Convenience Store are established for your convenience.
Shanghai Shopping:
- Last modified on May. 05, 2019 -
Questions & Answers on Shopping in Shanghai
Asked by Macheese from ITALY | Aug. 17, 2019 19:12

Reply
Hi. Where can I find souvenir shops in Shanghai? Preferably downtown.
Thank you
Answers (1)
Answered by Pearson from USA | Aug. 19, 2019 19:34

0

0

Reply
There are many shops around Yuyuan, or you can go to Old City God Temple to buy souvenirs.
Asked by Ms Mac from ITALY | Aug. 15, 2019 18:06

Reply
Is there a Bruce Lee museum or memorabilia shop in Shanghai?
Answers (1)
Answered by Emery from GERMANY | Aug. 16, 2019 01:07

0

0

Reply
Well, as I know, there isn't.
Asked by Shash from INDIA | Jul. 20, 2019 22:39

Reply
Where can I find cheap cloths market for mens in Shanghai?
Answers (1)
Answered by Pam from USA | Jul. 22, 2019 19:54

0

0

Reply
Maybe you can go to Qipulu Clothing Market, which is located at No.303, Qipu Rd, Jing'an District.
Asked by Canevaro George from USA | Jul. 02, 2019 09:36

Reply
Where are the best and biggest Golf shops in Shanghai?
Answers (1)
Answered by Angela from USA | Jul. 02, 2019 20:03

0

0

Reply
Hi, you can go to Xinyang Golf Store to have a look, which is located at No.2002, Century Avenue, Pudong District.
Asked by Sofia from MÉXICO | Jun. 27, 2019 19:12

Reply
Where I can buy quality clothes in Shanghai , not designers brands .
I'm looking for a place similar to go to mall in Seoul. Thanks
Answers (1)
Answered by Raymond from USA | Jun. 30, 2019 18:41

0

0

Reply
You can go to Qipulu Clothing Market, which is located in southeast of Zhabei District, east from North Henan Road, west to North Zhejiang Road, south to Northwest Shanxi Road.