Pandas & Golden Cities
SG05: 11 Days Small Group Tour of Beijing - Xi'an - Chengdu - Shanghai
Tour Type:
Small Group of maximum 18 travelers, guaranteed departures
Guide & Driver:
English-speaking guide, experienced driver with an air-conditioned coach
Accommodation:
10 nights at good 5-star & 4-star hotels
Meals:
10 western buffet breakfasts, 4 lunches with some being a la carte style, 1 dumpling dinner
Highlights:
Must-see sights - Mutianyu Great Wall, Forbidden City, Terracotta Army, Giant Pandas
Have a once in a life chance to get close to the incredibly cute treasure - Pandas
Cruise on the Huangpu River to take in the impressive skylines of Shanghai
Enjoy a la carte meals, Tang Dynasty Music and Dance performance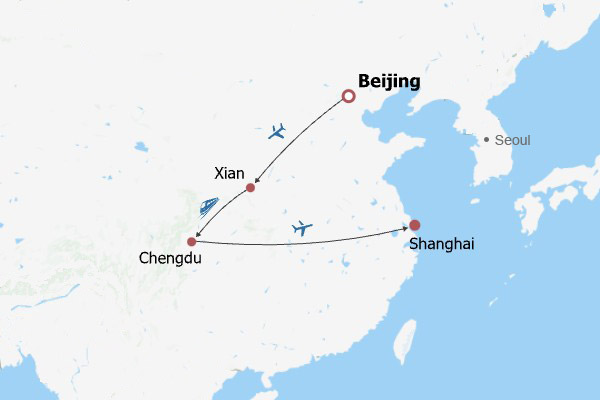 You will be met at Beijing airport today and taken to check in at the hotel. Our guide will offer an orientation for the following day, dealing mainly with escorted tours and dining arrangements. To refresh from jet lag, you may have a good rest at the hotel, or make your own plans for the remainder of the day.
Accommodation:
The Great Wall Hotel Beijing





- the former Sheraton
After breakfast at the hotel, all persons on the tour attend a short orientation session for mix and mingle. Our first stop will be
Tiananmen Square
and then the
Forbidden City
, an ancient and grand imperial palace. There is so much to see. Our guide will make it more exciting with first hand knowledge.
► How did an emperor select his wife in Qing Dynasty?
In the Forbidden City, Palace of Earthly Tranquility was the right place for wedding of the emperor and his empress in Qing Dynasty (1644 – 1911 AD). If he ascended the throne before the marriageable age, he needed to choose a wife later. As the nobilities recommended girls for the imperial family, the empress dowager, mother of the emperor, would have a preliminary screen, to weed out those ugly, uneducated, having a terrible voice, with bad family background, and more. The emperor would then select a girl most desirable to him as his empress among the qualified ones. He would also leave a few girls as his concubines. The empress didn't need any dowry from her family, however, this was indispensable for civilians. Parents would prepare abundant dowry for their daughter, to make her life worry-free in the husband's family. For rich families, the dowry lined for miles in the wedding procession.
At noon, you will dine on an
a la carte welcome lunch
(valued at CNY150.00 per person and included in our price) at a very popular restaurant. There are great menu selections including Peking Roast Duck.
After that you will approach the
Temple of Heaven
. It is a former place of worship surrounded by a park.
Meals: Western buffet breakfast, A la carte welcome lunch
Walk around the solemn Tiananmen Square
Explore the majestic Forbidden City
The buffet style breakfast with a variety of food is served at the hotel from 06:30. We suggest you have a hearty breakfast today as you are going to mount the great wall and the lunch is not included. After about two hours driving, you will reach the
Mutianyu Great Wall
, the most popular section. To keep your strength for a great hike on the wall, we arrange the round-trip cable car for you, and to add spice to the exciting occasion, we toast you with a bottle of red wine. Free climbing time will be provided for your group on the wall.
After the Great Wall sightseeing, we will drive back to downtown. Then a featured local market visit is scheduled. You will enjoy some free time there to relax.
Meals: Western buffet breakfast
Our group toasting on the Great Wall
Day 4
Beijing to Xi'an by Flight
On the last day of your Beijing visit you get to see the
Summer Palace
,
Olympic Bird's Nest
and the traditional
Hutongs
. Summer Palace is one of the places where you find refuge from the bustling city center. Then drive through 2008 Olympic site dominated by the large Bird's Nest. You can get a photo opportunity with it as backdrop. Narrow alleys connect traditional courtyard residences called Hutongs. A rickshaw ride through those old hutongs is an eye-opening experience. Also a particular arrangement is that you will learn the local craft of paper cutting, one of China's most popular folk arts.
We will serve you an
a la carte lunch
(valued at CNY150.00 per person and included in our price) at a quality local restaurant. Enough of Beijing, and you are off to the ancient imperial capital, Xi'an, where you will be warmly welcomed at the airport and escorted to the hotel.
Meals: Western buffet breakfast, A la carte lunch
Accommodation:
Sheraton Hotel





Appreciate the pleasant landscape in Summer Palace
The
Terracotta Army
is a must-see when visiting Xi'an. The museum consists of three main excavation pits and one exhibition hall. The figures in the museum include warriors, horses, chariots, weapons and so on. It is estimated that the first Emperor of Qin Dynasty (211-206 BC) constructed such a large army format aimed to protect his mausoleum. Till now, the excavation work is still ongoing. Lunch is on your own and our guide will gladly assist.
★
Privilege of Our Guests:
►
Home Visit of the First Man Who Discovered Terracotta Army
In addition to visiting the magnificent Terracotta Army, we especially arrange for you a unique visit to the home of the first discoverer of the Terracotta Army. Mr. Yang Zhifa is the first man who uncover the world wonder on March 9, 1974. On that day, Mr. Yang was digging a well and when he dug to a depth of about 1.5 meters 4.92 (ft.), some broken clay figurines had been dug up. That was the first clay soldier statue of the spectacular Terracotta Army reappearing in the world. On today's visit, you can also see the replica of this first statue at Mr. Yang's home. What's more, you can also witness the hoe that was used to dig. Many stories about this legendary first discoverer are waiting for you and you can even have a simple conversation with his family to learn more details about discovering. It will be a very unique and interesting experience!
►
A Fun DIY Mini Terracotta Warrior Experience
Are you curious about the making of the Terracotta Warriors? In fact, it took about one month to make a clay soldier in the Qin Dynasty. Today, we will have an opportunity to make a mini Terracotta Warrior and it doesn't take too much time. Because it is a quite small clay statue made in a mold. Today's fun making experience starts in Yaodong, a kind of traditional Chinese cave dwelling. With the artisan's detailed explanation, you can learn to make a 10-cm (about 4-in.) mini terracotta warrior step by step. The whole process is quite easy and interesting, and even kids can learn to make one by themselves, a very family-friendly activity. Finish making, everyone can take their own work home and this will be undoubtedly one of the best souvenirs of your China tour.
Proceed to nearby Xi'an Museum and
Small Wild Goose Pagoda
after lunch. This evening, dine on a local special
dumpling dinner
, followed by a wonderful
Tang Dynasty Music and Dance Show
.
Meals: Western buffet breakfast, Dumpling dinner

Friendly Tips
Since the theater is usually not open in Jan, Feb, Mar and Dec, we will not arrange the show and dumpling dinner for tours starting during the periods. Clients will enjoy free time to relax.
Marvel at the 2200-year-old Terracotta Warriors
The tour today begins from the
City Wall Park
, a popular venue for local people to relax and take part in various activities. A Tai Chi practice will be arranged for you here. Then go on a visit to the
City Wall
. Originally built as a military defense system, it consists of walls, gate towers, suspension bridges and city moats. Nowadays, it has become one of the landmarks of this ancient capital city.
After an
a la carte lunch
at a nice local restaurant, you will be driven to
Shaanxi History Museum
, an admirable place for visitors to appreciate the many cultural treasures. Later, continue to the
Muslim Street
. It has been a prosperous commercial street since ancient times, and now it becomes more and more popular among tourists because of its distinctive features. Going across the bustling street, you will reach the tranquil
Great Mosque
, which is one of the most famous mosques in China. It was first built during the mid-seventy century when Islam was introduced to Northwestern China by Arabic merchants and travelers.
Meals: Western buffet breakfast, A la carte lunch
Visit the Great Mosque, one of the best-preserved Islamic mosques in China
Day 7
Xi'an to Chengdu by High Speed Train
A morning high speed train will take you from Xi'an to Chengdu in about 4 hours. The high speed trains are the main form of transport between neighboring cities for local people. Our tour guide in Chengdu will pick you up at the railway station and help you check in at the hotel. Relax during the rest of the day.
Meals: Western buffet breakfast
Accommodation:
Holiday Inn Chengdu Oriental Plaza




Chinese countryside people celebrating the festival
Lobby of Holiday Inn Chengdu Oriental Plaza
The
Research Base of Giant Panda Breeding
cannot be bypassed when one visits Chengdu. We will show you the panda center in the morning when pandas are the most active. Seeing them eating, playing or climbing, you will be impressed by such cuddly creatures. After that, we will take you to explore the
Broad and Narrow Alleys
. You might have your own lunch there to taste some popular Sichuan food.
In the afternoon, pay a visit to the
Jinsha Site Museum
, which supports dating Chengdu city settlement back to 611 BC. Its heritage is reflected in everyday life. People in Chengdu have the reputation for their carefree lifestyle, so the last stop today is to have a tea break and take a glimpse on the locals' living style in
Renmin Park
. With a very casual vibe, the locals in Chengdu usually value pleasure more than work. To them, the most crucial parts of living are playing mahjong and drinking tea.
Meals: Western buffet breakfast
See the adorable pandas and learn about their habits
Day 9
Chengdu to Shanghai by Flight
Today you will be escorted to the airport for your last scheduled destination: Shanghai. Our Shanghai guide will wait for you at airport and accompany you to the hotel for check-in. The rest of the day is free for you to do as you please.
Meals: Western buffet breakfast
Accommodation: Radisson Blu Hotel Shanghai New World





If Chinese history, culture and art, are to your taste, then
Shanghai Museum
will prove exciting. Then proceed to the
Yu Garden
, which is a classical Chinese garden. It includes trees, flowers, ponds, bridges, rocks, pavilions, and halls. If you are hunting for small gifts or souvenirs for families or friends, the nearby lively Yu Bazaar is a good place.
You will be at the
a la carte farewell lunch
(valued at CNY120.00 per person and included in our price) at a fancy restaurant.
Another highlight of today's itinerary is to visit the world's highest book store, which is located on the 52nd floor of China's tallest skyscraper, Shanghai Tower. The fancy book store is called "Duo Yun Book Store", meaning the bookstore above the clouds. On the 239-meter-high book store, you can not only enjoy a cup of drink in a credibly beautiful environment but also enjoy a breathtaking panoramic view of Shanghai City and the winding Huangpu River. Take in
the Bund
area and view the spectacular array of buildings on the other side of Huangpu River, which clearly display the prosperity of this city. You will also have a one-hour
cruise tour
on the Huangpu River. Bon voyage at the hotel lobby from Travel China Guide.
Meals: Western buffet breakfast, A la carte farewell lunch
Our guests visiting the classical Yu Garden
Day 11
Departure from Shanghai
Today's transfer from hotel to airport is not included in the package as the departure times of group members are different. You need to find your own way to the airport for your homeward flight. The most convenient way is to take a taxi. It costs around CNY200 per cab to Pudong Airport and CNY100 to Hongqiao Airport. We hope you have a nice trip home.

Meals: Western buffet breakfast
B-- Breakfast
L-- Lunch
D-- Dinner
Prices are per person in US Dollars; departures are guaranteed even with two persons!
Special Deal
10% off
- book 60 days before,
5% off
- book 30 days before
Arrival Date
Departure Date
Double Occupancy
Single Room Supplement
May 19(Fri)
May 29(Mon)
$2799
$809
May 26(Fri)
Jun 05(Mon)
$2789
$789
Jun 02(Fri)
Jun 12(Mon)
$2789
$789
Jun 09(Fri)
Jun 19(Mon)
$2789
$789
Jun 16(Fri)
Jun 26(Mon)
$2789
$789
Jun 23(Fri)
Jul 03(Mon)

$2789

$2649

$789
Jun 30(Fri)
Jul 10(Mon)

$2819

$2678

$789
Jul 07(Fri)
Jul 17(Mon)

$2819

$2678

$789
Jul 14(Fri)
Jul 24(Mon)

$2819

$2678

$789
Jul 21(Fri)
Jul 31(Mon)

$2819

$2678

$789
Jul 28(Fri)
Aug 07(Mon)

$2819

$2537

$789
Aug 04(Fri)
Aug 14(Mon)

$2819

$2537

$789
Aug 11(Fri)
Aug 21(Mon)

$2819

$2537

$789
Aug 18(Fri)
Aug 28(Mon)

$2819

$2537

$789
Aug 25(Fri)
Sep 04(Mon)

$2819

$2537

$789
Sep 01(Fri)
Sep 11(Mon)

$2819

$2537

$839
Sep 08(Fri)
Sep 18(Mon)

$2819

$2537

$839
Sep 15(Fri)
Sep 25(Mon)

$2819

$2537

$839
Sep 22(Fri)
Oct 02(Mon)

$2819

$2537

$839
Oct 06(Fri)
Oct 16(Mon)

$2819

$2537

$839
Oct 13(Fri)
Oct 23(Mon)

$2819

$2537

$839
Oct 20(Fri)
Oct 30(Mon)

$2819

$2537

$839
Oct 27(Fri)
Nov 06(Mon)

$2699

$2429

$839
Nov 03(Fri)
Nov 13(Mon)

$2699

$2429

$839
Nov 10(Fri)
Nov 20(Mon)

$2669

$2402

$809
Dec 08(Fri)
Dec 18(Mon)

$2609

$2348

$729
Dec 22(Fri)
Jan 01(Mon)

$2609

$2348

$729
Remark: The prices in red reflect the current discount.
Prices are per person in US Dollars; departures are guaranteed even with two persons!
Special Deal
10% off
- book 60 days before,
5% off
- book 30 days before
Arrival Date
Departure Date
Double Occupancy
Single Room Supplement
Jan 06(Sat)
Jan 16(Tue)

$2209

$1988

$619
Feb 24(Sat)
Mar 05(Tue)

$2229

$2006

$639
Mar 11(Mon)
Mar 21(Thu)

$2229

$2006

$639
Mar 25(Mon)
Apr 04(Thu)

$2269

$2042

$649
Apr 08(Mon)
Apr 18(Thu)

$2359

$2123

$689
Apr 19(Fri)
Apr 29(Mon)

$2359

$2123

$689
May 10(Fri)
May 20(Mon)

$2359

$2123

$689
May 24(Fri)
Jun 03(Mon)

$2359

$2123

$689
Jun 10(Mon)
Jun 20(Thu)

$2349

$2114

$669
Jun 21(Fri)
Jul 01(Mon)

$2349

$2114

$669
Jul 05(Fri)
Jul 15(Mon)

$2379

$2141

$669
Jul 19(Fri)
Jul 29(Mon)

$2379

$2141

$669
Aug 02(Fri)
Aug 12(Mon)

$2379

$2141

$669
Aug 16(Fri)
Aug 26(Mon)

$2379

$2141

$669
Sep 06(Fri)
Sep 16(Mon)

$2379

$2141

$709
Sep 16(Mon)
Sep 26(Thu)

$2379

$2141

$709
Oct 07(Mon)
Oct 17(Thu)

$2379

$2141

$709
Oct 18(Fri)
Oct 28(Mon)

$2379

$2141

$709
Nov 01(Fri)
Nov 11(Mon)

$2279

$2051

$709
Nov 15(Fri)
Nov 25(Mon)

$2259

$2033

$689
Dec 08(Sun)
Dec 18(Wed)

$2209

$1988

$619
Dec 22(Sun)
Jan 01(Wed)

$2209

$1988

$619
Price Includes
Domestic airfares & train fares
Hotel accommodation with breakfasts
Lunches as itinerary specifies
Professional English-speaking guides
Drivers & air-conditioned vehicles
Entrance fees to tourist sites
Tips or gratuities for hotel porters
Price Excludes
International airfares
Entry Visa fees
Personal expenses
Tips or gratuities for guides and drivers
Why Travel With Us
Itineraries you may also like:
Customer Reviews

Questions & Answers
I really enjoyed the whole tour. In fact I would rate it as probably the most enjoyable and fascinating overseas trip I have done which is owing to our fantastic tour guides and our travel operator Doris. Candy in Beijing. This girl was OUTSTANDING. Not only was she very patient with an old, unfit guy struggling up all those stairs, lol, but she went way beyond the call of duty. Tracy in Xian. Excellent

guide, very friendly and knowledgeable. I also enjoyed being able to have lunch with her in the private house. Amy in Chengdu, after the visits we were scheduled to go for lunch. I was not hungry so she suggested we go to the main park where there was a lot of entertainment on in the afternoon. She took me to a traditional tea house in the park and we had a really enjoyable couple of hours sitting there talking life or generally about China, etc and drinking tea while we waited for the entertainment to commence. Linda in Shanghai. Also an excellent guide who went beyond what would be expected. Thank you all for a wonderful trip!

...

More

Overall we enjoyed our vacation. Thank you so much for putting such an excellent vacation together. Travelchinaguide will always be your first choice of travel agency for trips to Asia.

Now that I am back home, this trip was absolutely great! Everything about it more than met all my expectations. The stay in Chengdu before getting to Shanghai was a highlight of the tour for me as Lewis (who took care of the stranded group) took us to visit the Panda Preserve! The small size of the groups is really a plus. In our case, we were even more fortunate in that the 13 of us really got along

great. And the mix of nationalities made it interesting. The hotels were outstanding. And the guides Candy in Beijing, Carol in Xian, Lewis in Chengdu, and the guide in Shanghai not only spoke English very well but were also all very informative, personable, and accommodating. As an example, when leaving Xian, our bus broke down about 1/2 mile from the airport and Carol got us to the airport by flagging down taxis (including some with passengers already in them!). Instead of a bad moment, it became another one of those great stories to tell about our visit! It was great to actually meet Wendy, as we have enjoyed our E-Mail contacts with her over the past 8 months. This company does a great job of keeping us informed! Thanks so much for a very memorable time! This trip to China will always be one of my favorite journeys!

...

More