Shanghai Facts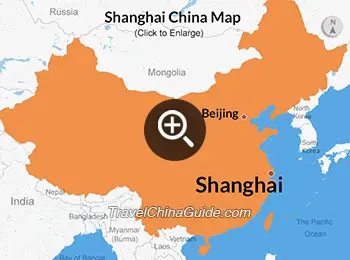 Shanghai Basic Facts

Chinese Name: 上海 (shàng hǎi)


Administration Type: Municipality


Area: 7,037 sq km (2,717 sq mi)


Resident Population: 23,019,148


Area Code & Zip Code:
Area Code: 021;
Postal Code: 200000 - 202100


Location: Yangtze River Delta, East China(31° 14' N, 121° 29' E)

Top 10 Shanghai Facts You Should Know
Shanghai is certainly not the largest city in China for its geographical area, but ranks China's largest city in terms of the population. Although its total area is 7,037 square kilometers, ranking the 31st in China, there are over 2,300 thousand people living there, leading to the population density of 3,810 per square kilometer. And the population size in this metropolis is continuously rising.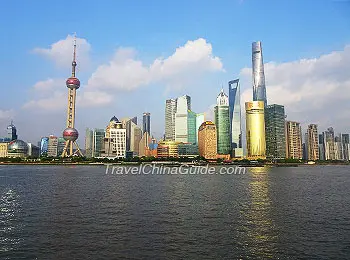 Pudong Area
2. A World Financial Center
With the implementation of the reform and open-up policy, Shanghai firstly became a core port for domestic and international export and import, which contributes to the fast develop of local economy, and attracts foreign companies to establish commercial cooperation with Shanghai. The city has seen a group of companies, banks, and securities institutions growing and thriving, which makes it a world financial center.
3. A Multi-cultural Metropolis of History and Modernity
In terms of cultural and historical facts about Shanghai, the colonial past makes it unique from other cities in China.


a.
Originally, it was a small fishing and textiles town who did not gain its identity until it was opened to foreign powers in the 1842 Treaty of Nanking. The British, French, Americans, Germans, and Russians started to move in.

b.
The city flourished as a cosmopolitan and thriving commercial and financial center, dubbed the Paris of the East in 1920s and 1930s. Many westerners set distinct western-style banks, trading houses, and mansions, leaving a totally different architecture legacy. Although erected during different periods in varying styles such as Gothic, Romanesque or Baroque, those buildings exist harmoniously. Many of the buildings we see on
the Bund
and in the
Former French Concession
were built during this period.

c.
In 1990, it was chosen to spearhead modern China's reform and opening up, which resulted in intense development.

d.
At present, it is probably the most evocative city for an outsider to visit all of the country. Its modern and ever-expanding skylines include the emblematic
Oriental Pearl Tower
, the soaring modern art-deco
Jin Mao Tower
and the 101-floor
World Financial Centre
featuring the Park Hyatt hotel, the tallest hotel in the world.
144-hour Visa-free transit is implemented in Shanghai for foreign citizens from 53 countries, including Canada, Brazil, Denmark, France, UK, USA, Italy, Japan, Poland, etc. Moreover, the online application system was put into use since Nov, 1st, 2018, shortening the application time to 20 minutes. Apart from the 53 countries, citizens from other foreign countries are expected to obtain a valid visa before visit.
5. Shanghai owns a well-developed transportation system.
As one of the transportation hub in China, visitors can directly reach Shanghai from numerous important cities from abroad by air. The city has two international airports, respectively
Pudong International Airport
and
Hongqiao International Airport
for international departure and arrival. Its four railway stations take visitors easily to their destinations in China through trains, including the famous high speed trains. Moreover, the top priority to travel around in downtown is
metro
for its high speed, safety, and convenience. There are 16 subway lines operated, passing by a vast majority of famous scenic spots, like
People's Park
, The Bund,
Xintiandi
, Oriental Pearl Tower,
Yu Garden
,
Confucius Temple
…
The best time to visit Shanghai is in its spring and autumn, when the climate is neither too hot nor too cold. Belong to subtropical maritime monsoon, spring here usually from March to May and autumn from October to middle November, are always warm and pleasant, making it comfortable to go outside.
The colorful nightlife makes it a sleepless city, which is one of Shanghai interesting facts that you should know. When night comes, all lights shine brightly from every direction. At this time, a
Huangpu River Cruise
will take visitors to appreciate the charm of night scenes on both sides. In addition, most people prefer to spend a free time after dark along
Nanjing Road Pedestrian Street
, where they may have a big bargain for small products, or enjoy some snacks and street food. Despite these, Xintiandi is a favorable place for its distinctive building, most of which are used as themed restaurants, art galleries, fashion shops, café shops or bars. Moreover,
Hengshan Road
cultivating bars in great number can be one of the most bustling places there at night.
8. A Shopping Paradise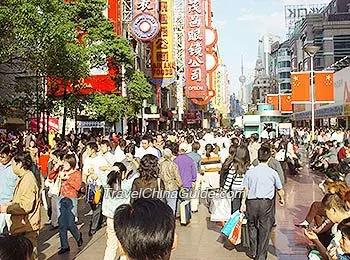 Nanjing Road
Hailed as the Shopping Paradise, Shanghai offers consumers a variety of products to choose, from high-end international brands to cheap local products. The famous shopping areas include Nanjing Road, Huaihai Road, North Sichuan Road, Middle Tibet Road, Yuyuan Bazaar, Xujiahui Shopping City, New Shopping City and Jiali Sleepless City, from either of which, visitors can always get a satisfactory good. In addition, shopping malls are worth a visit, like Department Store and World Daimaru Department Store.

9. Shanghai is surrounded by ancient water towns.
Outside the bustling downtown area, there are many famous water towns lying around the city, including
Zhujiajiao
,
Zhouzhuang
,
Tongli
,
Wuzhen
,
Xitang
,
Nanxun
and
Luzhi
. They are characterized by burbling brooks, arched bridges, slab-stone paved alleys, waterside teahouses and white-washed traditional style dwellings. Wandering through these waterside ancient towns to experience the locals' leisure life style as well as appreciating the living cultural heritage will be one of the highlights for your trip.
10. Shanghainese tend to have a Sweet-tooth.
Shanghai cuisine is characterized by rich red sauce, moderate saltiness, original flavor, mellow and delicious taste. The cooking methods commonly used are braising, and simmering. In addition, a fun fact of Shanghai food is using sugar as a core ingredient to cater to local tastes. Top 5 Dishes includes Braised Jumbo Sea Cucumber with Shrimp Roe (Xia Zi Da Wu Shen), Eight Treasures Chilli Sauce (Ba Bao La Jiang), Flash Fried River Shrimp (You Bao He Xia), Bamboo Shoot Soup with Fresh and Pickled Streaky Pork (Yan Du Xi'an), and Sautéed Mashed Eel (Qing Chao Shan Hu).
See more about
Shanghai Dining

Recommended Tours
- Last updated on Apr. 24, 2023 by Catherine He -
Questions & Answers on Shanghai Facts
Asked by jaison from PHILIPPINES | Mar. 27, 2019 02:02

Reply
good day.. i want to travel in shanghai this coming 30th of march.. im a filipino..
Do filipino are covered also of 144hrs transit visa if i book tour to shanghai?or do i need to have a tourist visa?
Answers (1)
Answered by Kevin from CANADA | Mar. 29, 2019 02:49

0

0

Reply
You need to apply for a visa in advance.
Asked by maggie from TAIWAN | Jan. 11, 2019 15:24

Reply
if i am travelling to Shanghai during the Chinese New Year
will most shops be closed and will the city still be good for first time travelers?
Answers (1)
Answered by Ann from DENMARK | Jan. 13, 2019 22:31

0

0

Reply
Hi Maggie, yes, most shops will be closed during the Chinese New Year. It may bring some inconvenience for first time travelers. Thus you may change your travel plan.
Asked by Damini from INDIA | Jul. 31, 2017 06:48

Reply
Where Can I find bingee jumping or paragliding in Shanghai?
Answers (1)
Answered by Kris from AUSTRALIA | Jul. 31, 2017 21:17

2

1

Reply
You are suggested to a Flyingheart in Shenlong ecological garden in Zhuqiao Rd, Qingcun County, Fengxian Disrtrict to enjoy paragliding.

There are no bingee jumping places in the city now, but you can go to the area nearby, such as Wenzhou Amusement Park, Hangzhou Paradise in Zhejiang. By the way, a hotel in downtown SH will provide bingee jumping project when it's finished in the end of 2017.
Asked by Craig from USA | Oct. 12, 2015 09:37

Reply
Good English Translator in Shanghai
How much does a good translator cost? Where is the best place to find at a reasonable price? I will be there in December for 10 days and have flexibility as to which days, half days, evenings, etc.
Thank you,
Craig from California
Answers (1)
Answered by Monica from CANADA | Oct. 13, 2015 04:02

17

7

Reply
As I know, a good translator/guide charges CNY400-600 each day. If you will stay in a hotel, try to ask your hotel to arrange one for you. Alternatively, I suggest you post ur requirements on Community of Travel China Guide. Many guides and translators are active there. Good luck!