Shanghai History
As a world-famous financial center, Shanghai City is one of the largest metropolises with an area of over 6,300 square kilometers (2,440 square miles), which can be divided into 16 districts. 6,000 years ago when there were people living in the land, Shanghai history began. Then, during a long history, the area developed slowly into a small port and trade center. The first rapid development of Shanghai was in 1840s when British opened the area as an international port. Later in 1930s, Shanghai was known as Pairs of the East. Another rapid development was in 1978 when China's Reform and Opening-up was carried out. Gradually, Shanghai develops into today's modern city. Some important historical events are listed below in the annals of the city.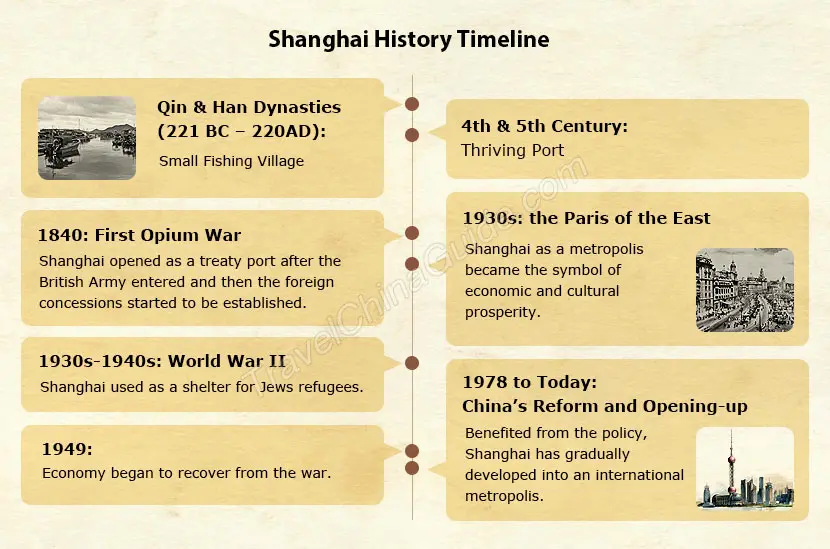 Map of Shanghai History

Timeline
When it comes to Shanghai, people always regard it as a modern and new city, but it actually has a long history. Hereunder shows the memorabilia of Shanghai History.
1. Rising to Land 6,000 Years Ago
When was Shanghai created? Around 6,000 years ago, the west part of today's Shanghai had become land. The ancestors in the area lived by hunting and fishing at that time.

2. Small Fishing Village before Christ
From Qin Dynasty (221- 207BC) to Han Dynasty (206 BC – 220 AD), the former Shanghai slowly developed as a fishing village, and gradually strengthened the economical connection with inland cities.

3. Thriving Port since 4th and 5th Century
Later in Jin Dynasty (265 – 420 AD), Shanghai continued its development and enjoyed fast progresses in Sui and Tang Dynasties (581 – 907 AD). The area gathered a large population by degrees and had more economic and cultural trades with places home and abroad. In the Year of 751 during the Tianbao Years of Tang Dynasty, Huating County was established and the County Government took charge of ancient Shanghai area. A new port, Qinglong Port was set up. Ships departing from the port could sail to other cities along the inland rivers, coastal cities and even Japan and Korea. Later, the silting of Wusong River made ships desert the port of Qinglong Town, giving Shanghai a good opportunity for growth.

4. Shanghai Town Set up in 1267 & Shanghai County in 1292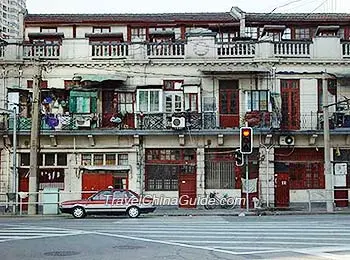 During the early period of Song Dynasty (960 – 1279AD), the trade center was gradually moved to the northeast of Huating County and a small town came into being. In 1267, Shanghai Town was established, becoming one of the seven Bureaus for Foreign Shipping. Later in 1292 of Yuan Dynasty (1271 – 1368), Shanghai County was set up in today's Minhang District.

5. Trading Center in 18th and 19th Century
In 18th and 19th Century during end of Ming Dynasty (1368 – 1644AD) and early Qing Dynasty (1644 – 1911AD), the port of Shanghai city was known as the largest one in Southern China, becoming an important trading center. Besides the businessmen across the country, others merchants from Japan, Korea, Southern Asia and Arab region also engaged in trade here. Shanghai County then had developed into a famous city in southeast China. The great business developments during this period built a foundation for future prosperity.

6. Shanghai in 1842 – Start of the Foreign Concessions
Shanghai history facts during this period are about enterprises developing. After First Opium War in 1840, British opened Shanghai as a treaty port in 1843. Many other countries set up concessions there. They sought industrial raw materials and opened factories. At that time Shanghai became an 'Adventurers' Paradise' and many countries set up enterprises in industries of shipping, banking, printing, pharmacy, architecture and public utilities. Meanwhile the Qing government also set up many civil enterprises there to promote national industries and commerce. As the most prosperous port and economic & cultural center in the Far East Area, Shanghai is the only international metropolis in Asia at that time.

7. Early 20th Century
In January 1912, the Republic of China was established. Approximately in today's scale, Shanghai area was under the jurisdiction of Jiangsu Province, containing 10 counties. In July 1921, the First National Congress of the Communist Party of China was held in Shanghai. Chinese Communist Party formally established here. Later in 1927, the government of the Republic of China published Greater Shanghai Plan and established Shanghai Special City Government officially.

8. Shanghai 1930s History – The Paris of the East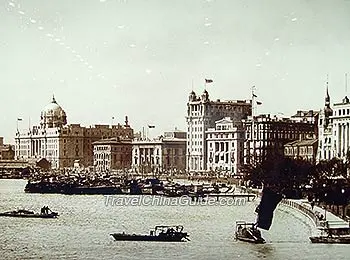 In 1930s, modern industry developed quickly in Shanghai and it became the 'Paris of the East'. A large number of enterprises, advanced techniques & equipment and systematic factory management insured the city's position as an important base of modern industry in China as well as the shipping, financial and trade center of the Far East Areas. All kinds of foreign goods entered the city, especially in the emigrant hub. The foreign concessions of Shanghai as a metropolis infested by foreign adventurers became the symbol of the economic and cultural prosperity.

Meanwhile, local and foreign Chinese started to develop their businesses here. The 'Four Famous Department Stores' appeared: the Sincere, Wing On, Sun Sun and Da Dun Department Stores. Nowadays, three of the stores can still be found in Shanghai. The Sincere in No. 479, East Nanjing Road, Wing On now known as Hualian Commercial Building in No. 358, East Nanjing Road, and Da Dun now as No. 1 Department Store in No. 830, East Nanjing Road.

9. Shanghai during World War II (1930s - 1940s)
After a prosperous period, the city started to suffer from World War II. In 1930s, Shanghai used to be the shelter for Jews refugees. In 1937, the city was captured by Japan. Shanghai 1940s is the time when the countries gradually gave up the foreign concessions in the city. In 1945, the government of Republic of China officially announced to take over those concessions, which means the end of the foreign concessions.

10. Economic Revival from 1949 to 1978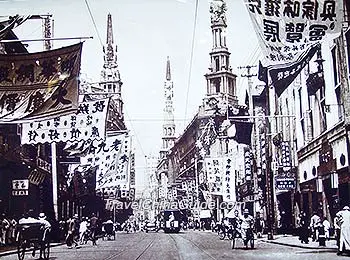 With the founding of the People's Republic of China in 1949, Shanghai was on the way to economic recovery. The industry got a fast development during the period. Together with the recovery, Shanghai city layout became clearer by degrees in the form of 'city center – suburb – satellite town'.

11. Shanghai Today – International Metropolis
Since China's Reform and Opening-up in 1978, Shanghai has greatly benefited from its own advantages and favorable national policies. With the reform and restructuring of economic system, the city developed its indigenous economy and improved living standards of its people. Open-minded introduction of foreign capital, advanced foreign technologies and management methods speeded up its development. Nowadays the international metropolis of the city is an influential economic power in the world and undoubtedly an economic, financial, trade, cultural, science and technology center of China.