Shanghai Events
Shining like a bright pearl in the oriental world with ever rising international position and influence, Shanghai is a place preferred by many for holding numerous varied events, including festivals, performances, competitions, exhibitions and conferences. If you can experience one such exciting event, it will greatly enhance your stay in the city.
Itching to try some? Here we give a brief introduction to the main events held in Shanghai. Go ahead and get more detailed information on the ones in which you are interested, such as features, activities and most importantly - the schedule.



Festivals

Performances

Competitions

Exhibitions

Conventions


Festivals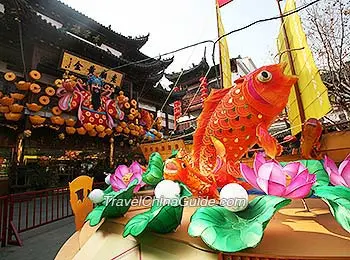 Festival Time in Shanghai
You can expect both traditional and modern festivals with distinctive local features in Shanghai.
As it was developed from a small fishing village, Shanghai strived to keep many of its Chinese folk customs; thus there are several traditional festivals and activities still to be seen there such as New Year Bell Striking, Yuyuan Lantern Festival and Longhua Temple Fair.
Besides its modern achievements, it boasts attractive natural scenery and a special cultural foundation. Therefore a number of modern festivals are held here to showcase them; for example, Peachblossom Festival, International Tea Culture Festival, International Flower Festival, Television Festival, International Arts Festival and Shanghai Tourism Festival.


Performances
Having the best cultural center in eastern China with a number of large quality stages and theaters, Shanghai is favored by many artists,
bands, troupes and orchestras.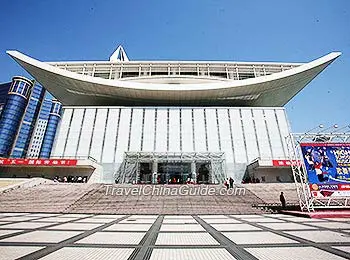 Grand Theater
If you are an art lover, the great many vocal concerts, musical concerts, operas, dance performances and dramas shown will be sure to satisfy your needs.
The most prominent and popular places which hold such various performances include:

Grand Theater

Oriental Art Center

Concert Hall

Grand Stage

Circus World

Yi Fu Theater

Dramatic Arts Center

Lyceum Theater

Art Theatre
If you want to see something special, the Portman Acrobatic Show at Shanghai Center Theater is highly recommended. And if you are fond of traditional Chinese opera, Yuyuan Theater near Yuyuan Garden should be your first choice.


Competitions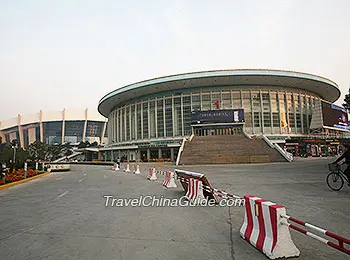 Shanghai Stadium
Shanghai's vigor is embodied by the impulsive development of its economy, and even more so by its multifarious competitions; especially sporting events.
Shanghai Stadium is the largest comprehensive site in the city for many national and international sports competitions. 2007 Special Olympics World Summer Games were held there. In August 2008, the preliminary football matches of the Beijing Olympic Games was held there, also.
The city is a paradise for fans of Formula 1 racing. Please make sure before you go that your heart is ready for the great excitement brought by the F1 Chinese Grand Prix at the Shanghai Circuit.


Exhibitions
Shanghai has drawn attention from all over the world when it held the
World Expo
in 2010. Exhibition is an indispensable part of the city. It is a very useful means to showcase the development and achievement in a certain field, offer a channel for communication and education, as well as pave the way for future trade potential.
It has quite a few important exhibition halls which mainly hold business exhibits. These include New International Expo Center, Intex Shanghai, Shanghai Exhibition Center, East Asia Exhibition Center, Everbright Convention & Exhibition Center and Shanghaimart Expo.
Cultural, educational and recreational exhibits are also held frequently. Shanghai Museum, Art Museum and Science & Technology Museum are popular sites.


Conventions
Shanghai is always busy holding various meetings and activities especially some high-level political and economic conferences. Shanghai International Convention Center is the most outstanding and experienced in hosting such conferences; for example, Fortune Global Forum Shanghai Annual Meeting was successfully held there in 1999. The 9th Informal APEC Leadership Meeting in 2001 and the 6th Council of Heads of SCO Member States in 2006 were of importance and were also held there.
- Last modified on Aug. 01, 2017 -
Questions & Answers on Shanghai Events
Asked by Roel Abenilla from QATAR | Jul. 29, 2017 00:59

Reply
I Would like to ask the List of Schedule of all Trade Fair or exhibit in Shanghai.
in related to Sale of Merchandise like Toys etc and retails.

Thank you and more power!
Answers (1)
Answered by Jerry from CANADA | Aug. 01, 2017 04:19

0

0

Reply
The following are the information I get from the internet.
The 17th CBME: children's show 2017/7/19---2017/7/21
The 111th Chinese grocery commodities fair and Chinese modern household goods exposition 2017/8/3---2017/8/5
The 14th Shanghai International Model Exhibition 2017/8/18---2017/8/20
The 20th Asia pet exhibition (2017) 2017/8/24---2017/8/27
Famous brand of world trade 2017 expo 2017/9/13---2017/9/17
2017 China (Shanghai) children's exposition 2017/9/16---2017/9/17
2017 China Licensing Expo 2017/10/18---2017/10/20
China International Baby Articles Fair 2017/10/18---2017/10/20
Asked by Mafalda from AUSTRIA | Dec. 08, 2014 13:06

Reply
ETA intersection of time, Shanghai Circus
Be so kind to give me the booking date for performane on the 30th of April 2015

Thanks a lot
Mafaldw
Answers (1)
Answered by Nico from MEXICO | Dec. 08, 2014 20:04

0

1

Reply
So far, visitors can book the entrance ticket before Feb. 7th. So you cannot book the ticket on that day now. Trey to look through the official website of SH Circus World. May you can book the ticket in February, 2015.
Asked by Rod from NEW ZEALAND | Jun. 30, 2013 05:22

Reply
We are in Shanghai for this week 1st week of July and what events happen during that time?
Answers (1)
Answered by Bob from CANADA | Jun. 30, 2013 21:45

1

3

Reply
There are many exhibitions such as Robot Exhibition and performances such as drama in that city during that time.
What kind of events do you prefer to see? If you can tell me more detail information, I may help you to find more exact and detail information.
Asked by mary scantlebury from UNITED STATES | Sep. 03, 2011 13:53

Reply
An Activity Nov. 11- Nov. 16, 2011 in Shanghai?
Are there any special activities going on Nov. 11 through Nov. 16, 2011?
Than you
Answers (1)
Answered by Candy from CHINA | Sep. 03, 2011 21:00

0

1

Reply
I just know that the Intercontinental Le Mans Cup - 2011 will be held on No.11 through Nov. 13, 2011 in the city.
Asked by Mr.KIWI7 from NEW ZEALAND | Jul. 25, 2011 03:41

Reply
Are there any IT conferences or exhibits on between 13 to 22 August 2011?
Answers (1)
Answered by Sandy from CHINA | Jul. 25, 2011 04:17

1

1

Reply
There seems no IT conferences or exhibits during that time in Shanghai.