Shanghai Events
Shining like a bright pearl in the oriental world with ever rising international position and influence, Shanghai is a place preferred by many for holding numerous varied events, including
festivals
,
performances
,
competitions
,
exhibitions
, and
conventions
. If you can experience one such exciting event, it will greatly enhance your stay in the city.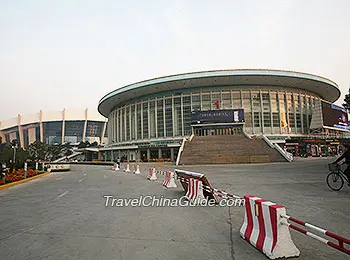 Shanghai Stadium
2020 Top 10 Events in Shanghai
1. New Year Bell Striking
Time: New Year's Eve
Place: Longhua Temple

On the last day of each year, many locals and even foreigners head to the Longhua Temple to take part in the New Year celebration: Bell Striking at 00:00. The bell is expected to strike for 108 times, which means dispel the misery of the old year and welcome good luck in the New Year. Apart from that, visitors can watch folk performances, guess the lantern riddles and make wishes before the prayer wall.

2. Yu Garden Lantern Festival
Time: Jan. 24 – Feb. 10
Place: Yu Garden

As night comes, all the delicate handmade lanterns light up the sky and add carnival atmosphere. What may surprise you is that all the lanterns are designed in life-like images with colorful textile cover on. Itching to have a look?

3. The 3rd China International Import Expo
Time: Nov. 5 - 10
Place: Shanghai International Expo Centre

The exhibition includes eight main parts, covering Sci-tech life, automobile, high-end equipment, intelligent manufacturing, medical equipment, quality life, trade in services and agricultural products. The 3rd China International Import Expo remains committed to trade liberalization and economic globalization.

4. Tourism Festival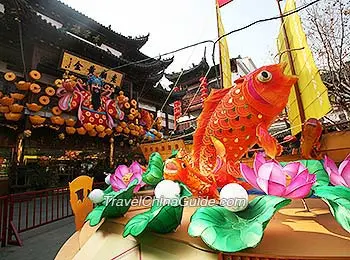 Festival Time in Shanghai
Time: Sep.15 to Oct.6
Place: along the shore of Huangpu River

Most activities are closely related to sightseeing, dining, shopping, entertaining and exhibitions, fully showing visitors the irresistible charm of the city. Opening ceremonial grand parade, carnival and cruise ship parade across Huangpu River must highlight your Shanghai trip during this time.

5. Shanghai Haiwan Half Marathon
Time: Late Apr.2020
It has two race categories, including the 13 miles (21 kilometers) run and the 4 miles (7 kilometers) fun run. Both Chinese and foreigners can join the event. The half marathon should be finished within 3 hours and the fun run within 1.5 hours.
6. NBA China Games
Time: Oct. 10
Place: Shanghai Mercedes – Benz Arena
NBA China Games has been successfully held for 12 years. Every October, several selected NBA teams have basketball matches in Shanghai.
7. The 21th Annual Ring Expo in China
Time: Apr.21-23
Place: Shanghai New International Expo Center
Adhering to the excellent quality of the global environmental brand exhibition IFAT Germany for 50 years, the Annual Ring Expo in China will gather the world's top sewage treatment, water supply and drainage, solid waste treatment, Cutting-edge technologies and the latest solutions in the field of environmental pollution control.
8. FHC 2020 China
Time: Nov.10-12
Place: Shanghai New International Expo Center
After 23 years of development, FHC has become the industry's leading trade show. It is a platform for the food and beverage and hotel industries to enter the Chinese market. A total of 3,000 companies from 48 countries and regions participated in the last exhibition. The exhibition area expanded to 120,000 square meters. The three-day exhibition welcomed a total of 118,274 professional visitors, and the attendance rate increased by 23% over the past.
9. China Wedding Expo 2020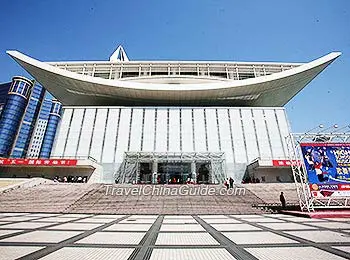 Grand Theater
Time: Feb.18-20
Place: Shanghai National Exhibition & Convention Center (NECC)
Shanghai International Wedding Photographic Equipment Exhibition (China Wedding Expo) has become the largest and most influential industry event in China and even the global wedding industry. The Shanghai International Wedding Photographic Equipment Exhibition had a total area of 150,000 square meters. The 650 participating companies were from the United States, Italy, France, Ukraine, Russia, Spain, Malaysia, Japan, Singapore, South Korea, Turkey, Hong Kong and other countries and regions.
10. World Travel Fair 2020
Time: Apr.23-26
Place: Shanghai Exhibition Center
Shanghai
World Travel Fair
is a travel exhibition co-organized by Shanghai Culture and Tourism Bureau. As one of the premier annual tourism procurement events in China, the World Travel Fair always insists on organizing high-quality tourism resources and tourism service companies at home and abroad, presenting rich and diverse tourism resources to domestic tourism buyers and many travel enthusiasts.
2020 Shanghai Events by Month
Month
Major Events
Time
January
New Year Bell Striking
Dec. 31 – Jan. 1
7th
2020 4th International Conference on Economics, Fiance and Statistics
Jan.1
February
21th China International Agricultural Chemicals and Plant Protection Exhibition
Feb. 24 - 26
2020 4th Smart Home Asia Summit & Mini Expo 2020
Feb. 13 - 14
March
The 10th China Digital Marketing and E-commerce Innovation Summit
Mar. 5 - 6
Peach Blossom Festival
late Mar. to early Apr.
April
Longhua Temple Fair
Mar.26 - Apr.1
F1 Chinese Grand Prix
Apr. 17 – 19
May
International Tea Culture Festival
Mid May
Longines Global Champion Tour
May 8 - 10
June
International Film Festival
Jun. 8 - 12
2020 China International Pension, Assistive Device and Rehabilitation Medical Expo
Jun. 11 - 13
July
The 20th China (International) Motor Expo And Forum 2020
Jul. 8 - 10
The 114th China General Merchandise Fair and China Modern Household Goods Fair
July 23 - 25
August
2020 International Franchise Exhibition
Aug. 14 - 16
The 12th International Lithium Battery Industry Fair
Aug. 26 - 28
September
The 2020 International Exhibition of Smart Home
Sept. 2 - 4
2020 China International Advertising Show
Sept.17 - 19
October
China International Exhibition All about Printing Technology & Equipment
Oct.12 - 16
2020 China International Exhibition of Musical Instruments
Oct.28 - 31
November
2020 33th International Franchise Exhibition;
Nov.10 - 12

2020 Shanghai Steam Culture Week Electronic Smoke Exhibition

Nov. 16 - 18
December
China International Concrete Industry Exhibition 2020
Dec.9-11
Bus Expo 2020
Dec. 14 - 16
- Last updated on Dec. 26, 2019 -
Questions & Answers on Shanghai Events
Asked by Roel Abenilla from QATAR | Jul. 29, 2017 00:59

Reply
I Would like to ask the List of Schedule of all Trade Fair or exhibit in Shanghai.
in related to Sale of Merchandise like Toys etc and retails.

Thank you and more power!
Answers (1)
Answered by Jerry from CANADA | Aug. 01, 2017 04:19

0

0

Reply
The following are the information I get from the internet.
The 17th CBME: children's show 2017/7/19---2017/7/21
The 111th Chinese grocery commodities fair and Chinese modern household goods exposition 2017/8/3---2017/8/5
The 14th Shanghai International Model Exhibition 2017/8/18---2017/8/20
The 20th Asia pet exhibition (2017) 2017/8/24---2017/8/27
Famous brand of world trade 2017 expo 2017/9/13---2017/9/17
2017 China (Shanghai) children's exposition 2017/9/16---2017/9/17
2017 China Licensing Expo 2017/10/18---2017/10/20
China International Baby Articles Fair 2017/10/18---2017/10/20
Asked by Mafalda from AUSTRIA | Dec. 08, 2014 13:06

Reply
ETA intersection of time, Shanghai Circus
Be so kind to give me the booking date for performane on the 30th of April 2015

Thanks a lot
Mafaldw
Answers (1)
Answered by Nico from MEXICO | Dec. 08, 2014 20:04

0

1

Reply
So far, visitors can book the entrance ticket before Feb. 7th. So you cannot book the ticket on that day now. Trey to look through the official website of SH Circus World. May you can book the ticket in February, 2015.
Asked by Rod from NEW ZEALAND | Jun. 30, 2013 05:22

Reply
We are in Shanghai for this week 1st week of July and what events happen during that time?
Answers (1)
Answered by Bob from CANADA | Jun. 30, 2013 21:45

1

3

Reply
There are many exhibitions such as Robot Exhibition and performances such as drama in that city during that time.
What kind of events do you prefer to see? If you can tell me more detail information, I may help you to find more exact and detail information.
Asked by mary scantlebury from UNITED STATES | Sep. 03, 2011 13:53

Reply
An Activity Nov. 11- Nov. 16, 2011 in Shanghai?
Are there any special activities going on Nov. 11 through Nov. 16, 2011?
Than you
Answers (1)
Answered by Candy from CHINA | Sep. 03, 2011 21:00

0

1

Reply
I just know that the Intercontinental Le Mans Cup - 2011 will be held on No.11 through Nov. 13, 2011 in the city.