Performances in Shanghai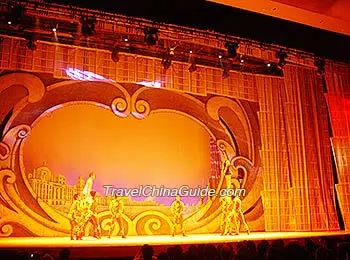 Acrobatics Show
As a cultural and art center in eastern China, Shanghai is a paradise for art lovers and renowned for the huge variety of performances seen there.
Although Shanghai is an ultra-modern city, it preserves and encourages many traditional Chinese folk customs and art forms. Yueju, which originated in Zhejiang, is the local form of opera and is very popular throughout southeast China. You can see Yueju in several theaters in the city as well as many other traditional entertainments. These include Beijing Opera, other forms of traditional Chinese operas, Chinese music, the dragon dance and the lion dance. Acrobatics are also worthy of mention here as a Chinese acrobatic show is certain to amaze you.
Should you wish to see a classical western style performance then Shanghai will not disappoint you. Owing its unique historical past, the city is a place where western and eastern cultures meet. Therefore, many world famous symphony concerts, operas, ballets and dramas are shown here every day.
If you follow the stars, Shanghai is surly the right place for you, as many internationally famous singers and bands stage concerts here. Who knows, maybe you will be lucky and catch a wonderful performance by your own particular idol during your stay in the city.
The prosperity of the city's performances is to some extent due to its various quality stages and theaters. The following table lists the cities major venues. You can click the most important ones in bold to know more about the performance sites, including their features and program schedules.
2022 Shanghai Popular Performance
Ballet: Swan Lake, Giselle
Dance: Thousands Miles of Mountains and Rivers, Goddess and the Dreamer
Drama: Sleep No More, Secret Love in Peach Blossom Land
Concert: Bach & Piazolla for Two, Celadon Movement
| | | |
| --- | --- | --- |
| Performance Site | Specialties | Address |
| Shanghai Grand Theater | drama, vocal concert, musical concert, music drama, ballet, opera | No. 300, People's Avenue, Huangpu District |
| Shanghai Oriental Art Center | drama, concert, opera, ballet | No. 425, Dingxiang Road, Pudong New Area |
| Shanghai Concert Hall | symphony, musical concert, vocal concert | No. 523, East Yan'an Road, Huangpu District |
| Shanghai Grand Stage | vocal concert | No. 1111, North Caoxi Road, Xuhui District |
| Shanghai Circus World | ERA Intersection of Time, Happy Circus | No. 2266, Gonghe Xin Road, Zhabei District |
| Yi Fu Theater | Beijing Opera, other Chinese traditional operas | No. 701, Fuzhou Road, Huangpu District |
| Shanghai Dramatic Arts Center | drama | No. 288, Anfu Road, Xuhui District |
| Lyceum Theater | the living theater, music drama, symphony | No 57, South Maoming Road, Huangpu District |
| Majestic Theater | opera, ballet, music and dance | No 66, Jiangning Road, Jing'an District |
| Shanghai Center Theater | Acrobatic Show | F10, No 1376, West Nanjing Road, Jing'an District |
| China Grand Theater | Beijing Opera | F2, No. 704, Niuzhuang Road, Huangpu District |
| Yuyuan Theater | Beijing Opera, Kunqu, Pingtan, traditional Chinese music, dragon & lion dance, acrobatics | F4, No. 10, Wenchang Road, Huangpu District |
| Wanping Theater | Chinese opera | No. 859, South Zhongshan 2nd Road, Xuhui District |
| He Luting Concert Hall | symphony, chamber music | No. 20, Fenyang Road, Xuhui District |
| Shanghai Stadium | vocal concert | No 666, Tianyaoqiao Road, Xuhui District |
| Hongkou Football Stadium | vocal concert | No 444, East Jiangwan Road, Hongkou District |
| Shanghai Art Theater | Chinese opera, drama, dance | No. 466, Jiangning Road, Jing'an District |
| Yun Feng Theater | acrobatics, drama | No. 1700, West Beijing Road, Jing'an District |
| Children's Art Center of China Welfare | dramas and performances for children | No. 643, Huashan Road, Jing'an District |
- Last updated on Jul. 05, 2022 -