Shanghai Grand Theater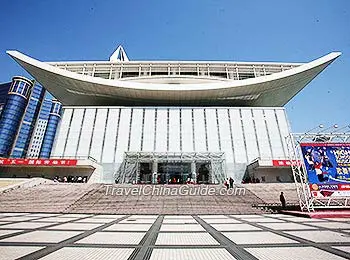 With a distinctive architectural style and a brilliant appearance, Shanghai Grand Theater is a city landmark. Located at
People's Square
in the city center, it faces People's Avenue to the south, North Huangpi Road to the west and Shanghai Municipal Government Building to the east.
Opened in 1998, the Grand Theater has one of the largest and best equipped automatic stages in the world. It was designed by ARTE Charpentier, a famous architecture design company established by Jean-Marie Charpentier, a brilliant French architect and urban planner. When night falls, the whole construction resembles a crystal palace.
Having three theaters of different sizes and being equipped with advanced lighting and stereo facilities, the Grand Theater is now the stage for world-class works of art, international art activities and education.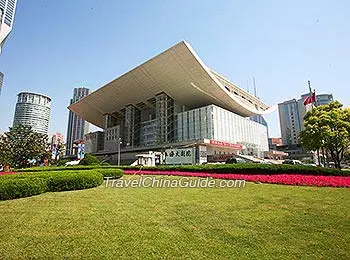 Concerts performed at the Grand Theater include The Three Tenors, plus many European operas, classical music dramas and musical concerts by the top symphony orchestras. Performances by some of the world's most-famous ballet companies are often given in the large theater. Also, a number of original Chinese operas, dramas, pantomimes and traditional musical concerts can frequently be seen. Quite a few international art activities are held here, including the China Shanghai International Art Festival, the SCO Members Art Festival, the Shanghai International Film Festival, the French Culture Year, the Italian Culture Year and the German Culture Week.



Address: No. 300, People's Avenue, Huangpu District
Transportation: Take bus nos. 17, 18, 20, 23, 37, 46, 109, 112 or 123, or metro lines 1, 2 or 8, and get off at People's Square.
Ticket Booking Line: 021-63728702 / 63723833 / 63598032 / 63271943
2018 Performance Schedule:
Performance
Date
Ticket (CNY)
Drama: Uncle Yanya
19:30, Apr. 1st (Sun.)
580, 380, 280, 180, 80
Drama: Jane Eyre
19:30, Apr. 3rd ~ 8th;
14:00, Apr. 7th (Sat.)
380, 280, 180, 120, 60, 50
Opera: Nabucco
19:15, Apr.11th ~ 13th
880, 580, 380, 280, 180, 80
Drama: Revel's World of Shakespeare
19:30, Apr. 20th ~ 22nd
300, 260, 180, 100, 50
Drama: Lungs
19:30, Apr. 24th ~ 26th
380, 280, 180, 80, 50
Concert: The Thousand and One Nights
19:30, Apr. 28th (Sat.)
300, 260, 180, 100, 50
Musical: Snow White
10:30, May 1st (Tue.)
150, 100, 50
Peking Opera
13:30, May 1st (Tue.)
980, 680, 480, 280
Concert: Baroque's Brilliance and Elegance
19:15, May 2nd (Wed.)
500, 280, 180, 80
Drama: 1984
19:30, May 2nd ~ 4th
250, 180, 150, 50
Concert: Splendid China
19:15, May 5th (Sat.)
580, 380, 280, 180, 80
Drama: Julius Caesar
19:30, May 10th ~ 13th
380, 280, 180, 120, 60, 50
Opera: The Tsar's Bride
19:15, May 14th ~ 16th
1580, 1280, 980, 680, 480, 280, 180, 80
Musical: Snow White
10:30, Jun. 2nd & 3rd;
15:30, Jun. 2nd (Sat.)
150, 100, 50
Concert: Sky City
19:30, Jun. 15th (Fri.)
300, 260, 180, 100, 50
Monodrama: An Iliad
19:30, Jun. 22nd & 23rd
300, 260, 180, 100, 50
Drama: Notre Dame de Paris
19:30, Jun. 26th ~ 30th;
14:00, Jun. 30th (Sat.)
380, 280, 180, 120, 60, 50