Shanghai Grand Theater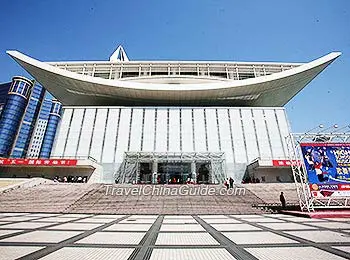 With a distinctive architectural style and a brilliant appearance, Shanghai Grand Theater is a city landmark. Located at
People's Square
in the city center, it faces People's Avenue to the south, North Huangpi Road to the west and Shanghai Municipal Government Building to the east.
Opened in 1998, the Grand Theater has one of the largest and best equipped automatic stages in the world. It was designed by ARTE Charpentier, a famous architecture design company established by Jean-Marie Charpentier, a brilliant French architect and urban planner. When night falls, the whole construction resembles a crystal palace.

The capacity of Shanghai Grand Theater covers 64,000 square meters, containing three large, medium and small theaters. The Grand Theater adopts the most advanced automatic mechanical stage in the world and equips with advanced lighting and stereo facilities. Nowadays, the Grand Theater is the stage for world-class works of art, international art activities and education.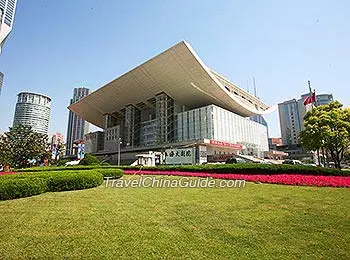 Concerts performed at the Grand Theater include The Three Tenors, plus many European operas, classical music dramas and musical concerts by the top symphony orchestras. Performances by some of the world's most-famous ballet companies are often given in the large theater. Also, a number of original Chinese operas, dramas, pantomimes and traditional musical concerts can frequently be seen. Quite a few international art activities are held here, including the China Shanghai International Art Festival, the SCO Members Art Festival, the Shanghai International Film Festival, the French Culture Year, the Italian Culture Year and the German Culture Week. People can find detailed 2019 performance schedule on this page.

How to Buy Tickets
1. Buy performance tickets at Ticket Center of Shanghai Grand Theater.
It is located at Gate No. G1 (No. 200, North Huangpi Road). The opening hours of Ticket Center are 09:00 to 20:00 from Monday to Sunday.
2. Book the tickets by phone or e-mail.
Ticket Booking Line: +86 021-400-106-8686
E-mail: kf@shgtheatre.com
3. Purchase the tickets at the official website of Grand Theater.
4. Other Ticket Centers in downtown area:
Huangpu District: 1F, Shenxin Mansion, No. 200, East Ninghai Road
Changning District: Shanghai International Gymnastic Center, No. 565, West Zhongshan Road
Jing'an District: No. 272, Fengxian Road
Xuhui District: Building F, 16F, Shiye Mansion, No. 18, North Caoxi Road

How to Get to Shanghai Grand Theater

By Metro:
Take Metro line 1, line 2 or line 8 to get to People's Square Station. Then walk southwest around 500 meters to find the theater.



By Bus:
Take bus No. 23, 49, 109 or 324 to get to North Huangpi Road Wusheng Road. Then walk north around 200 meters to arrive at Shanghai Grand Theater.
Take bus No. 46, 49, 123, 145 or 312 and get off at People's Square. Then walk northwest around 350 meters.
2019 Shanghai Grand Theater Performance Schedule
Performance

Date

Ticket Fare (CNY)

Drama: Rhinoceros in Love
14:30, Oct.2nd, 4th, 6th, 7th;
19:30, Oct.1st ~ 13th
380, 250, 200, 150, 100, 50
Concert: Dong Fang Hong
19:15, Oct.1st (Tues.)
680, 580, 480, 380, 280, 180, 80, 50
Peking Opera: Mu Guiying Takes Command
19:15, Oct.3rd (Thur.)
880, 580, 380, 280, 180, 120, 80
Dumb Show: Perhaps, Perhaps...Quizas
14:30, Oct.7th (Mon.), Oct.13th (Sun.);
19:30, Oct.5th ~ Oct.6th; Oct.9th ~10th, Oct.12th ~ 13th
280, 180, 100, 50
Opera: La Forza Del Destino
13:00, Oct.6th (Sun.)
150, 100
Musical: Renascence My Carrot
14:00, Oct.19th ~ Oct.20th;
19:30, Oct.18th ~ Oct.19th
360, 280, 180, 60, 50
New Circus: Dawn in Shanghai
19:15, Oct. 19th (Sat.)
580, 480, 380, 280, 160, 80
Monodrama: Misterman
19:30, Oct.22nd ~ 23rd
380, 280, 180, 80, 50
New Circus: Karbido The Table
14:30, Oct.26th ~ 27th;
19:30, Oct.24th ~ Oct.25th; Oct.26th ~ Oct.27th
280, 180, 100
Concert: Beethoven Piano Sonatas
19:30, Oct.26th (Sat.)
280, 210, 160, 50
Concert: State Chamber Orchestra of the Republic of Belarus
19:30, Oct.27th (Sun.)
480, 380, 280, 180, 80, 50
Drama: Antigone
19:30, Oct.30th ~ Nov.2nd;
14:30, Nov.3rd (Sun.)
380, 280, 180, 80
Drama: Wuthering Heights
19:30, Nov.1st ~ Nov.3rd;
14:00, Nov.2nd ~ Nov.3rd
380, 280, 180, 120, 60, 50
Drama: The Architecture of the City
19:30, Nov.1st ~ Nov.2nd
680, 580, 480, 380, 180, 120, 80
Dance: Oscillate
19:30, Nov.6th ~ Nov.9th;
14:30, Nov.10th (Sun.)
380, 280, 180, 80
Concert: Paris Opera Academy
19:15, Nov.11th (Mon.)
580, 480, 280, 160, 100, 80
Ballet: Master
19:15, Nov.13th ~ Nov.14th
880, 680, 480, 380, 280, 180, 80
Musical: In the Moon for Sorrow
19:30, Nov.14th ~ Nov.17th;
14:00, Nov.16th ~ Nov.17th
480, 380, 280, 160, 50
Dance: Tiger & Tiger Tale
19:30, Nov.20th ~ Nov.22nd
280, 180, 100
Concert: Castle in the Sky
19:30, Nov.21st (Thur.)
380, 280, 220, 180, 100, 50
Drama: Interiors
19:30, Nov.28th ~ Nov.30th;
14:30, Dec.1st (Mon.)
500, 380, 280, 160, 80, 50
Comedy: Xi Tai
19:15, Dec.4th ~ Dec.7th
1080, 880, 680, 480, 280, 160, 80
Drama: Notre Dame de Paris
19:30, Dec.5th ~ Dec.8th;
14:00, Dec.7th ~ Dec.8th
380, 280, 180, 120, 60, 50
Opera: Turanot
19:15, Dec.13th ~ Dec.15th
980, 780, 580, 380, 280, 160, 80
Drama: Dans Ia Solitude des Champs de Coton
19:30, Dec.17th ~ Dec.18th
500, 380, 280, 160, 80, 50
Ballet: The Nutcracker
19:15, Dec.23rd ~ Dec.25th
680, 580, 480, 380, 280, 160, 80
New Year's Concert
19:30, Dec.30th ~ Dec.31st
980, 780, 680, 580, 480, 380, 280, 160, 80
- Last modified on Sep. 29, 2019 -