Shanghai People's Square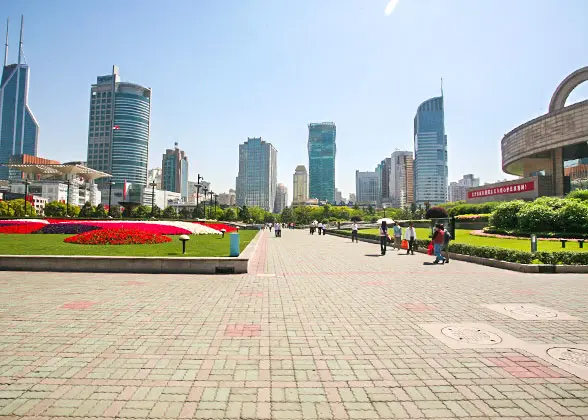 People's Square
With
Nanjing Road
in its north, Shanghai People's Square is located at the very center of Shanghai and is the demarcation point of East Nanjing Road and West Nanjing Road. With Yan'an Gaojia Road in its south, Huangpi North Road in its west and Tibetan Central Road in its east, it is a flourishing place for people to look around.
This area was once the racecourse regarded as the 'No. 1 racecourse Far East' but was destroyed later. In 1949, the People's Avenue was built across the center of the area with the
People's Park
built on the north side and the People's Square on the south part. By the end of 1993, through a comprehensive reconstruction, it covered an area about 140,000 square meters and has become the largest public square of the city.
After renovation, the new Municipal Government Mansion lies in the center of the northern People's Square, while the
Shanghai Museum
, which was designed to resemble a Chinese cooking pot, is located to its south. Flanked on both sides by 17-meter-wide green belts, People's Avenue goes across the center of the square. At the northwest corner sits the
Shanghai Grand Theater
which is a colossal construction made almost entirely from glass which is balanced by the
Urban Planning Exhibition Hall
in the east and in the northeast side lies the subway station. Along the south side of the People's Avenue, there are several large underground structures, including Hong Kong Famous Brands Street and Dimei Shopping Center, the largest underground city transformer substation of Asia and the largest underground parking garage of Shanghai.
| | |
| --- | --- |
| Shanghai Municipal Government Mansion | Shanghai Museum |
The central plaza, with an area of 3.844 square meters, is located in the south side of the People's Avenue. Two small squares sit on both sides of the central square. The easterly one is Xuri Square (the Rising Sun Square) while the southern one is Mingyue Square (the Light Moon Square). In the center of the central plaza lies the circular musical fountain (320 square meters). The red, yellow and blue glassy sidesteps of the fountain provides a colorful aura which is beautiful and spectacular. The fountain is surrounded by four purple cupreous parterres while the center of the fountain highlights the territory of the city. On each of the four entry steps stand embossments showing traditional culture traits.

People's Avenue, a 600 meter long, 32 meter wide pavement, crosses People's Square with a 5.5-meter-wide greenbelt and 6.5-meter-wide non-motor vehicle lanes on both sides of the avenue. The total greenbelt of People's Square is about 80,000 square meters and extends gradually in all directions from the circular fountain.

A blue and white dovecot can be seen in the southwest side of the People's Square. Every day visitors will see thousands of doves which provide a peaceful and matronly atmosphere there. Moreover, the square is one of the city's important transportation hubs, so there are loads of jumping-off stops of public traffic routs around it. Visitors can get there easily.
| | |
| --- | --- |
| Grand Theater | Urban Planning Exhibition Hall |
How to get to People's Square, Shanghai
1. Take Metro
Line 1
,
Line 2
or
Line 8
and get off at People's Square Station.
2. Take
City Sightseeing Bus
Line 1 or Line 2 to get there.
3. Take bus 46, 49, 123, 145, 312, 451, or Shangchuan Special Line and get off at Renmin Guangchang (People's Square) Station.
See more
How to Get from Shanghai Hongqiao Railway Station to People's Square & Nanjing Road
Shanghai Bus / Metro Search
| | |
| --- | --- |
| Entrance Fee: | Free |
| Opening Hours: | All Day |

Read more:

​
15 Most Beautiful Places in Shanghai in Spring
- Last updated on Apr. 08, 2021 -
Questions & Answers on Shanghai People\s Square
Asked by Deepak Adhikary from NEPAL | Jul. 04, 2019 02:07

Reply
Shanghai People's Square operation hours
Hi Friends,

By the time we reach People's Square it may be late evening around 07:30PM or 08:00PM. Thus, we would like to know by what time People's Square is lively. We won't be visiting any specific places like museums, galleries or anything, but we would like to stroll around the area for sometime and enter some restaurant for dinner.

Please let us know, which exit should we follow at People's Square subway station while coming from Line 2 for the better view of People's Square area and suggest some areas with restaurants for dinner.

Thank you so much for helping us.

Deepak.
Answers (1)
Answered by Betty from USA | Jul. 04, 2019 20:59

0

0

Reply
1. It is always very lively in the evening around from 19:00 to 22:00.
2. You can get out of Exit 1.
3. There are various restaurants in this area. You can stroll around and pick one, like Nanjing Dapaidang, which is located at F3, Shimao Mall, No.258, West Nanjing Road.

Hope helpful!
Asked by Hock Yew from MALAYSIA | Nov. 17, 2018 04:31

Reply
people's square in Shanghai
apparently i saw in the map, there are 2 people's square, one is opposite the hong kong shopping centre, one more is near the people's park, may i know which is the tourist place ?
Answers (1)
Answered by Omar from USA | Nov. 19, 2018 00:09

0

0

Reply
The one near the People's Park is what you really want to go and its location is No.120 People's Avenue, Huangpu District.
Asked by Eng from USA | Oct. 16, 2015 07:44

Reply
How big is People's Square subway station?
either is square kilometres or square miles?
Answers (3)
Answered by Potter from USA | Oct. 17, 2015 01:01

1

2

Reply
This subway station totally has two transfer halls.
The underground one (B1) is about 10250 square yards. The B2 level is about 1350 square yards.
Answered by Eng from USA | Oct. 17, 2015 06:52

2

0

Reply
Square yards? Any chance you know it in square kilometres or square miles? Or is that a typoo? Thank you.
Answered by Angela | Oct. 17, 2015 22:33

2

0

Reply
The B1 floor is 0.0033 sq mi (0.0086 sq km) and the B2 floor is 0.00043 sq mi (0.0011 sq km).
Asked by Loreta from LITHUANIA | Oct. 14, 2015 13:48

Reply
I want to know, where is tourist bus line 3 bus station in the Shanghai People's Square?
Can you inform more about this tourist bus line (can I begin my trip from People's Square and finish in the same place? Can I use one ticket for all day? Can I leave the bus and continue my trip after some time with the same ticket?)

Loreta
Answers (1)
Answered by Merlin from SINGAPORE | Oct. 17, 2015 22:05

2

2

Reply
Deasr Loreta, I heard all tourist bus lines have been cancelled. For your demand, it is best to experience the Metropolis Shightseeing Bus (line 1). The closest hop-on stop is East Nanjing Road, which is close to exit 10 of the metro station and Middle Henan Road. You can walk there within 10min to catch the bus. The bus costs 30RMB and accepts unlimited hop-on and hop-off within 24h. So you can start and end the trip on the same place.
Asked by Niru from INDIA | May. 15, 2015 03:05

Reply
Which exit of metro line to take at people sq for Shanghai museum?
Answers (1)
Answered by Percy | May. 15, 2015 03:10

2

0

Reply
The nearest exit is exit 1. After getting out, walk along South Xizang Road to Wusheng Road, turn right, keep walking to East Yan'an Road Cross and you'll see the museum.