Top 10 Festivals in Shanghai
Every year traditional festivals and events in Shanghai such as New Year Bell Striking, Longhua Temple Fair and Yuyuan Lantern Festival add more traditional joyous atmosphere to the fast pace of modern life. Besides, several modern Shanghai festivals like the International Film Festival attract tourists from all over the world. Here the list shows 10 most popular festivals.

The following Shanghai festivals are listed in order of dates with schedules in 2020 and brief descriptions for your reference:
Place: Inside Longhua Temple, No. 2853, Longhua Road, Xuhui District
Feature: This is a traditional activity to celebrate the New Year. At midnight on December 31st each year, many locals, as well as foreign visitors, gather in the ancient Longhua Temple, waiting for the bell to strike 108 times, welcoming in the New Year. The bell striking ceremony is considered sacred. People believe that this ceremony can dispel unhappiness and bring good luck to the attendants in the next year. Visitors can savor New Year Noodles in the temple, join in the entertainment and dancing at the square or watch the fireworks display.
| | |
| --- | --- |
| New Year in Shanghai | Festival Lanterns |
Place: Inside Yuyuan Shopping City (close to Yuyuan Garden)
Feature: Lanterns are an indispensable part of Chinese New Year celebrations. The festival is held every year from the 1st
to 18th days of the first Chinese lunar month. During the festive period, colorful lanterns can be seen on Mid-Lake Pavilion and Jiuqu Bridge in front of Yuyuan Garden. These exquisite handmade lanterns imitate natural sceneries, animals or cartoons, with expressions of good wishes painted on them. The locals believe that the lanterns can bring good fortune to them in the New Year. There are performances of dragon and lion dances and Yangge, which is a rural folk dance popular in north China. Visitors can also participate in the game of guessing lantern riddles, which is a good way to learn about traditional Chinese folk customs and culture.
Place: Pudong New Area
Feature: As a popular festivals in Shanghai, it has been successfully held since 1991. It usually takes places from late Mar. to early Apr. every year. Pudong has over 65 square kilometers (25 square miles) of peach trees. The trees usually start to blossom at the end of March, reaching full glory in the beginning of April. Datuan Peach Garden, Nanhui Peach Blossom Village, and Binhai Peach Garden are good places to admire these beautiful blossoms, whereas North City Folk Custom Village provides folk music and performances. Visitors can live a day as farmers or fishermen: fishing from boats or plowing fields. There are tasty country snacks to savor.
Place: mainly in Zhabei District
Feature: It is about a week long in Mar., Apr. or May every year, focusing on Chinese tea. Tea is indispensable in the daily lives of the Chinese people. Tea has become known and favored by many foreigners since communications between China and other countries and regions have become more and more frequent. Tea's popularity is due to not only its taste, variety, ease of preparation and beneficial health effects, but also the cultural connotation it conveys. This activity is just in order to show the distinguished tea culture. The opening ceremony is always held in Shanghai, but the closing ceremonies are usually in southern cities that are famous for their tea productions. Tea specialists, delegations and tourist groups from all over the world come to the city. Visitors can come to learn the proper way of brewing tea, taste various precious teas, watch the exhibitions or attend lectures.
Place: inside Longhua Tourist City, No 2853, Longhua Road, Xuhui District
Feature: Longhua Temple Fair has been held on Mar. 3rd of the Chinese lunar calendar every year. The fair has a history of over 400 years. On this day, many pilgrims and local people come to worship Buddha in Longhua Temple and shop for souvenirs. Visitors can come here to experience the traditional way of life of the local residents. There are also local opera and folk art performances to enjoy.
Feature: Established in 1986, it has been successfully held for more than 20 years in every June. It is now one of the most influential Chinese TV festivals, promoting the development of domestic TV industry and strengthening the communication and cooperation between Chinese and foreign television circles. Magnolia Award International TV Program Competition and Showcase is a highlight. A great number of quality TV programs gather here to compete, communicate and show its specialties. Magnolia TV Forum is another important activity, focusing on the hot topics and news of the television industry.
Feature: Short for SIFF, it is one of the largest film festivals in East Asia held in June every year. It was first held from October 7 to 14, 1993, and has been successfully held 13 times since. It awards 'Golden Goblet' Awards for best film, best director, best actor/actress, best music, best screenplay, best cinematography and other categories. In the 9th SIFF in 2006, International Student Shorts Award was introduced as a stage for the young people to communicate with renowned film masters and to display their works. International Student Shorts Award, Golden Goblet Award and Asian New Talent Award have become the three grand awards.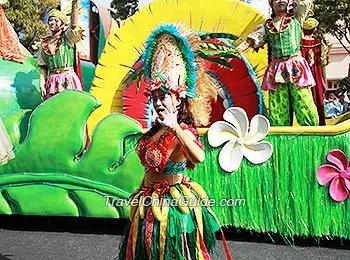 Date: Sep. 12 – Sep. 27, 2020
Feature: It is the grandest among the Shanghai modern festivals celebrated in the city. This festival usually starts from mid Sep. to early Oct. every year. Established in 1990, it attracts both the locals and the visitors by showing the city's colorful tourist products and activities relating to sightseeing, entertainment, dining, shopping and exhibitions. There are also folk customs, food, art, fashion and culture from many other countries to enjoy. Some highlights are listed below:
---- Opening Ceremonial Grand Parade: It starts at Huaihai Road in central at about 19:30 on the evening of the opening day. Accompanied by wonderful performance by artists and groups from countries worldwide, a great number of colorful floats start here and parade on the main streets of the city, including Huangpi Road, South Chongqing Road and Maoming Road.
Ticket: CNY 100/150
---- Opening Ceremonial Carnival: It is held at Century Square on Nanjing Road Pedestrian Street at about 21:00 on the evening of the opening day. Many pop stars and traditional Chinese artists show up for this party.
---- Cruise Ship Parade on Huangpu River: On an evening some time in the last ten days of September, over 20 exquisitely decorated cruise ships parade on the Huangpu River. The ships, together with the colorful lights, floats and fireworks give the attendants a memorable night. Visitors can book a cruise ship and take part in the interesting parties held on board, or simply enjoy the charming night scene of the city on the Bund.
Started in 2000, it is held in Century Park in Pudong. Pyrotechnic specialists from China and foreign countries set off fireworks with beautiful colors and patterns against the night sky. The fireworks are accompanied by melodic music, offering the audience a grand 'fire symphony'.
Ticket: CNY 70 - 260
Feature: Started from 1999, it is a high-level art and cultural activity in China. It showcases traditional Chinese art as well as brilliant cultural achievements from countries all over the world, aiming at enhancing the communication between Chinese and foreign culture and art. During the happy event, visitors can watch a variety of music, dance and drama performances, or attend cultural and art exhibitions as well as artwork trade fairs. There are culture weeks held to introduce the distinctive culture of a domestic city, province, area or a foreign country or region. For example, Singapore Culture Week and Qinghai Culture Week were held in 2007 and Mexican Culture Week was held in 2006. This is a good choice for art lovers if they visit the city in autumn.
- Last updated on Sep. 23, 2020 -
Questions & Answers on Top 10 Festivals in Shanghai
Asked by Jane from CHINA | Sep. 14, 2020 05:18

Reply
How does one get tickets for the fireworks festival in Shanghai?
What is the seating like?
Answers (1)
Answered by Joshua | Sep. 23, 2020 20:19

0

0

Reply
Well, I didn't find any news about the fireworks festival in 2020. You are suggested to pay attention to the latest information.
Asked by Diana from INDONESIA | Mar. 19, 2016 10:30

Reply
Do you know the date of cherry and peach blossom festival 2016 already in Shanghai?
And where the best place to see it?
Answers (1)
Answered by Amy from USA | Mar. 21, 2016 02:28

1

0

Reply
The cherry blossom festival lasts from March 18 to April 15, 2016. The best place is Gucun Park at No. 4788, Hutai Road, Gucun Town, Baoshan District.

The peach blossom festival lasts from March 26 to April 15, 2016. The best place is Datuan Peach Blossom Garden at No. 888, Chaichang, Zhaoqiao Village, Datuan Town, Pudong New District.
Asked by Ms.joanne from SIN | Apr. 19, 2009 00:41

Reply
hi, would like to check how to purchase the Shanghai International Music Fireworks Festival 2009,could it be purchase online as unable to check thru the offical website. tks.
Answers (1)
Answered by Ms.Cindy | May. 05, 2009 05:03

1

0

Reply
Hi, I just find its 2008's website. No English version. Book through telephone is also available.