Best Time to Visit Shanghai
The best time to visit Shanghai is autumn from September to November and spring from March to May. The moderate weather and beautiful flowers make the spring one of the best time to visit Shanghai. And in autumn, you cannot only enjoy colorful fallen leaves but also have a chance to taste delicious crabs in Shanghai.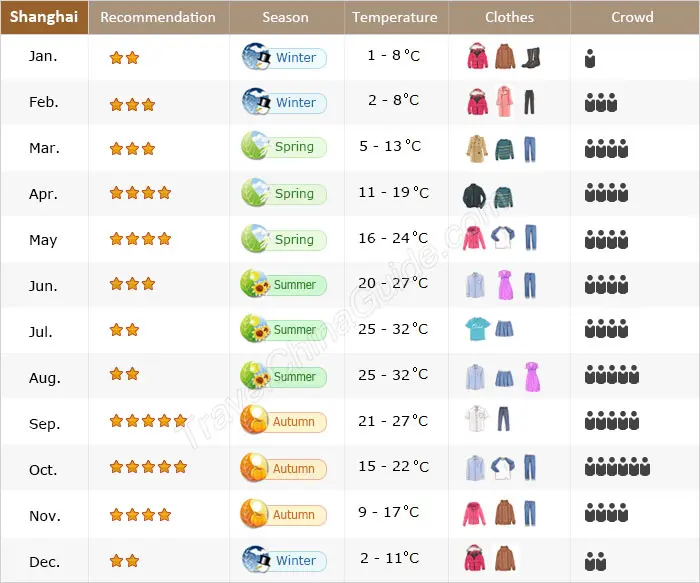 Peak Season: April to November
The peak season starts from April to November. During the time, the weather will be comfortable for you to travel to Shanghai. However, in the peak season, the higher tickets price of scenic areas, transportation fees and accommodation fares will accordingly increase your travel cost. What's more, it will be more crowded to travel in some must-visit sights.

Slack Season: December to March
The slack season to visit Shanghai is mainly in winter. As the cold weather is not very suitable for tourists to go sightseeing outdoors, there will be fewer people to travel in this period. Generally, the flight tickets, accommodation expense and entrance tickets of scenic spots will cut a lot. If you want a budget tour, touring in this season is undoubtedly a good choice.
Times to Avoid Travel
The two busiest travel season you have to avoid are the two long festivals — the Chinese National Day Holiday from October 1 to 7 and Chinese New Year in January or February. During the two holidays, large quantities of visitors flush into nearly every scenic area in China and Shanghai is one of the hottest tourist destinations. In addition, the travel cost may be triple as much as usual days and even more. See More about Public Holidays in China.

Shanghai rains more from April to September. You'd better avoid the plum rain season from mid-June to early July, when the weather is muggy and easily causes discomfort like indigestion.
Travel to Shanghai in Four Seasons
The spring weather in Shanghai always tends to be warm and humid; the obvious temperature difference between day and night will appear.
Average temperature: 6 – 14

C (43 – 57

F)
Clothes: Hoodies, thin sweaters , coats

Recommended tour destinations: Appreciating cherry blossoms in Shanghai's spring is an enjoyable thing and the cherry blossom festival in Gucun Park is a famous activity you cannot miss. Dongping Forest Park and Shanghai Botanical Garden are good places for a spring outing to see nature coming to life. Besides various parks, enjoying a good time with families in warm sunshine in Disneyland Park is wonderful. You can also wander in Tianzifang to explore some interesting shops.



See also: 15 Most Beautiful Places in Shanghai in Spring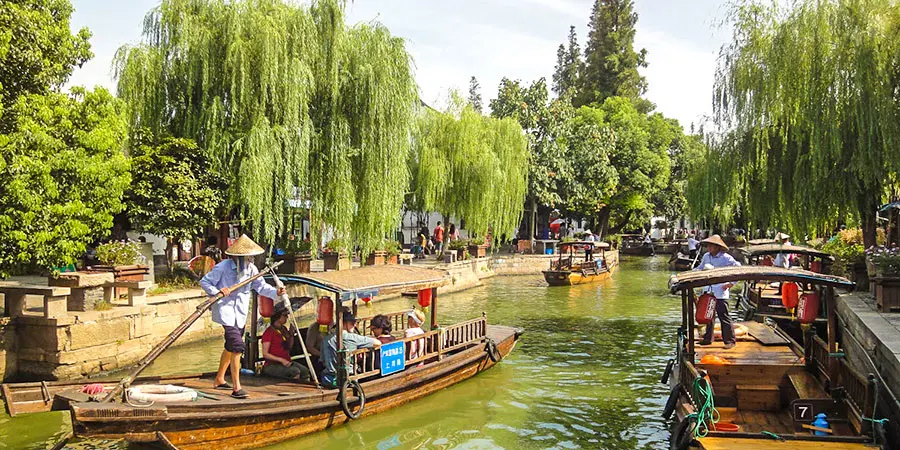 Summer days in Shanghai are sultry and hot. This is also a rainy season.
Average temperature: 21 – 28

C (70 – 82

F)
Clothes: Shirts, short sleeves, skirts

Recommended tour destinations: The night view of the Bund is gorgeous and taking a cruise on Huangpu River in summer days is one of the best ways to appreciate the city. Some cool places like Sheshan National Resort and Guyi Garden are ideal destinations to escape the summer heat. You can even enjoy the lotus exhibition in Guyi Garden. Shanghai Ocean Aquarium can not only help you cool down in hot days but also learn more knowledge about ocean creatures. It is definitely a family-friendly attraction.



See also: 12 Popular Shanghai Activities to Survive Summer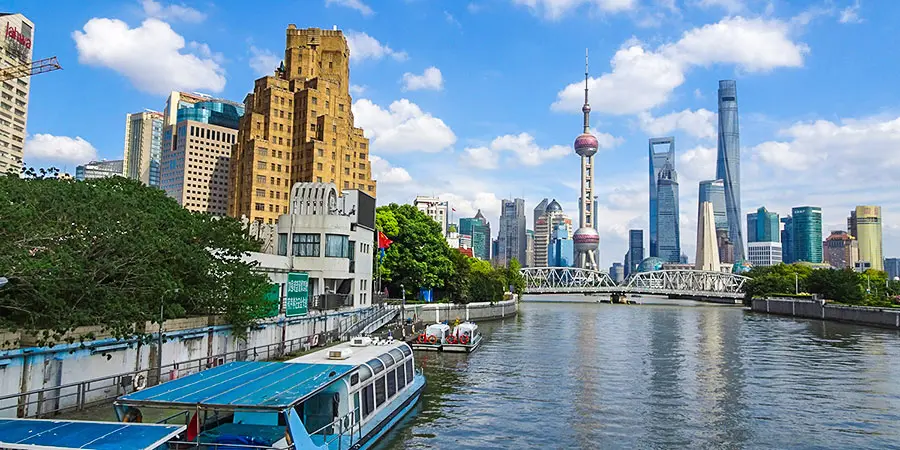 Autumn: October to November – Top Season to Visit Shanghai
The weather in autumn is cool and there is a large temperature difference between day and night.
Average temperature: 15 – 25

C (59 – 77

F)
Clothes: wind coats, thin jackets, thin sweaters

Recommended tour destinations: As the top season to visit Shanghai, the autumn gives a unique charm to the city. Attend to People's Square to enjoy the golden fallen leaves and drop by Shanghai Museum nearby which houses more than 100,000 culture relics. The Sinan Road in Former French Concession will give you a pleasant surprise in autumn. The old western buildings under colorful leaves and quiet streets make a beautiful picture. Roaming in Zhujiajiao Water Town will leave you a deep impression of its unique buildings and ancient bridges.



See also: Where to Go in Shanghai in Autumn - 11 Best Destinations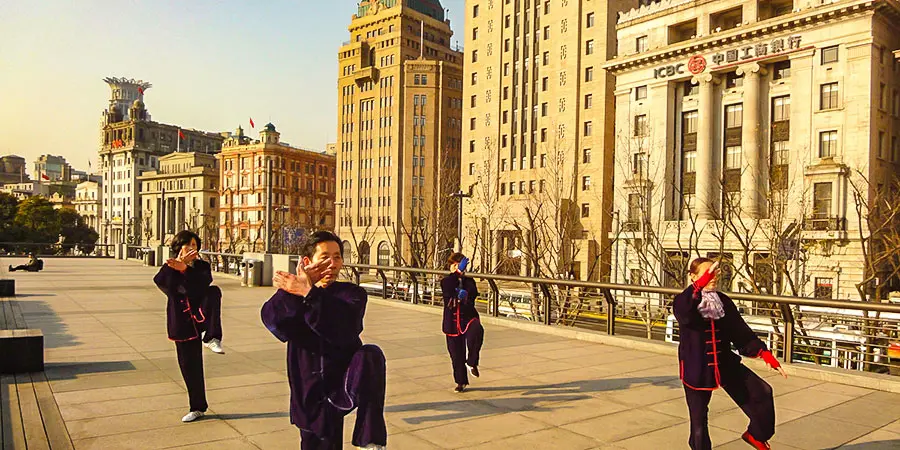 The winter in Shanghai is cold and the high humidity makes you feel much colder than the real temperature.
Average temperature: -1– 8

C (30 – 46

F)
Clothes: Down jackets, sweaters, overcoats

Recommended tour destinations: Even in cold winter, there are still some interesting activities in Shanghai. You can go to the Century Park to enjoy plum blossoms or watch migrating birds in Chongming Island. During the Chinese New Year period, there is a grand temple fair held in the Old City God Temple every year. You can not only taste some local snacks but experience a lively Chinese New Year. The Lantern Festival in Yu Garden nearby is also very attractive.



See also: Top 10 Places for a Shanghai Visit in Winter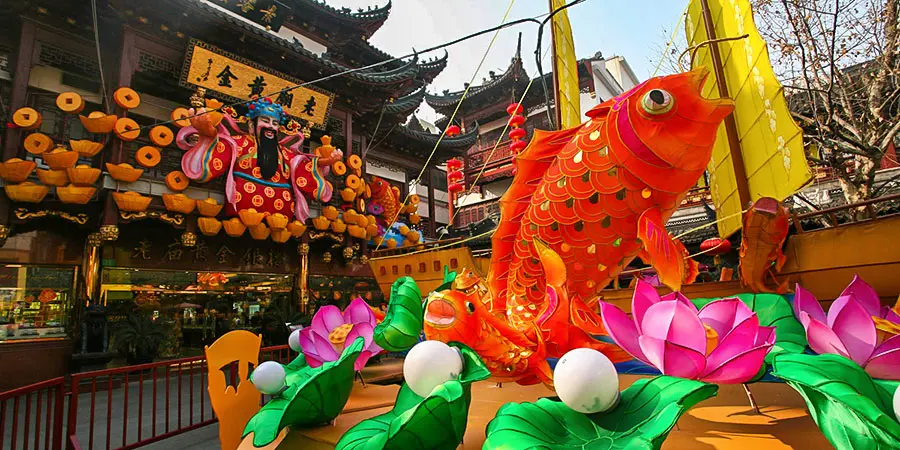 Shanghai Weather by Month:

​ Read more:

​
Where to Stay in Shanghai: Best Areas

​
8 Best Water Towns near Shanghai

​
Weekend Trips from Shanghai
- Last updated on Nov. 19, 2021 -