Shanghai Summer – Weather, Temperature & Clothing Tips
June, July and August are summer in Shanghai with an average temperature of 21 – 28 ℃ (70 – 82 ℉) while the temperature of the hottest days can reach above 38 ℃ (100 ℉). At the same time, in Shanghai summer, the rain begins to increase quickly, especially in 'Plum Rain Season', aka Meiyu Season from mid-June to early July. The humidity reaches to 80 % with the rainfall of 200mm for the whole summer. Therefore, the Shanghai weather in summer is hot, sweltering and wet. But there are still many places and fun activities that can help you enjoy a pleasant summer trip in Shanghai, such as indoor museums & aquariums, nearby water towns and Huangpu River Night Cruise.
What to Wear When Visiting Shanghai in Summer
Based on Shanghai summer weather, short-sleeved shirts, dresses, shorts, sandals and other summer clothes are recommended. Sunglasses and sunhats are also necessary in order to prevent you from the strong sunlight on sunny days. Besides, there will be frequent rainy days during this time, thus preparing umbrella and raingear is a wise choice.


What to Do in Shanghai Summer Season
To escape the scorching weather during the Shanghai summer trip, you are recommended to visit some indoor attractions or waterside spots. We have listed what to do in this season in the following:

Huangpu River Night Cruise
Joining in a Huangpu River Night Cruise is one of worthy things to do in Shanghai summer. With the gentle breeze, travelers can admire the impressive landmarks on both sides, including exotic western buildings on
the Bund
, and
Oriental Pearl Tower
,
Jin Mao Tower
,
Shanghai World Financial Center
.... lit by colorful neon lights.
| | |
| --- | --- |
| Huangpu River Night Cruise | Shanghai Ocean Aquarium |

Ocean Aquarium
It seems like entering a blue ocean when you entering Shanghai Ocean Aquarium. The bright blue color inside brings a cool feeling to tourists. It contains more than 300 species and 10,000 fish, including South American electric eel, Australian sawfish, Antarctic penguin.... There is also the world's longest underwater tunnel inside, where you can see various marine creatures swimming over your head.

Zhujiajiao Water Town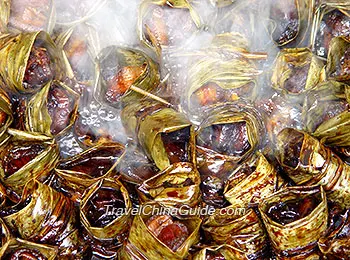 Special Cooked Meat in Zhujiajiao Water Town
Located nearby the waterfront in the suburbs, the temperature of Zhujiajiao Water Town is lower than the urban area. As a typical ancient water town in the south of the Yangtze River Delta, it is known as the Venice of Shanghai. Spending a day here is a nice way to get away from hot summer in Shanghai. You can not only taste authentic local foods at Zhujiajiao Water Town, but also spend leisure time at children's playgrounds, tea houses and souvenir shops.

Playa Maya Water Park
Speaking of summer in Shanghai, going to water park cannot be ignored. Shanghai Playa Maya Water Park is right next to
Happy Valley
, which combines ancient Mayan culture and modern water recreation. As the largest outdoor water park in East China, this place is suitable for playing in the summer! The abundant water equipment includes water roller coaster, octopus-shaped slide and super water village. Shanghai Playa Maya Water Park also creates a children's water world, which has many family entertainment projects.

Read more:
12 Popular Shanghai Activities to Survive Summer
6 Things to See in Shanghai in June
Shanghai Tourist Destinations in July: 7 Places to Go
Top 5 Shanghai Tourist Sites in August
Shanghai Summer Tour Tips

It is suggested to check the weather forecast in advance because Shanghai weather in summer is changeable. For heavy rainy days and typhoon weather, you can change some outdoor activities into indoor attraction sightseeing.

Generally speaking, there will always be more tourists in summer in Shanghai especially in July and August because these two months are summer vacation of Chinese students. If you want to have a smooth trip and save some expenses, you are suggested to book transportation and accommodation in advance.

In order to protect skin, tourists should use sunscreen or wear sunhats/ sunglasses during Shanghai summer trip.

Due to the high Shanghai summer temperature, it is advised to drink more water during the sightseeing.
- Last updated on Dec. 04, 2020 -