Shanghai Weather in February
Shanghai weather in February is chilly and windy owing to frequent cold and humid winds, which makes it more unbearable. Rainy and cloudy days cover most days. Fogs occur from time to time, when the air condition is poor, especially in the morning.
The
Chinese Lunar New Year
may occur in late January or early February. Tourists to Shanghai who run into the event are in for a real treat. Festival delicacies like dumplings and rice cakes should not be missed. You can also try the glutinous rice balls in hot soup - a typical shanghai snack the locals have on the following
Lantern Festival
.
Averages for Shanghai Weather in February
Temperature: 6°C / 43°F
High Temperature: 8°C / 46°F
Low Temperature: 2°C / 36°F
Humidity: 72%
Rainfall: 44 mm
Rainy Days:7 days
Sunrise: 06:22 ~ 06:47
Sunset: 17:29 ~ 17:52
Air Quality in February
Average AQI:69


What to Wear
Dress warmly, including down coats, thick trousers, and warm shoes. Wear hat and gloves to keep warm. A gauze mask helps to combat hazy days. Always bring rain gears in case it rains.



Things to Do
Temple fairs are held on the Lantern Festival. The principal temple fair is at the Old City God Temple. Lanterns dangling on the shops and residences near the City God Temple outline a picturesque scene. There are also the performances of "literary lanterns" and "military lanterns". Another temple fair is held in the
Fengjing Ancient Town
, where a lot of local handicrafts are sold. Beware of pickpockets on the crowded temples fairs. On the fair grounds do hold off from tempting foods, because overeating may bring diarrhea. There are also good bargain shopping; think twice before you buy.

Other Tips
Study the detailed schedule and activity list of Shanghai in February. Ordinarily the main actions take place from the second day to the fifth day of the first month according to
Chinese lunar calendar
, and most congestion lasts from 10:00 to 13:00. Avoid the peak time crowds if possible.

What is the temperature in Shanghai in February?
High/Low Temperatures of Shanghai in February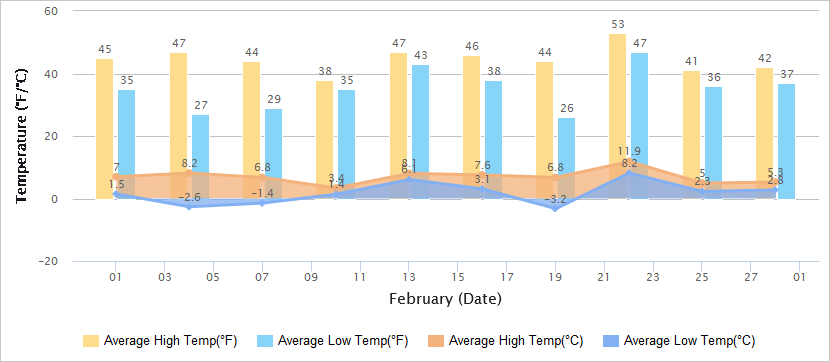 Air Quality of Shanghai in February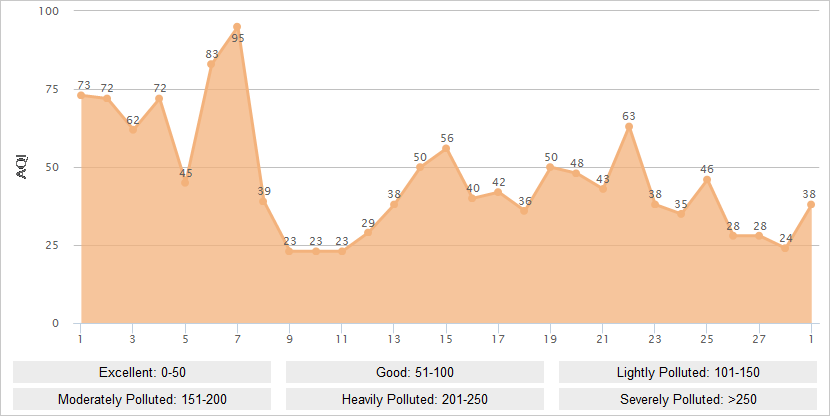 Historical Shanghai Weather in February
Feb
Temperature
Sunrise / Sunset
Humi-
dity
(%)
High
Low
1
7.0°C / 44.6°F
1.5°C / 34.7°F
06:47 / 17:29
77
2
1.9°C / 35.4°F
-0.8°C / 30.6°F
06:46 / 17:30
60
3
5.5°C / 41.9°F
-2.7°C / 27.1°F
06:46 / 17:31
56
4
8.2°C / 46.8°F
-2.6°C / 27.3°F
06:45 / 17:31
75
5
8.7°C / 47.7°F
5.3°C / 41.5°F
06:44 / 17:32
88
6
8.6°C / 47.5°F
6.7°C / 44.1°F
06:44 / 17:33
90
7
6.8°C / 42.8°F
-1.4°C / 29.5°F
06:43 / 17:34
61
8
2.3°C / 36.1°F
-3.1°C / 26.4°F
06:42 / 17:35
36
9
4.6°C / 40.3°F
-3.7°C / 25.3°F
06:41 / 17:36
59
10
3.4°C / 38.1°F
1.4°C / 34.5°F
06:41 / 17:37
83
11
6.6°C / 43.9°F
0.8°C / 33.4°F
06:40 / 17:38
75
12
7.6°C / 45.7°F
5.2°C / 41.4°F
06:39 / 17:38
77
13
8.1°C / 46.6°F
6.1°C / 43.0°F
06:38 / 17:39
87
14
7.6°C / 45.7°F
6.0°C / 42.8°F
06:37 / 17:40
91
15
7.2°C / 45.0°F
4.3°C / 39.7°F
06:36 / 17:41
80
16
7.6°C / 45.7°F
3.1°C / 37.6°F
06:35 / 17:42
67
17
6.9°C / 44.4°F
1.8°C / 35.2°F
06:34 / 17:43
58
18
3.9°C / 39.0°F
0.7°C / 33.3°F
06:33 / 17:43
53
19
6.8°C / 44.2°F
-3.2°C / 26.2°F
06:32 / 17:44
53
20
9.5°C / 49.1°F
1.1°C / 34.0°F
06:31 / 17:45
69
21
10.3°C / 50.5°F
7.0°C / 44.6°F
06:30 / 17:46
91
22
11.9°C / 53.4°F
8.2°C / 46.8°F
06:29 / 17:47
94
23
11.0°C / 51.8°F
4.8°C / 40.6°F
06:28 / 17:47
86
24
7.2°C / 45.0°F
4.5°C / 40.1°F
06:27 / 17:48
83
25
5.0°C / 41.0°F
2.3°C / 36.1°F
06:26 / 17:49
72
26
4.9°C / 40.8°F
1.7°C / 35.1°F
06:25 / 17:50
64
27
5.9°C / 42.6°F
2.8°C / 37.0°F
06:24 / 17:50
65
28
5.3°C / 41.5°F
2.8°C / 37.0°F
06:23 / 17:51
75
29
10.8°C / 51.4°F
4.8°C / 40.6°F
06:22 / 17:52
83